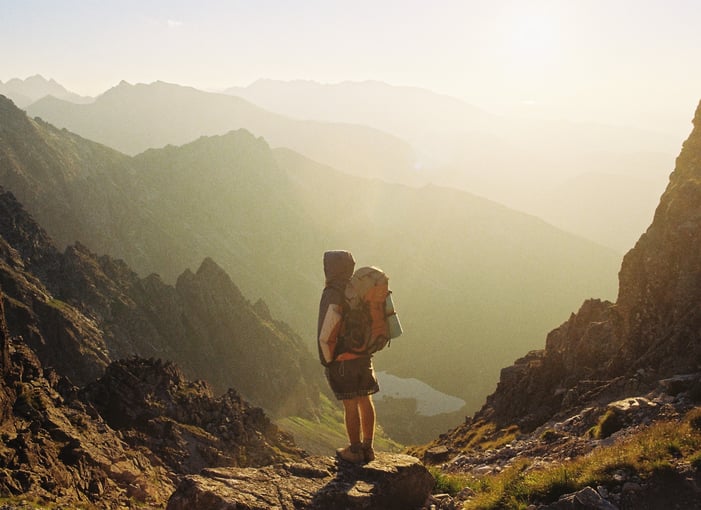 ---
In our new series of Inbound Marketing Stories, we interview B2B organisations and explore their inbound marketing journey so far.
Our first story comes from Andrew Ferguson, Co-Founder at BrainXchange who lifts the lid on his unique business model and shares the reason why he believes inbound marketing for event and conference organisers is so essential for any future success.
Want to know how you can secure a 80-90% rebook rate from your event sponsors?
How about the secret to being able to charge double what your competitors do?
Or reliably booking a handful of delegates every single week without touching the phone?
You can listen to the full interview at the bottom of the post, or just digest some of the highlights we've pulled out here...
Andrew Ferguson is Co-Founder of BrainXchange, a boutique events company focused on delivering mid-sized conferences that enable enterprises to take full advantage of emerging technologies. In the first of our B2B Inbound Marketing Stories interviews, Andrew shared some of his journey so far with me. He had so many great things to say, I advise you block half an hour to listen to the whole thing. But if you're stuck for time or just want a taster, here's some of the key insights we took away regarding inbound marketing for conference organisers.
Great content and inbound marketing habits.
BrainXchange was founded by people who'd worked in the larger conference companies and had left because they thought there was a better way to create and run conferences. One of the major things they did differently when setting up the business is to adopt a content and inbound marketing approach from the outset. Here are some of the lessons and pointers from our conversation that you can consider for your own approach:
They established a pure content foundation from the word go.
They'd all worked for bigger companies where the idea was to blast out emails and hope for the best, where there was no content outside the event itself.
Creating content is key to adding value and to get people engaged with what you have to say.
There's no point in having an inbound plan without a content plan.
Figure out what content you're doing, build a newsletter to gather subscriptions. Build a foundation of people who are engaged with what you're doing that you can then market to.
Plan your marketing automation campaigns across the funnel, it's a lot of trial and error, you have to not be afraid to give things a go.
Have someone dedicated to this stuff in-house, not someone who's also producing 15 events a year. You want one person just creating content, like a producer but with a focus on marketing.
Content creation should be a collaboration. Everyone in an events business should know the basics of every role within that business.
You definitely need a marketing automation tool, but you can get your feet wet with a cheaper solution whilst you're figuring out your content strategy and working out which of the big 5 will be right for you.
What content actually costs.
One of the biggest questions conference organisers ask when considering an inbound marketing approach is "how much will it cost?" Perhaps more importantly, you should be asking how much will it cost to get results? Andrew had some surprising and for a lot of more traditional companies, possibly controversial views on this.
BrainXchange spends double their office lease on marketing automation and content.
The bigger marketing automation tools take a lot of time and money to set up correctly, so you need to do thorough research to make sure your chosen solution is the perfect fit for your business before you commit. This may mean starting out with a cheaper/free system to help you learn the ropes and see what you ultimately need.
Andrew believes that it should be your largest investment as a conference company.
But he says that if the correct inbound techniques were applied, a traditional conference business could cut 80% of its delegate sales teams who currently pound the phones trying to reach people.
He insists that you need a dedicated employee devoted to content creation and inbound marketing. Building content takes time as you need to establish what kind of content will attract the people you are after.
The costs aren't insignificant, but in an events business where the overheads are comparatively low and the focus is on human capital, you need the right content to provide the right insight, to get the right people to the event. If you don't do this, the events aren't sustainable.
Andrew thinks it would be ridiculous for a larger conference organiser to think they couldn't afford the tools and staff to dedicate to this, given that his team manages it and they're just 5 people.
And what ROI you can expect.
The second question on every marketer's lips will be "how can I measure the ROI?" Andrew listed lots of different ways his business has benefitted from being a purely inbound marketing organisation. Here are just a few of them:
BrainXchange get 3-400 people to their events and barely have to lift the phone to do so. Most of their delegates come in through their content and marketing automation systems without any need for one-to-one connection and hand holding.
Delegate sales contact a few hundred people a week. Marketing automation enables personalised, targeted communication with tens of thousands, negating the need of 80% of delegate sales efforts.
They spent 6 months building up their content offering. And when they switched on Marketing automation in January, they saw a positive ROI by February, virtually instantly.
Andrew looks at overall event ROI rather than getting hung up on the minutiae of attributable revenue. He understands that people have multiple touch points and variations on their purchase journey, so tracking can be tough.
He also stresses the importance of lead quality over lead volume, citing that they'd typically expect 200 contacts a week to enter their inbound marketing funnel for an event, but of those 15-20 are true leads and this is the metric he's most interested in.
They're able to charge double what many of their competitors do to both delegates and sponsors because their content strategy ensures a room full of the right people, every time.
They retain 80-90% of their sponsors, not just by delivering a great event but by delivering tangible, trackable marketing benefits through sponsor content promotion.
Final thoughts
Andrew was unequivocal about how essential inbound marketing was for his business and how he'd advocate inbound marketing for conference organisers of any shape or size. His credo can be summarised like this:
Without content, we wouldn't exist
Without inbound marketing, we wouldn't exist
Without social media, we wouldn't exist
Content is our differentiator, the enabler of our success.
Inbound marketing gives any team the tools to build brilliant event audiences.
Social media doesn't just work, it's the lifeblood of our business.
The full interview is well worth a watch: