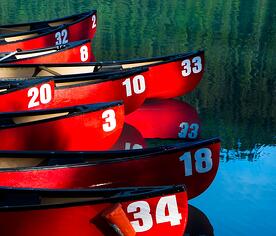 As an event professional, there's simply no excuse for not knowing the numbers and relevant statistics that indicate whether your event will be successful or not. This does not just apply to the marketing team, and even if you are not directly responsible for tracking these metrics, it's crucial that you retain a regular awareness. B2B event planners that don't bother to find out are just relying on wishful thinking to guarantee success; now what kind of strategy is that? Here are the most important numbers to help analyse the success of your event before it even takes place!
Booking patterns
Here you need to be able to analyse previous trends in delegate registration for your event, and work out the shape this tends to take. If you're used to seeing a high volume of last minute registrations, then there may be no cause for concern if your conference is not at capacity a month before it is due to take place. However, if you can see that this is a standalone phenomenon for your upcoming conference it is probably time to execute those last minute sales tactics. Your booking patterns will show just how successful your event marketing tactics have been, so don't worry if your latest event is not shaping up as you'd hoped - success can still be salvaged, and you'll be more prepared next time around.
Turnout rate
It is essential to know how many delegate drop-outs you can expect on your event date, or in the days preceding it. In the conference industry it is customary for B2B event planners to over-sell an event for maximum revenue, but knowing to what level you can do so is of great importance. Too much and you risk overcrowding, or even having to turn away precious customers. Too little and you could be missing out on filling those valuable seats. Simply calculate the percentage of drop-outs you normally experience, and over book your event by that amount. This is also a statistic that should be observed across several events – and if your turnout rate is decreasing you need to work on keeping customers engaged in the run-up to your event, and all year round preferably.
Conversion rates
Finding out who and how many visitors went past the browsing stage and actually took an action on your website is key to finding out how your landing pages, and marketing collateral, are performing. If you're used to seeing a high rate of conversions on your website, then you may not have got the wording right this time around, or your graphics may not be to the expected standard. This gives you the chance to review what you've published, align it with previous campaigns and strive for the kind of numbers you're used to seeing.
Website visits
A significant increase in the amount of traffic your B2B event website is receiving can show that your SEO rankings, your social media engagement, or your email conversion rates have all risen. Unfortunately, a decrease will of course denote quite the opposite, so if that is the case it's imperative that you pinpoint precisely where your event marketing efforts are failing. If you don't have a blog, you're missing out on the opportunity to vastly increase your visits, and grow your profile. And if you're fortunate enough to observe a rise in website visits, it's equally important to figure out what you're getting right on your event website, and sustain this effective activity.
Metrics make your job easier – why wouldn't you make use of them?
Knowing how your event marketing efforts have performed in previous years can and should help to inform how you go about things for your next conference. By not retaining an awareness of your typical progress, and registration rate, you won't know to up your marketing efforts, or even go into crisis mode, until it's too late. Stay ahead of the curve by benchmarking your current metrics against previous event performance, and you won't be in for any nasty surprises.
Image Credit: Sheila Sund