If there is one single organisation which can be considered the events industry authority on events big and small with meaningful data, it is EventBrite. They recently released their Pulse report which delves into the must-know trends and crucial benchmarks for the UK events industry.
From my point of view, the Pulse report is a key piece of research to have at your fingertips. Every event leader asks me the kind of questions that this particular report answers. So get your hands on it today.
I have gone through the process of reading the whole 44 page report and have summarised the main key figures for you here. I do strongly recommend you download it and check it out as it is definitely worth a read.
First let's talk about the money…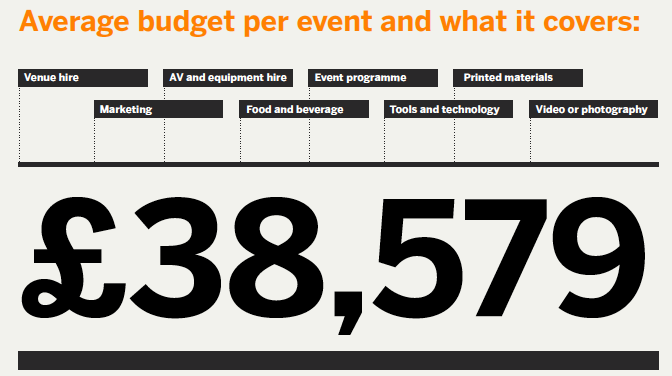 Eventbrite reveals that an average of £38,579 is budgeted for events, with this sum covering the cost of the above outlays.
The best bit is:
Eventbrite also reports that 31% of their respondents plan to increase their marketing budget in 2015, demonstrating that the events industry is growing, and at a rapid pace.
Print is not death for sure

The report also reveals that the 'death of print' may not be quite as close as previously thought, or publicised by industry experts, with 25% of event organisers increasing budgets for this, and only 10% looking to decrease their spend.
Average print spends were detailed with some event organisers allocating up to £6,526 towards this area, though some organisers (particularly of classes, training and workshops) confessed to spending almost £5,000 less on print.
Venues

Where venues are concerned, here lie the biggest discrepancies between event budgets, with organisers spending between £3,811 to £31,419
Opportunity Alert: A lot of venues that are not widely known are very willing to let you use their venue free of charge, 29% claimed to have secured a venue free of charge so do your research and get your freebie.
Marketing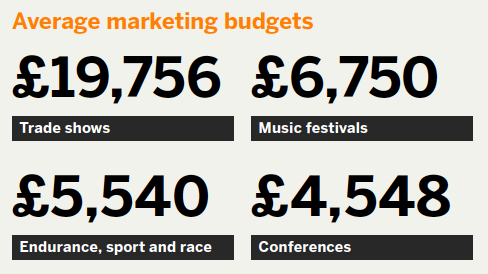 Marketing budgets were also somewhat surprising, in my view Tradeshows and the conference industry are not spending enough on their marketing. There is a strong correlation with the number of channels being used to market their events and more channels require more spend. Our industry unfortunately relies too much on email and response rates are not going to get any better unfortunately.
Opportunity alert: A good indication is that 30% of those surveyed planned on increasing marketing budgets for 2015.
Technology
Disappointingly, tools and technology were not considered a priority for the respondents surveyed, with a significant 33% admitting to having invested nothing in this area for recent events. The average budget for tools and technology was £2,804.
Business tradeshows had the highest average spend on tools and technlogy at £6,233 and were 3x more likely to have budgets of £20k or higher from the whole sample and 42% were most likely to increase their budgets.
Mobile Apps and Big Data/Analytics Software are the two technologies that had the highest likelyhood of receiving investement in organisations. This is very good news as the more data organisers have, the better decisions they can make. The single most endemic problem with event organisers is that they do not know where their registrations come from. Not a lot of organisers are able to track this efficiently.
Opportunity Alert: The single most popular problem with event organisers is that they do not know where their registrations come from. Not a lot of organisers are able to track this efficiently. Analytics and marketing automation software will tackle it head on for you
Now the bit you've been waiting for – the marketing insights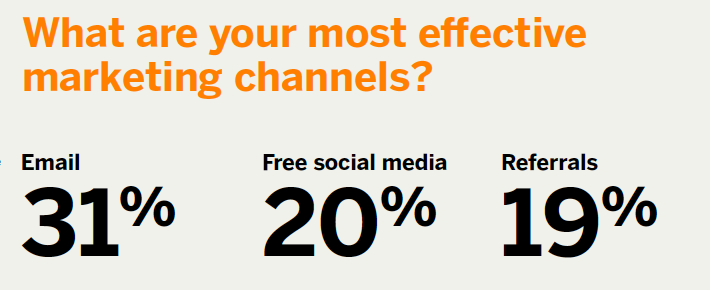 Email is still a huge part of event marketing – and for the time being, it seems like it's stayin strong. Social media and word of mouth are indeed advancing on this vital channel but it's not all that surprising to hear that marketers consider it to be the most effective. Every attendee to an event will say: "A friend sent me the information" or "I received an email" which to me is pretty useless information unless you know which friend or which of the emails the business or partners sent.
Opportunity Alert: Direct Mail, Media Partnerships, Inbound Marekting and SEO rated as the least effective. I wonder if the lack of analytics and tracking has something to do with this. I truly think media partnerships if handled and negotiated right and also placing the right content through them are very powerful. Inbound marketing is no doubt proven to add revenue and delegates to the bottom line, of that I have many examples to share.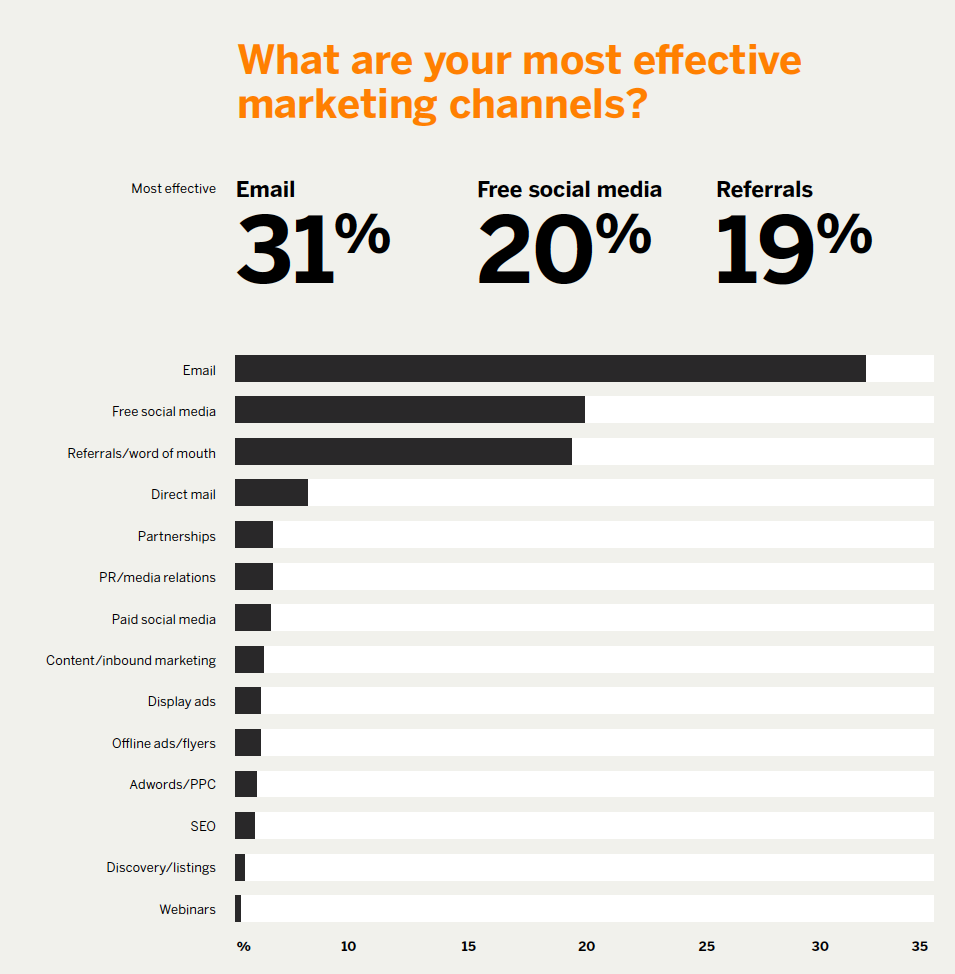 In my book word of mouth/referrals is not a tactic, sorry. If you can demonstrate that to me please enlighten me.

When it comes to marketing tactics, social media and word of mouth more than surpass email as the channel marketers plan to make more of in 2015. However how can you invest in word of mouth? How do you measure it?
There are many arguments, the most important is the quality and experience of your event. But hey we all know that all event leaders are convinced their event is of better quality than the competition. Have you ever heard them saying their own even is sh*t?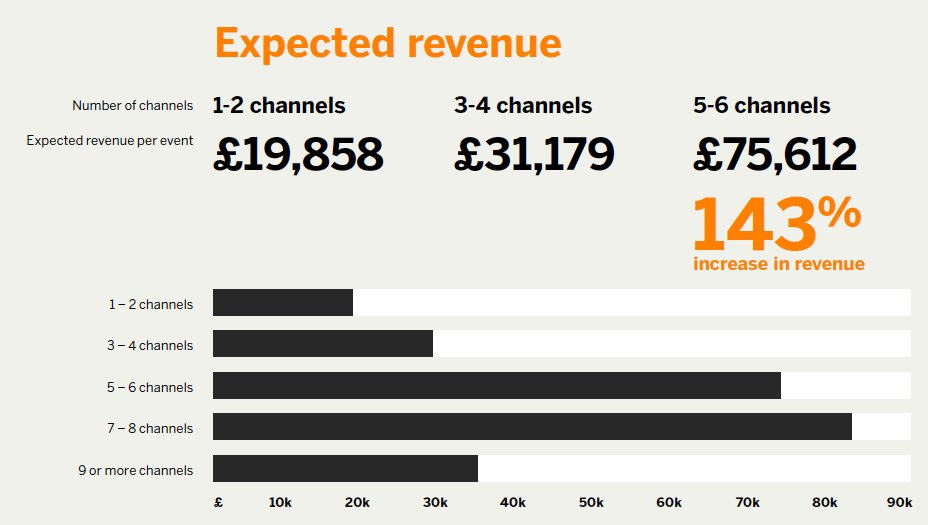 I was surprised to read that the majority of respondents stated that they use on average 3 – 4 channels to promote events. Given the breadth of options available, this number could have been significantly higher. But the chart below also shows that the more channels you use the more likelyhood you have to increase your revenue.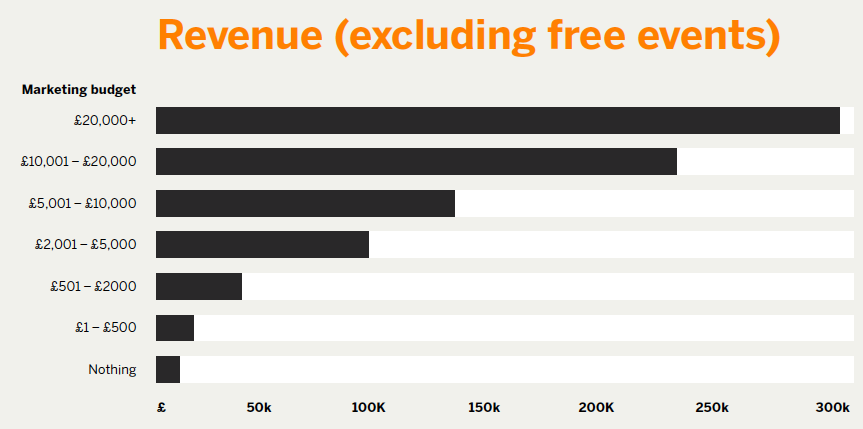 The report also examines the effect marketing budgets have on revenues – with it showing there to be a direct link between increased spend, and increasing revenues. Interestingly it also demonstrates that you don't necessarily have to spend money to make money!
In terms of team size and growth, the majority of event organisers predicted that their teams would not grow in 2015, though 31% felt that they may. In particular, organisers of conferences and networking events felt their teams would remain at their current size, with over 60% of respondents agreeing with this statement.
Finally, the report sheds some light on the top skills that hiring organisers look for in prospective candidates.
Marketing tops the list on what event businesses are looking to hire. It is the time for marketing. Very very good news
Bet that's got you thinking!
So there you have it – a whistle-stop, deep-dive into one of the most enlightening event marketing reports I've seen so far this year. Some really interesting stats to digest, and hopefully to benchmark your own performance against. Again, I would recommend reading the report in full for even more insights, but for now this should be enough to get your creative (event) juices flowing.
Credits: All images and graphics courtesy of EventBrite and the Pulse Event Report