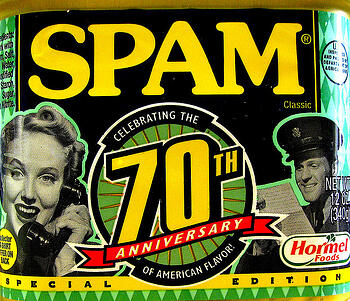 Email marketing is a tricky business. It seems to be most event companies' go-to tactic for spreading the word about their events. They love it. Ironically, they also happen to be rubbish at it. No offence B2B event marketers, but take a look at your conversion rates and tell me I'm wrong!
There are several simple dos and don'ts for increasing your email conversions, and the sales guys will probably buy you a round if you not only find out what they are, but put them into action.
Growing your list
DO
Make your subscription sign up super easy. This opt-in box should be prominent on your web pages, particularly your blog

Consider partnerships. A non-competitor, say an industry publication, or organisation, may have the same buyer personas and target audience. Try partnering for an event or webinar – something that's mutually beneficial and exposes both of you to new contacts

Minimise unsubscribes. Give recipients the option to unsubscribe from a certain channel of your email marketing (as well as all communications of course) – you'll keep people who aren't entirely uninterested in your events this way

Target buyer personas. Irrelevance will lose you more contacts than anything else (unless your content is truly terrible). Send the right content to your personas and they'll be far more likely to remain engaged
DON'T
Buy lists. This will lower your deliverability rate, and could increase your chances of falling into a spam trap, or even getting blacklisted (if you hadn't guessed from the names, both of these things are really, really bad)

Forget how it feels to be interrupted. You might think you're gaining access to people who haven't experienced the joy of hearing about your events yet, but consider how likely you'd be to respond positively to such an email yourself?

Annoy the sales team. Your click-through rates will suffer dramatically if you engage with unknown recipients, and if you do manage to generate any leads, they're likely to be of a very poor quality. Take it from us – good leads are generated, not bought
Integrating email with inbound marketing
DO
Add social sharing buttons to your event marketing emails. This could potentially expand the reach of your events, and allow qualified leads to share your content with other relevant peers

Grow your list through social media. Contacts you gain through social media tend to be more engaged, actively interested in your events, and more likely to share information with their networks. Make your email subscription appear irresistible to your social followers
DON'T
Forget to review your analytics. Find out who or how many clicked through to your agenda, content download or registration landing page but didn't convert – what could you have done differently? The interest is there so perhaps your landing page needs a little work, or your email didn't properly frame the offer

Ignore your mobile readers. More and more business emails are being opened on a mobile device, so don't neglect this valuable channel. Test your templates, use easily clickable links and buttons, and remember to do the same for the landing pages they'll arrive at
Segmentation
DO
Focus heavily on job role, and industry. As an event marketer you will have a detailed knowledge of the type of individual that normally attends your event. Sending a tailored email to that segment that addresses their concerns and professional interests will ensure maximum relevance, and therefore conversions

Take into account location. For overseas events consider how accessible they are to your database. If you're marketing a one day conference in the US, it's unlikely that your UK contacts will appreciate hearing about it
DON'T
Assume this means you can never send an email to your entire database. As long as it's still relevant to all of your segments, just ensure the copy is more inclusive than if you were targeting only one of your contact groups
Converting doesn't have to be complicated
If you experience low conversion rates from your emails then I'm afraid to say you're probably just not taking the time to do it well. If you know the problem isn't that your content sucks, then it just isn't relevant to the people you're targeting. Blasting emails to your whole database is old school, tired, and won't get you anywhere – try a new approach, and let the conversion rates speak for themselves.
Image Credit: martathegoodone