Twitter can be a hugely useful tool in the run up to your B2B event. You can use it to shout about any 'VIP' speakers, get your delegates involved before the day, and generally create a real buzz around your conference. For old school event marketers, the way twitter, and other social media outlets have revolutionised the events sphere, and B2B marketing generally, is a daunting prospect. But if you want to keep up with the ever quickening pace of the event industry, you need to get on board.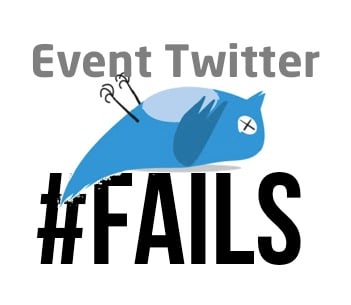 Unfortunately, we've seen quite a few examples of event companies jumping on the social bandwagon, just to have a presence. They're not using it to add value, engage with their audience or even post interesting things about their events – they just populate it with links to their registration pages, standard event information which could be easily sourced online, and repeat tweets of their updates. How likely do you think it is you'll be trending with this approach? Here are our absolute worst practices for event marketing on twitter – avoid at all costs!
1. Not creating an event hashtag or using relevant industry ones
If your audience is likely to be tech savvy, own a smart phone or consist of a proportion of millennials, you're missing a trick by not creating an event hashtag. Is there a better way to track engagement, and generate excitement specifically around your event? (Simple answer - no.) And while your event hashtag is important, it will gain momentum as your conference draws near. Using industry relevant hashtags should also be part of your twitter strategy as these reach a much wider audience and are more likely to be followed by a greater number of people.
Tip to prevent it:
Create a hashtag with your company name in it if you can. Make it short, easy to remember and non-generic, then use it in event emails, add it to your signature, and make sure it appears on your event collateral on the day – presentations, hand outs, lanyards, banners and signage, programmes etc. Ensure you combine it with industry hashtags in your tweets. Don't overdo it though, two hashtags is okay, three permissible but use sparingly, more than 4 is overkill.
2. Not responding to attendees and mentions
A lot of event companies are all 'me, me, me' and don't see the value in doing anything other than broadcasting details about their own events. Consider how you'd behave in a face-to-face encounter if someone approached you to comment on, or ask a question about your event. Would you completely ignore them? I sincerely hope not, so don't do it on social media!
Tip to prevent it:
twitter is increasingly used as a customer service tool. If someone posts something positive about your event, thank them or even re-Tweet it. If feedback is negative, respond quickly to diffuse the situation. Similarly, if a question is asked about your event, answer it – but if you feel limited by the number of characters, suggest a contact email address so you don't have to cut things short.
3. Forgetting about your well connected speakers until they arrive at your event
Speakers are only good for one thing: presenting on the day - right? Wrong! Conference speakers are typically well connected, articulate, and in most cases social media savvy individuals. Assuming that they'll only want to participate at their allotted time in the conference programme is a rookie mistake.
Tip to prevent event twitter fail: Encourage your speakers to Tweet about their presence at your event, engage with them directly and, if you have the resources, think about co-hosting a live twitter Q&A with them in advance of your conference. This will allow you to get to know registered attendees better, and anyone who isn't signed up will want to be! During the event, quote them directly and include their twitter handles. Just think about of the scale of the untapped networks you'll be accessing.
4. Not using media partners to publicise your event
What's the point in spending time securing media partners if you don't utilise them to market your event on every possible platform? If they're not publicising your event on social media, then you're not maximising the benefits of that partnership.
Tip to prevent it:
Your partners may have an even bigger twitter audience and greater reach than you do - use it! Make sure they use the event hashtag, and mention you in their tweets. You can also give them a list of potential tweets they should send out and the times they will send it. Alternatively simply agreeing with them that they will retweet your tweets will make it a much easier excercise for all parties concerned.
5. Only using twitter in the run up to your event
We've identified a pattern of event marketers posting very few tweets as soon as their event goes live, then flurry of tweets in the week leading up to their conference, a lot of tweets during the event and then disappearing without a trace once it takes place. It can make your organisation seem as though it's only interested in event sales, and not committed to adding value at any other time.
Tip to prevent it: Think like a publisher would, and seek to engage with your community all year round. Don't stop when it gets to the day of your event either – assign someone (or more than one person ideally) to live tweet your event, and show anyone that didn't attend what they're missing!
If you want to get creative, and you have the budget, why not try a twitter wall? It's a fun way of showing off the engagement you get on the day, and your delegates will love seeing their posts on display. It has the added bonus of generating even more social buzz around your event, just make sure your event hashtag is easy to find.
6. Only tweeting once a day
Twitter is a medium of fast consumption, what this means is that the average life span of a tweet is very short. I'd say that tweets will go into the twitter graveyard after 2 hours of being published, unless one of them goes viral that is. So if your twitter strategy for your event is to do one tweet a day from 10 weeks away, this is likely to have close to no effect whatsoever. This is one of the main reasons why event companies with no blog or content marketing strategy struggle to get to grips with twitter. Just the topic, agenda, speakers and sponsors of your event is not enough to sustain an event twitter strategy.
Tip to prevent it
You need to be looking at tweeting at least three times a day ( AM, Noon and PM) and if possible more up until you can cover 1 tweet an hour. I am trying to be realistic here as in most cases event marketers are pretty busy, so if you do as suggested after a week or two review which ones got you better response and adjust accordingly. You can combine your own tweets as well as retweets or participation in conversations, but the more tweets link to your site the better.
To tweet or not to tweet?
If you're serious about your social media offering (and you should be), treat it as you would any other type of content production – email, blogging and even the event itself, and make it a priority. Don't just get on twitter because your competitors are – do it as a means to engage with your event community, and generate genuine interest and excitement around your conference and around the content you generate. It's not hard to get right, but it is something you should work at each day. Don't let this golden event marketing opportunity go to waste.