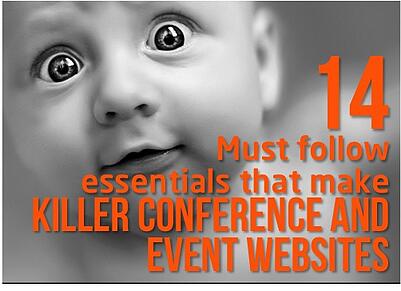 Your event homepage is a really important platform for promoting your B2B event, and getting it spot on will make you stand out from the competition. There's some cool stuff you can do, and some really innovative approaches to tackling both the layout and the functionality – but first you must perfect the content, and the elements and steps that are absolutely imperative.
We've compiled this list of essentials for you to compare your own homepage against; if anything is missing, then rectify it today!
1. Launch or update your event website as soon as you have a date confirmed
Use whatever content you have at this early stage and beef it up – it may help to take a look at other examples from your industry and use them as inspiration initially. Your website should be a constantly evolving entity so don't worry if it's not the finished article to start with.
2. Update your homepage at least weekly
Don't let your content stagnate. If prospects revisit your homepage and nothing's changed since they last looked, you're missing an opportunity to convert them and besides google wouldn't like your website either. It doesn't need to be radically different, simply offer one new thing as a minimum
3. Post a blog once a week - (if your event site doesn't have a blog or news section, what are you waiting for?)
Posting regular blogs directly correlates with generating more leads, and your posting activity should increase to twice a week in the run up to your event. Write on a variety of subjects – yes your event, but also related topics, industry developments and talking points. These posts should form part of your wider content strategy, enabling you to establish credibility and your standing within the industry.
4. Offer an event brochure or agenda behind a form
Include thumbnail image of the brochure, and ensure that your form asks for the bear minimum amount of information you can manage – you want to be able to qualify leads for your sales team, but not put off any potential attendees by demanding too much.
5. Display a clear USP and value proposition
What makes your conference unique? I don't mean to be critical but all events have "Top quality speakers", "The best case studies in the business", "Fantastic networking opportunities with senior executives", "Interactive workshops, plenary sessions and plenty of cocktails", and are "The must attend conference of the year".
Now, think harder about what makes your offering unique, because all your competitors are making the same claims as you. Your event homepage is where you can truly demonstrate just why it's a must-attend within its division, and how your offering differs from your competitors'.
6. Feature written testimonials from delegates
If you have the luxury of a few quotes to choose from, select those that most portray how your event added value to the attendee – whether they mention what was learned, the connections made, or just how interesting/exciting it was.
7. Include photos and logos
These will satisfy both your audience, and your participants. Your sponsors and speakers will be pretty annoyed to be hidden away on a separate page or only mentioned in a text based list, and your prospects will be interested to know exactly who they'll get to meet. In addition, these visual elements can help break up heavy chunks of text.
8. Post news updates relevant to your target audience
Show off how well you know the industry by posting relevant news updates. Think as publishers do, and keep abreast of industry developments, providing your own insights where possible.
9. Incorporate buttons to follow your event on social media
Even if a visitor doesn't fill in a form or sign up right away, give them the option to remain engaged without giving you their details (just yet). So add links to all your social media channels so they can follow you and share your content.
10. Display contributors to your event prominently
Having gone to no small effort to secure media partners, speakers and sponsors, don't let the relationships you've cultivated go to waste. If you don't showcase the people and organisations who are contributing to the success of your event, you might find yourself in hot water.
11. Repurpose relevant content, particularly from your previous events
Event marketers well know that existing content doesn't need to fade into obsolescence – post it on your site, adding a new spin, and reach an untapped audience. This could be downloadable pieces you've used previously, or even blog outlines - don't assume it will have been read by the entirety of your event community.
12. Publish post show reports and presentations
Again make the most of stuff you have to hand – publish presentations and outputs from previous events, and use them to demonstrate the quality of your upcoming conference programme and set (high) expectations.
13. Make use of video content featuring soundbites from speakers, sponsors and attendees
Conference footage is a great way of engaging visitors to your homepage, and gives your prospects a sneak preview of what your event will actually be like. If this is the first event you're holding (meaning you don't have video from previous conferences) interview speakers in advance and post these as Q&A sessions instead.
14. This one is the most important: What do you want your visitors to do?
Ultimately your website needs to inform and educate, generate leads and generate revenue. As weird as it sounds not all your visitors are the same, come with the intention to buy your event (yet) and the sources that brought them to your website are different. Some visitors want information, others want to educate themselves about their industry/topic of interest, some want to register, others are interested in sponsorship/exhibition opportunities etc.
You need to visually and explicitly lead them to take the next desired action in a simple and clear way. So a clear "call to action" that fulfils a different purpose for those visitors must be present in every page of your website.
Are you maximising the potential of this first impression?
It's easy to take your event homepage for granted, but the benefits to optimising the content are huge! Think about the impression your page will give to people who have stumbled upon your site, or come across you in a search for one of your top ranking keywords. They may not have engaged with (or even heard of) your organisation before, and as a result present a hugely valuable opportunity to generate new leads. Needless to say this amazing content needs to be sitting behind a form, for these leads to materialise.
If you'd like us to review your homepage free of charge, and help you to refresh your online shopfront, get in touch for an assessment.