A savvy event and media business professional would have gone through a process of some kind of re-invention over the past months. New product development scrums, value proposition get togethers, tech stack investments and dare I say it "virtual event pivot".
The few that may still be on the fence, I suggest ask themselves a question:
"What do you have in place to protect yourself / board / investor from a future pandemic or material disruption to the live events model?"
If you don't have an answer to that question, your business at serious risk. Times are very tough, and very likely you have been doing everything you can, I respect that.
With this post I want to help frame the thinking and share the key pillars that have to be considered when you undergo this process.
This is no longer about digital marketing or marketing automation. It's about the digital transformation of marketing, sales and operations. It doesn't matter where you started your journey, organisations need to view this as a holistic process that comprises of 5 key stages. Miss one of them and you simply won't have a robust go-to market strategy, whatever your new re-invented business looks like.
Here is a high level perspective on the key fundamental pillars that need to be addressed by events, media and B2B businesses in the next 12-18 months.
"The value of digital channels, products and operations is immediately obvious to companies everywhere right now. This is a wake-up call for organisations that have placed too much focus on daily operational needs at the expense of investing in digital business and long-term resilience. Businesses that can shift technology capacity and investments to digital platforms will mitigate the impact of the outbreak and keep their companies running smoothly now, and over the long term."
Sandy Shen
Senior Director
Gartner
When we look at our consulting projects we always start with these 5 key pillars: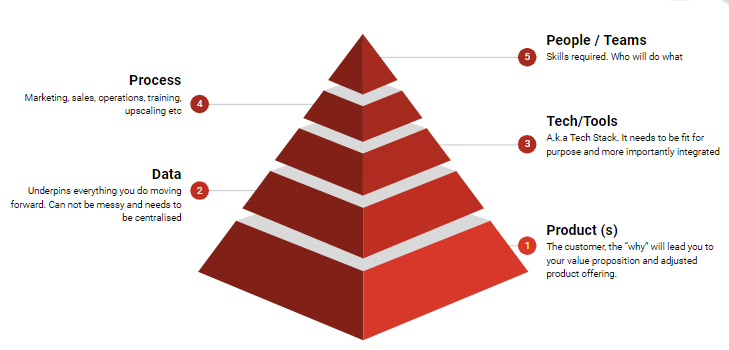 Where do you rank in each of these?
Pillar 1 - Product(s)
What is the value add that you provide to your customers? It is not an event.
The closer you are to your customers, their needs, wants and aspirations will lead you to understand your "WHYs" - which is and always has been fundamental to defining your value proposition.
Once you have a very clear value proposition it may well be necessary to adjust, enhance your existing product offering and/or develop whole new propositions.
The whole pandemic thing, forced B2B organisations to think really hard on their value proposition, and many found out that they were not really clear on them. Some of those that went deep into this process actually found out that being called an events business for example was no longer suitable for the value they could offer.
Without a clear value proposition and product offering to match, there's nothing.
Leading B2B events and media organisations, have documented:
Clear and defined buyer personas
A clear value proposition and product(s) to match
A map of their customer lifecycle journeys



Pillar 2 - Data
Do you know your database and are you able to derive insight and revenue from it?
Data really underpins everything you do, especially in the world of B2B media and events. Your sponsors/advertisers are desperate for more than just leads [contact information and job titles]. They want more insight, and your ability to provide or derive this information is directly proportional to your ability to deliver more value and ultimately charge more.
For this purpose, the data cannot be messy and it definitely needs to be centralised.
Those companies that had their data in siloes would be in a more complex scenario as the implementation of all these hybrid and virtual event tools would have left them worse than they actually were in terms of their data.
B2B companies in a strong position to charge more to their sponsors and exhibitors are:
Viewing their database as an asset
Centralising its database in a CRM
Connecting and integrating their tools and tech stack back to their CRM in a cohesive way
Maintaining a defined data protocol and someone that owns it
Pillar 3 - Technology and Tools
Everything starts with a CRM. It's surprising to see organisations still operating off excel sheets and one email marketing platform.
This is likely to increase. So you can imagine the problem this brings ... many of these tools are not integrated, so you end up having a much bigger problem with messy and non-integrated tools.
So having a clear visibility of how your tech stack looks, what tools you are currently using and a thorough review of what is fit for purpose is imperative.
Companies need to be tech savvy, or at least need to be open to use tools that enable efficiency among team members, provide transparency in their internal processes. We cover this in more detail in our piece about the evolution of event industry teams.
The ultimate questions are:
How many tools am I using right now?
Are these tools accelerating or impeding growth?
How much are we spending on these tools?
Are these tools talking to each other?
A recent event industry leader told me...
I know that we are probably spending a lot more money than we think with our current technology, and we are not even using 10% of its capabilities"
To me this is crazy! So many companies are throwing money down the drain.
Media and B2B companies need to have 100% full grasp of their tech - and this is not something that should be owned by IT departments. Your marketing department absolutely needs to be on top of this! No excuses.
Leading B2B events and media organisations strive for:
A tech stack that is fit for purpose AND integrated
Sometimes it means a new tech stack needs to be implemented


You'll also want to check
Pillar 4 - Process
Many organisations are coming out of this pandemic period with whole new approaches for almost everything they do!
Some have had to integrate their own versions of virtual offerings to their current portfolio, others have come out as a very different business, sometimes not even calling themselves "an events-business" or "not just a digital publisher".
All have had to re-think, re-skill, re-invigorate their current marketing, sales and operational processes.
Re-thinking your processes can/will involve:
Having a clearly defined go-to market strategy, I mean, how, when, who an what is required
Documenting existing processes, especially around marketing, social, content marketing and technical tools in order to be more agile
Building your own B2B online communities to drive real value to your audiences
Implementing Marketing & Sales & Operations Automation

Pillar 5 - People/Teams
It is all about understanding what skills are required to drive the growth you require, the current gaps that exist and how to fill that gap.
The reality is that you are unlikely to have the required skillset in your current teams and growth can only be achieved by either up-skilling your team, empowering them with new tools and tactics fit for a virtual future, potentially hiring new team members or working with a pool of specialist contractors or freelancers at your disposal.
Leading B2B events and media organisations strive for:
A redefined team structure that allows growth
Clear training and development plans for teams
Set of skilled contractors or third party partners

Where do you rank in each of these?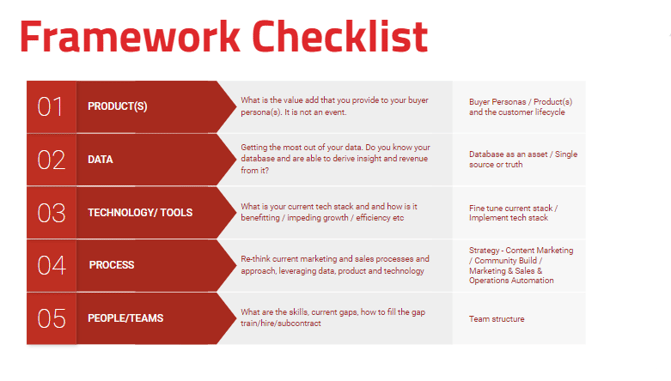 Now is the time for media and B2B event companies to review where and how they fare against any of these key pillars that determine their readiness to embark on a digital transformation programme.
We've been helping companies with their digital transformation initiatives for the past 15 years and for the first time this has forcefully become a strategic imperative for all players in the industry not just a selected few.
We can help you assess your current digital transformation readiness and provide you with a path that you can follow over the next 12-18 months towards digital transformation of your business.