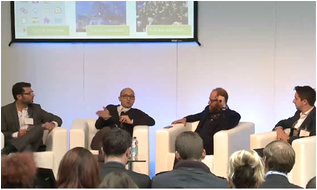 I recently took part in a panel at Event Tech Live in Shoreditch. My fellow panelists and I were talking all things social media – the current landscape for events, how to effectively market events using it, and what the future holds. You can watch the video here, or if you'd like a quick summary, here are my top takeaways from the session:
Big Data, big fuss
Big Data is somewhat overhyped (and really many event companies are simply dealing with data, rather than Big Data) – my view is: what's the point of having a huge amount of data if you don't know what to do with it? The focus needs to switch from harvesting and analysing all of this data, to actually generating results with it. Twitter offers the most amount of data so the challenge is to get some sort of value out of it

We need to be able to translate followers into delegates. There's little use in having 100,000 followers if they have no interest in attending your event. Better to have a smaller following, with greater relevance than a huge following (and amount of data) when in reality only a small percentage will attend your events

Event companies must also identify who the most influential and active members of their social media communities are and turn them into brand ambassadors

Exhibitors are a huge untapped resource for trade shows in particular. Typically they all have their own social media accounts with their own followers, fans and ambassadors. You could be missing out on millions of followers by not engaging them
Social media for events – content rules all
Event companies are guilty of simply broadcasting information about their events, posting repetitive, fact based information that is unlikely to convert

This approach needs to switch. If you have a blog (and you should) you can generate 15 – 25 Tweets with useful and engaging content every time you publish a post. Your approach should be 80% content and only 20% sales based – your prospects will not appreciate being pitched to on social media

At BrightBull we've even seen examples of Twitter driving more conversions than email – despite email marketing being every event marketer's favourite channel

Content curation and distributing third party content is fine, but really you need to be responsible for your own blog or LinkedIn group. Personally I can't see why conference companies have issues with generating content – events are solely based around it! If you are struggling for ideas you could even invite an industry thought leader to write for you (with the added benefit that they'll likely share posts with their own following/community)

Event marketers should be performing A/B split tests on social posts as well as email. Reposting the same headline at two different points in the day can increase your click through rate by 150%. You don't have to churn out new information constantly

Don't just switch off once an event is over – it's important to publish social content consistently in order to build a community
Video content and what to do with it
Live streaming your event can work –but how likely is it that your prospects will watch the whole thing? It's good to have it as an option but there are more engaging formats

Publish the video in its entirety post-event – but make sure you get some value from it. It should be behind a form so you can generate leads, though for engaging your prospects this might not be the most effective strategy

Break your conference footage down into smaller sections and bite size excerpts. This way you can demonstrate the key takeaways and most powerful points from sessions without having to go into huge detail

The key to engaging prospects and securing delegates is demonstrating that you are an authority on the subject your event is themed around – video is one of the most effective ways of doing this
What does the future hold for digital event marketing?
If you are producing content and it is relevant to your target audience you shouldn't worry about your Google rankings and being rewarded by search engines - it will happen organically. Yes an SEO strategy is important but don't forget that you are creating content for people, not algorithms

Event marketers are way behind the rest of the B2B world so really there's just a lot of catching up to do - the content must be relevant, better targeted, influencers should be brought on board and new followers nurtured

The issue of privacy is threatening social media penetration, and we may even see companies and individuals easing off of social media and finding smaller, more private platforms on which to engage
What are your thoughts?
So you've heard what we had to say, but how do you see the social media scene changing for event marketers? And what challenges are you facing with your strategy? Ultimately genuine engagement must rise, and broadcasting has to be eradicated. Event companies shouldn't just seek to increase their follower numbers either, they should seek to increase the right kind of followers with better targeting, more relevant content, and an improved understanding of what those followers really want.
Thanks to the rest of the panel Miguel Neves our moderator, Saul Leese and Ian Wallace for an insightful and exciting discussion, and special thanks to Adam Parry from Event Industry News for inviting me to participate.