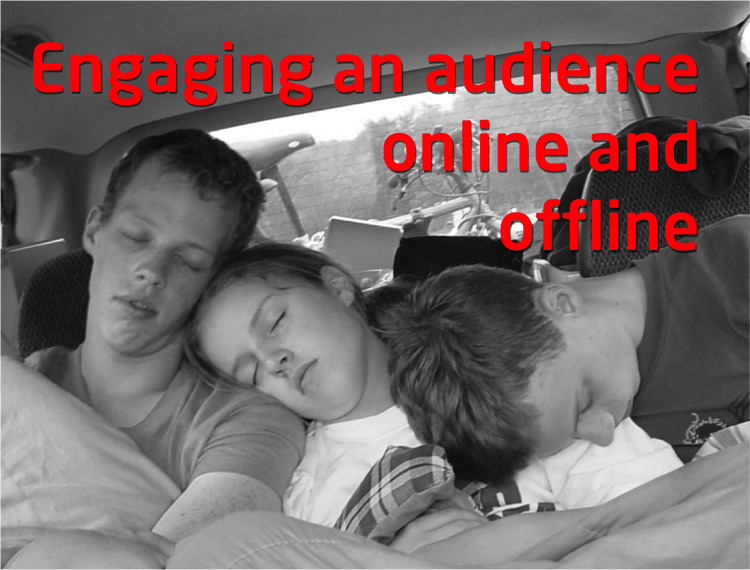 I took part in a panel discussion at Event Tech Live with Anthony Dunn of i2i Events Group, Neil Robertson-Ravo of Top Right Group, Ade Allenby of Reed Exhibitions; and Tamar Beck from Gleanin. It was a great session (probably the best one I've participated so far) that sparked lots of interesting views. It was mostly focused on how you engage an event audience online and offline, and what kind of tools you need to do it.
Here's a quick digest of the discussion, but be sure to check out the video a the end of the post (a good one for your commute home).
Many organisers have a desire to keep their events alive 365 days a year – is this achievable and should the organiser take the role of facilitator, contributor or owner?
Event organisers can and should be the facilitator of 365 day engagement – but crucially, they cannot truly own this. 365 day engagement relies heavily on those already within your event community, so you cannot brand, or control, the entire process
You can only really be a contributor to this kind of engagement if it is truly authentic, otherwise you will be found out – and fast
Ownership of your event community should also not be confused with total control. Allow your community to converse, and don't try to select a (conveniently chosen) topic of conversation you'd like them to discuss. It's not likely to be very successful, and definitely not as effective as letting the group have their own organic discussions
Can the time you invest in ongoing engagement drive an increase in revenue and registrations?
Unfortunately Marketing is still not seen as a revenue stream in the event industry, so until that changes it will be a struggle to find the right tool to track this
You can however follow conversions (from start to finish) using a marketing automation tool such as HubSpot - from the first interaction a contact has with your brand, to the moment they become a customer
A lot of event organisers dismiss social media, believing it doesn't work, and fails to drive revenue, but by using the right tools you can definitely demonstrate the ROI
How do you nurture a community; understanding buying cycles and knowing when they are likely to be ready to attend an event?
With content! You should be able to understand what the consumption of a piece of content means for a user of your website or blog. If you can understand what they're reading and when, you can analyse their behaviour and target them effectively. If they have viewed the right kind of content but not registered, you may just need to give them a nudge in the right direction
Drawing insight from multiple sources and overlaying behaviours can be helpful – social media interactions and information regarding their location will help to validate customer journeys and identify when a customer is ready to purchase
Technology hasn't really changed for a long time in the event business, but data science is rising up the ranks. There are so many touch-points to analyse now that agility is key. Traditional marketers aren't necessarily used to it, but they'll need to get accustomed to gathering behavioural insight in order to keep up
Are audiences ever really offline?
Good question right - perhaps when they are at your event. As individuals they may be offline at points, but during an event of several days, that's where you'll find your community of offline contacts. Event organisers should specialise in creating offline communities, and ensuring that 365 day engagement applies to the event itself too
Traditional event marketers understand a community to be a forum where people sign up and interact – actually the definition is much broader, and should include all those who consume your content, and return to your blog or website. It does not have or require to be gated
What experience do you have of paid ads and retargeted ads on social platforms?
Retargeting could be the saviour of the events industry and a highly cost effective way of publicising your products and services. It is generally a good thing if done well, as it is based on behaviour rather than irrelevant broadcasting. It could well be the future of PPC for the exhibition and events industry
Email is still potentially the most effective way of reaching an audience – but how you do it will determine your success with this channel. Emails must be targeted and relevant above all else
Event organisers will continue to insist on emailing all of their contacts with information about their event, regardless of whether they are familiar with your brand or not. We must break away from this old school mindset and become better acquainted with content
Old school directors are concerned with revenue and volume but less so with quality – which is clearly the wrong approach. As an industry we are slowly moving away from the old model of sending email blasts, but progress could be quicker
How can you encourage your advocates to spread the word about your event?
Truly engaging with "fans of your brands" is really important. To really understand their needs, just take some time out to meet them, maybe even a spend a "day in their life". Try to make them feel part of your brand – you could even invite them to advisory board meetings
You should ensure your speakers are highly engaged and get them to share your message to their social media networks
Until we can use data to demonstrate the ROI of advocacy, it will be difficult to prove the value of these stakeholders to directors, but they should still be considered an important revenue stream
How do you feel about automation in social media advocacy? Is the increased reach worth it in the long term?
With automation comes a level of extraction from the community, and a community is based around interactions with individuals
Marketing automation does not have to mean impersonal communications. Automating the process whereby a contact downloads your brochure, and receives a follow up email a few days later is effective, elegant and time-saving. Bad automation amounts to broadcasting a repeated, impersonal message
Be aware of the increase in ad-blockers. You may think you know where your adverts are being served, but you can't be entirely certain. A repeated message can be hugely damaging to your audience, and potential audience
Of social media, content and e-marketing, which do you feel has the biggest initial return?
Not surprisingly my answer is content, the reason being that if you're focusing on creating good content you'll always be adding value. Event marketers tend to be e-marketers – blasting email updates to their database, and putting little thought into what they actually want to say. This way of marketing is thankfully becoming extinct. If you are creating great content you will have advocates, trust, an audience and a community.
Check out the session in full - and you may have some new tips to help you engage more of an audience for your next event. Thanks to Event Tech Live for hosting such a lively and interesting debate, and to my fellow panel members for making it such.
Photo Credit: Connor Barrie Family - John Barrie