The conference and events industry are scratching their heads about what they can do to drive delegate attendance, conference ticket sales and in general how they can achieve sexier marketing.
From my point of view the solution is very simple: Inbound Marketing.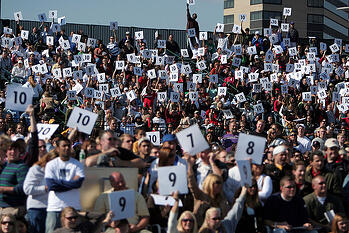 As you know (or might not) our industry is at a critical point where it's a matter of adapt, change or die. Any conference organisation that isn't thinking about developing a community, generating good engaging content, pulling rather than pushing and recognising that there needs to be a different approach, is missing a huge opportunity.
People ask me - "Okay, so I know I need to do something but I don't know where to start. Where is the conference industry with inbound marketing. Is this really the answer?"
This is the current landscape at the moment:
Those conference companies that are currently driving inbound marketing
Most of these companies started developing their online communities for a while now and have been driving content heavily and well. IQPC, Terrapin, UBM are good examples where they're doing interesting things and are particularly active. They are now at different stages in their inbound marketing ventures and - I hear - are getting very good results. They're demonstrating that marketing does drive sales and that many of those registrations that telesales teams convert, were infact touched and nurtured through marketing.
This has led marketing to drive and manage sales teams or for marketing departments to have their own sales teams solely focusing on inbound marketing leads, which frankly is brilliant news!
Those conference companies that are starting to develop some aspects of inbound marketing
These organisations have recognised the fact that they should do something and are starting their inbound marketing journey by:
Leveraging their research and production departments and their live events to generate content that can be used to promote future events
Devoting someone specifically to look at social media/digital marketing/online communities that posts regularly through these channels
Ensuring their emails are adding value through quality content and trialing different methods
Using one or two of their biggest events as trials for inbound, content marketing and social media combined with their traditional approach
Thinking that selling a product is a conversation not a hard sell. Changing the mentality by knowing that if someone doesn't register this year, there is the potential for building on the relationship for future events
In some cases the structure of the organisations and their existing marketing systems do not lend themselves very easily to the inbound transition, but they have started to do something about it which is really positive for them, their customers and the industry as a whole.
Those conference companies that are thinking about doing inbound marketing
This is where many conference and events organisations are at the moment. They know they need to be doing something around inbound marketing, but unsure of where or how to start and what to do next.
It can be a daunting place to be, because they want to protect their existing revenues and some of their current approach - which actually has components that are still working to some extent. However the most important aspect is that they recognise things need to change in order to grow the business and keep up with competitors. It's only through hearing success stories that they will take the next step and start driving inbound initiatives and commit to a content strategy in order to drive their event sales.
Those conference companies that just don't give a damn about inbound marketing
Unfortunately there are many of these companies too. They are still running their event marketing like it was 10-15 years ago. These organisation's solution to clickthrough rates of 0.5% and open rates of 2%-3% or less is: "let's buy more data" and "send more emails!"
These are the organisations that see marketing as a cost not as a revenue generating function. Very scary. If you are one of these companies, I strongly suggest you read our eBook on the future of the conference industry.
Now the interesting part. Where do you start?

First, be absolutely happy to know that as a conference and events business, you have a lot of what other people don't have, that is CONTENT. All you need to do is learn how you can leverage and repurpose this content to better engage and add value to your current clients and prospects.
Related blog: How to recycle your B2B Marketing Content
Image Credit: Craig Oppenheimer