Everybody's talking about it but unfortunately not everyone is doing it. B2B content marketing needn't be scary! Besides, how does the saying go? "Feel the fear and do it anyway!"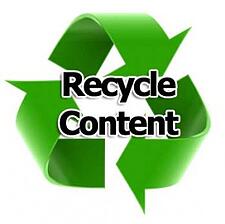 Content marketing isn't going anywhere, so if you don't have a content marketing strategy in place, what are you waiting for?
More content = more traffic = more leads. Fact.
Yes it's true - producing content is an on-going process but a good place to start is with what you already have. We hear it all the time - "our product or service is boring to talk about" or "it's complicated" or "it's a dry topic". Normally what we find is these are the guys that have tonnes of reuseable content gathering virtual dust.
This quick checklist of B2B marketing content assets should help you get started and uncover some content treasures waiting to be brought back to life as a whole new piece of remarkable sticky content.
Remember the three R's - reuse, recycle, repurpose (although I quite like my version - reincarnate, revive, resurrect)
By all means it's not a definitive list but intends to highlight content that most people are familiar with.
| | | |
| --- | --- | --- |
| Current Content Asset | | Repurpose in the form of: |
| A client story | | A case study, Interview, Video testimonial, Video Interview |
| Research papers from others | | eNewsletter, White paper, ebook: Compilation of thought leadership, Blog post on your site or on someone else's, Slideshare presentation, |
| Articles from others | | eNewsletter, ebook, Blog Post, list of resources, expert commentary article/blog |
| Own Article/Research | | Webinar, Presentation, |
| Presentations | | Video presentation, Webinar, Infographic, Mind map, Visual Notetaking |
| Whitepapers | | Webinar, Case study, Infographic |
| Client case studies | | Video, Portfolio showcase, Video Testimonial, Webinar, Interview |
| Tools/Guides/Templates | | Package it into a Toolkit, Put it behind a form |
| Videos | | Split into several small ones, Transcribe it and use it as written content |
| eBook | | Webinar, Slideshare presentation |
| Photos/Images/Stats/Charts | | Slide sharepresentation, eGuide, |
| Guides | | Slideshare Presentation |
| Infographics | | Slideshare Presentation |
| Client testimonials | | Video Testimonials, Client Case Study, Interview |
| Employees | | Video Interview |
| | | |
I can guarantee that no matter how big or small your business, you'll have some material kicking around ready to be reincarnated into valuable content that people will love to share!
Next step - ensure your great new piece of shiny content has the exponential effect it's created to do by having a clear, measurable social media execution plan.
If you're still not sure where to start, pick your most recent piece of content and just get it out. If you are still unsure ... then you should probably get in touch and we can help you get started.