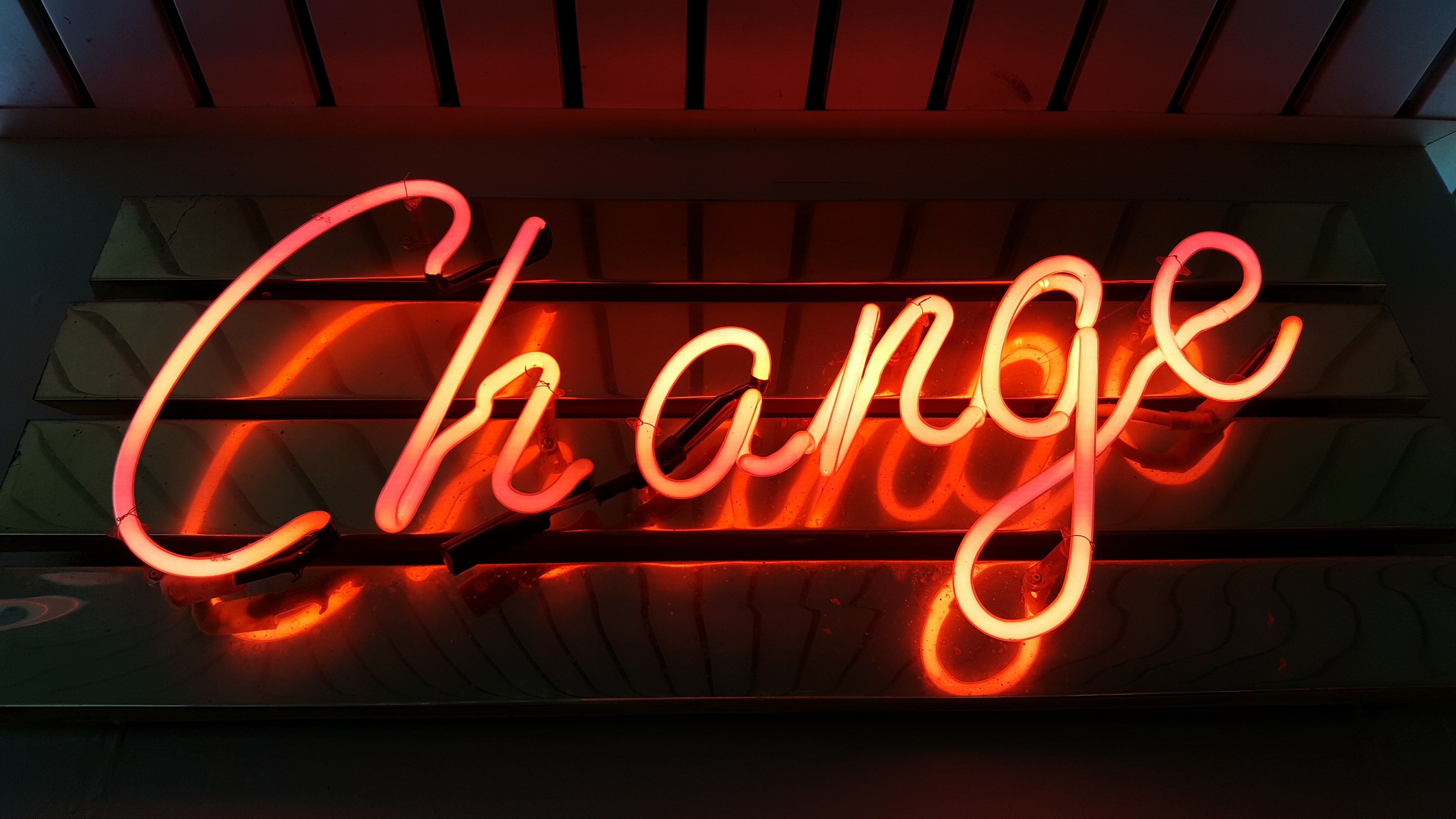 Everything we knew about how to market a physical event is now being challenged. Everything we knew about marketing a successful digital event, is being challenged too.
Anybody that is running a virtual event (be it online training, webinars, meetups) has very likely seen their leads and signups skyrocket, even if they've never run anything online before.
Some anecdotal data points.
One of our clients that normally receives between 1000 -1500 paid attendees to their events, have now received 6,000 registrants to their online version of their event
Flume Training is running this amazing series of webinars for events people and they have generated over 1,500 sign ups to their webinars
Everyone is talking about website visits increasing, lead generation has gone up and honestly it is a digital holygrail for all parties concerned. The key is maintaining it
Digital marketers in the current environment are learning on the go, making mistakes, reinventing and hopefully claiming wins too. Our mastermind group discussion last week revolved around what the marketing lifecycle of a digital event looks like and a lot of really interesting ideas came up. Below I share some of the learnings.
The marketing of a B2B virtual event splits in three stages:
Before the virtual event takes place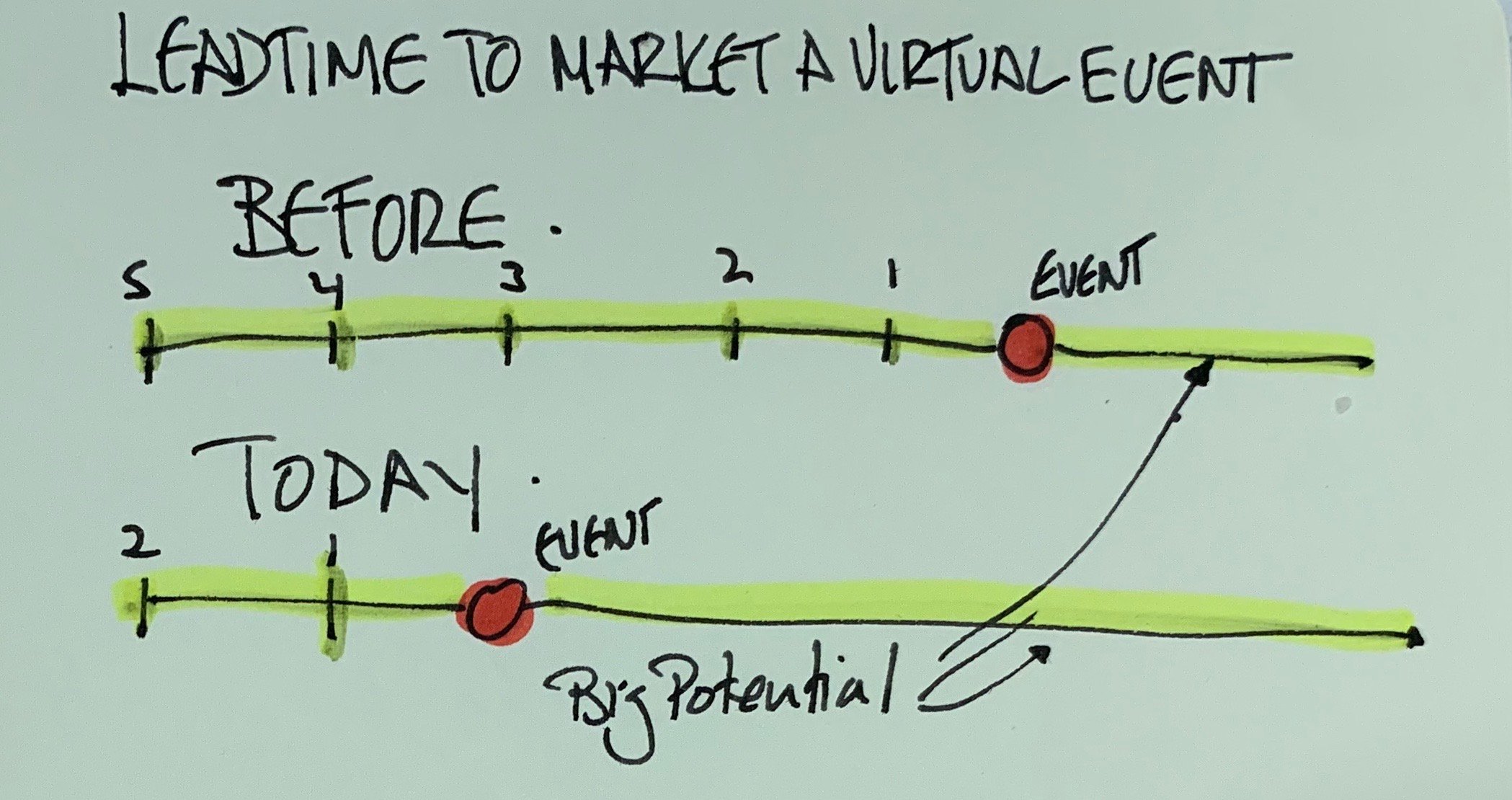 5 Weeks: A minimum cycle of 5 weeks between deciding your topics, publishing them and starting your marketing campaign
In B2B event marketing the duration of your event will dictate how much lead time or time in the market is required to drive optimum attendance. The general guide is (used to be) as follows:
- 1hr to half day event - needs at least 4 weeks in the market
- 1 day event - needs at least 8 weeks in the market
- 2 day event - needs at least 16 weeks in the market
**

These timelines have now been dramatically challenged during this time BUT I honestly think that post-quarantine, these would go back to normal. So I would keep this in mind for the future. Your prospects will go back to their offices, to be their busy selves...
Email Plan: You should be sending at least 2 - 3 exclusive emails to your database promoting the live events
Social Media: You need to make sure you are posting this on your LinkedIn company page as well as personal pages of your key team members. There is no reason why various members of the team should not publish the event themselves or even better share it from key stakeholders' profiles.
Remember to think about: Hashtags, tagging people in the post/comments, responding to all your comments. This will help the algorithms push your post more often.
Paid Campaigns: If you have the budget and depending on your audience, give your event a boost via LinkedIn Sponsored posts / Adverts / Search and other channels. I would still consider Facebook / Twitter or Instagram.
Run the campaign until one or two days before the event.
Influencers: You should tap into your black book of contacts, friendlies and industry thought leaders so they can help you amplify the message.
Media Partners: An opportunity to use media/marketing partners to help amplify too.
If you have time: Don't forget your autosignatures and other parts of your website etc. More tips here especially for webinars
Up until now you might say this is not any different from what you're normally doing to promote an event. The real impact is gained during and after the event ... and where the real work begins. Traditionally a lot of marketers halt here.
The day the virtual event takes place
Setting your automated reminders for 1 day before and 1 hour before: They don't look the best but it's okay, they serve the purpose.The day your event takes place it's crucial to get all your internal troops hitting social media channels (especially LinkedIn) doing a final reminder that "your exciting event is about to happen"
More social: Get your troops onto LinkedIn for one final round of amplification. Plus any other platform that has worked well (assuming you have measurable results)
Polls and questions: Ideally you should have 1-2 questions in your session to get people engaged - and why not release the results live as they come through via your social channels to attract instant sign ups as the session is running. We've seen it happen! Being agile in social is becoming more and more important! If not ensure at the very least you have two questions to use for future promotion
Calls-to-Action + Offers in last slide: Ensure your live session has slides that includes a final slide with a call-to-action / offer - you don't want to spend any time editing material post-event. You can simply release the slides as soon as you're done! Speed and efficiency is of the essence.
The beauty of all this, is that you are left with a set of digital assets - the video and sound recording of the session(s), slides, polls graphics and questions. All of them ready to be viewed (and marketed) almost immediately after your session has finished.

Right after your virtual event has ended - The forgotten yet easy win for many
Imagine you can't do the same with video recordings from a physical event - they're simply not ready to go instantly.
The beauty of all this, is that you are left with a set of digital assets - the video and sound recording of the session(s), slides, polls graphics and questions. All of them ready to be viewed (and marketed) almost immediately after your session has finished.
You can generate 2x more leads through your post-event material.
YouTube: This is the new search engine and you've got to be there! Ensure you optimise the video so it comes up on search / recommended results
Repurpose your sign up pages: Repurposing your sign-up pages by changing the copy and SEO optimising it
Create automated email notifications: Deliver the video/slides/summary to whoever signed up - it's also an opportunity to push other content or webinars
Drive further social engagement:
- Revisit your previous posts, add any links to the recording
- Add a new post with event findings through all channels
Accelerate through Paid Media: If your PPC campaign was successful, if budget allows continue with it, as it's an opportunity to keep driving leads
Write a blog post or two: With the key takeaways and include a link to download the recording and content

It's a new world
All marketers recognise that there are lots of things to take into account and to be honest a lot more work than one would anticipate. But as a marketer you know how hard it is to drive fresh leads to your funnel. The mastermind group agreed that enhancing the marketing process and riding the wave makes total sense.
Do you have any tactics that we've missed out? Let us know in the comments
Some anecdotal data points.
One of our clients that normally receives between 1000 -1500 paid attendees to their events, have now received 6,000 registrants to their online version of their event
Flume Training is running this amazing series of webinars for events people and they have generated over 1,500 sign ups to their webinars
Everyone is talking about website visits increasing, lead generation has gone up and honestly it is a digital holygrail for all parties concerned. The key is maintaining it
Other useful resources worth checking