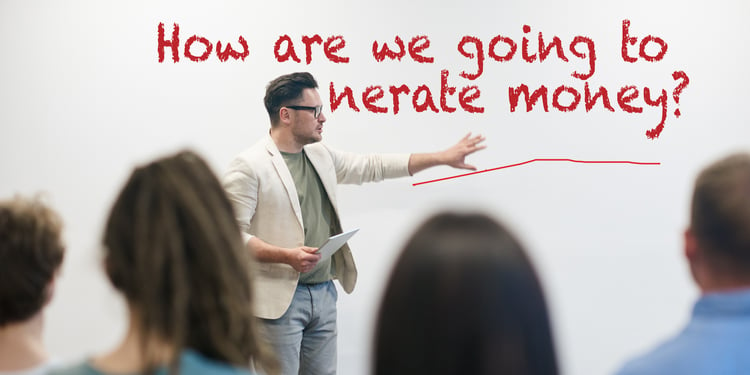 With no physical events to run, event organisers are trying to figure out how to run virtual events and the next question for event leaders, sales and marketing teams is:
How can we monetise / make money now?
The short answer to that is DON'T focus on simply monetising, at least not yet.
Let's be honest, it is not an easy statement to digest, we are running businesses and we all need cash to continue running them, but in this case, rushing without much thinking can be more detrimental than beneficial.
Today everyone is figuring out how best to pivot and many are not sure yet how to accomplish this, so if this is your case, these are the top three things you should focus on:
1. Protecting / safeguarding existing revenues/profit
2. Learning and iterating fast
3. Getting your partners/sponsors involved in the process
What are B2B event professionals focusing on in the next two weeks?
These are the general thoughts of members from our B2B Events Mastermind Group (which you are welcome to join free).
We still don't know the plan - I don't really know and leadership does not want to accept that they don't know either. We are still trying to figure this out


We are in learning/explore mode - Smaller more versatile companies are currently exploring tools, learning as they go (at their cost) and trying not to charge their sponsors for it. The focus is to remain strong for the Autumn


Q3 and Q4 will be jammed with a lot of events - Assuming we are all able to market, run and attend events by the end of the year that is - of course it's still uncertain and unpredictable. There will be a lot of competition and noise - everyone trying to claim attention and spend


We are figuring this out TOGETHER - Currently many are talking to their key stakeholders and involving them in the process. In the same way they have advisory boards to develop their programmes, now they are involved in the "product development" phase

Some of them are planning to run tests of their events for free to their current customers to experiment and learn together


We don't really know how much to charge or price these "things" - The issue is that many still don't know the "things" they are supposed to sell. Is it okay to charge a delegate for a webinar or series of events? Should we try to sell banners to sponsors in our emails? It doesn't make sense to sell advertising to sponsors etc. THINK bespoke and tailor-made. Click here If you need to remind yourself how much event companies spend and make on a regular business situation.


We are concerned about damaging our brand by running a poor virtual event - Caution should be used with the use of new tools that claim to cover many options. When you try it for the first time, it may not work as you expected and you put your brand, company and customers at risk.


Our current value proposition is based on face-to-face so we are re-evaluating our value proposition overall - There is uncertainty determining which dynamic within a virtual event can deliver the value proposition to their attendees and sponsors. In cases like 1-to-1 meetings or business matching, the value itself is in the live experience the event offers. They are exploring if a virtual event is the way to go or not.

What are the actions that came out of this?
Don't rush
No need to rush on doing virtual / or pivoting to something you don't even know how will look yet. Perhaps it is time to reevaluate and learn about product development - could you create a new product all together?
A safer bet is to take time to learn, attend other virtual events, perhaps go small scale a few times until you get the formula right.
Take time to understand not only the virtual event platforms out there, but other tools that might do the job.


Event Content Producers / Marketers / Commercial Teams:
Continue doing what you currently do, but enhance it!
The best place to be at this point in time is by the side of your customers and prospects and getting to know them better. In such unprecedented times we need to stay much closer to our markets and truly understand their wants and needs. Production, Marketing, Sales and Commercial teams should kit themselves out with tools to enhance their day-to-day processes and provide a better, more human and empathetic experience:
Record your conversations
Incorporate video in your sales / outreach process
Meet face to face virtually
Dare to invite some of your peers to an intimate discussion with…
It is your choice to use it or not, but in our honest opinion this is where the biggest opportunity lies for you TODAY, especially for the next step below.
Become extremely social
It's important to recognise that the all important B2B social networks Twitter and LinkedIn are where you need to be dedicating your efforts for interaction, discussion and social contribution - here is where you'll connect with new prospects and generate more brand recognition.
Don't monetise
Do not focus on monetising as yet if you have not figured out your digital event proposition and if this should be at all part of your offering. You are better off focusing on aspects of community and value add to your existing shareholders that know that this too shall pass (ideally soon) and place all your efforts in building the momentum you will need to stay top of mind with your customers and prospects.
Do monetise
If you have a clear vision on the value proposition for an attendee or a sponsor in the digital world
If you have insight on your community/prospects that you can leverage to provide leads for your sponsors
If you are comfortable with your digital event platform and know how to make the most of it
If you have the volume of traffic on your site to build brand awareness campaigns for your sponsors/exihibitors
What are you doing in the next two weeks?
Here are some ideas to get you started: