Most companies find fostering engagement among virtual event attendees challenging. But it doesn't have to be. Our good friend Sasha Frieze from the Business Narrative shared some really interesting tips and concepts through a live conversation on how organisers are able to foster engagement.
Here's a summary video of the session and below you can check out the summary.
1. Live environments are more like TV
It's a fact - when we're operating in virtual environments, we need to think more like TV producers. By this I'm not talking about big budgets or really sophisticated tools, but making an extra effort outside the simple and obvious Zoom cameras.
What specifically do you need to think more like TV?
Scripts are key
Definitely best to have a plan! If you know exactly what is going to happen and when, everyone behind the scenes will know what to do if things don't go quite as expected.
TV programmes all have scripts - nothing is as live and impromptu as we might think. Scripts give you that safety net.


Enhance the experience
Invest in your branding during these live experiences - it often takes a bit of a backseat! You definitely want to create an inviting, appealing aesthetic - use backgrounds, green screens, showcase your logo, add titles and subtitles.
Depending on which tools you're using to stream your online event, they should provide a suite of useful tools that will allow you to enhance the online experience with polls, videoplay, audience interaction, white boarding facilities etc.
Yes there's lots of cool tools, funky apps and broadcasting-like kits out there all of which will greatly enhance the experience, but you really don't need a big budget for all of this.


Use an MC / experienced presenter
This is one of the situations where having outside your industry expertise is advisable. These presenter just know how to spark great conversation, crack an off-the-cuff joke and more importantly improvise incase things don't go as planned.


2. Involve your community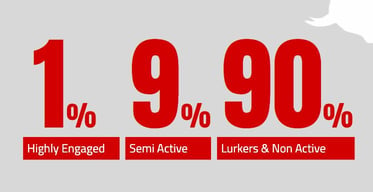 We've talked about the 1 - 9 - 90 concept in this blog numerous times. So to make the most of your live engagement, make sure you invite and bring along that 1% of community members that are really engaged and have been adding good value to your existing community. They'll be more than happy to help and contribute.
This goes without saying but if you are running a live virtual event/webinar/get together it is advisable that your community leader participates and moderates the sessions - they're the face of the community.
3. Your community members are humans
Yes, human beings, with a sense of humour and frankly like us they're also tired of the same old Zoom sessions. So as B2B online community leaders you need to unearth the common threads amongst your members.
Star Wars, running, dancing, music, beer? We've heard and seen some lovely examples of live virtual events that have used one of these tools to have a bit of a laugh, break the ice and have some fun. Which tool??
This is often a really simple, inexpensive tool that's definitely under-utilised.
4. Foster a sense of presence
This might come as a bit of an obvious point (even though many might disagree), but if your intention is to drive attendance to your LIVE virtual environment, do not encourage or promote post-event recording sessions. At least not until the event has taken place. You want to entice people in with all the amazing things they'll benefit from by being live - namely live interaction and Q&A's which are often one of the most valuable parts of these sessions - an opportunity to get something truly personal and valuable out of it.
As human beings we have this FOMO thing right (fear of missing out) and clearly communities truly come alive when they are together, collaborating, engaging, exchanging ideas/laughs etc (whether online or in person). So ensure people see the reasons why they should attend the live session as opposed to simply getting the post-recordings (they are unlikely to watch it anyway!)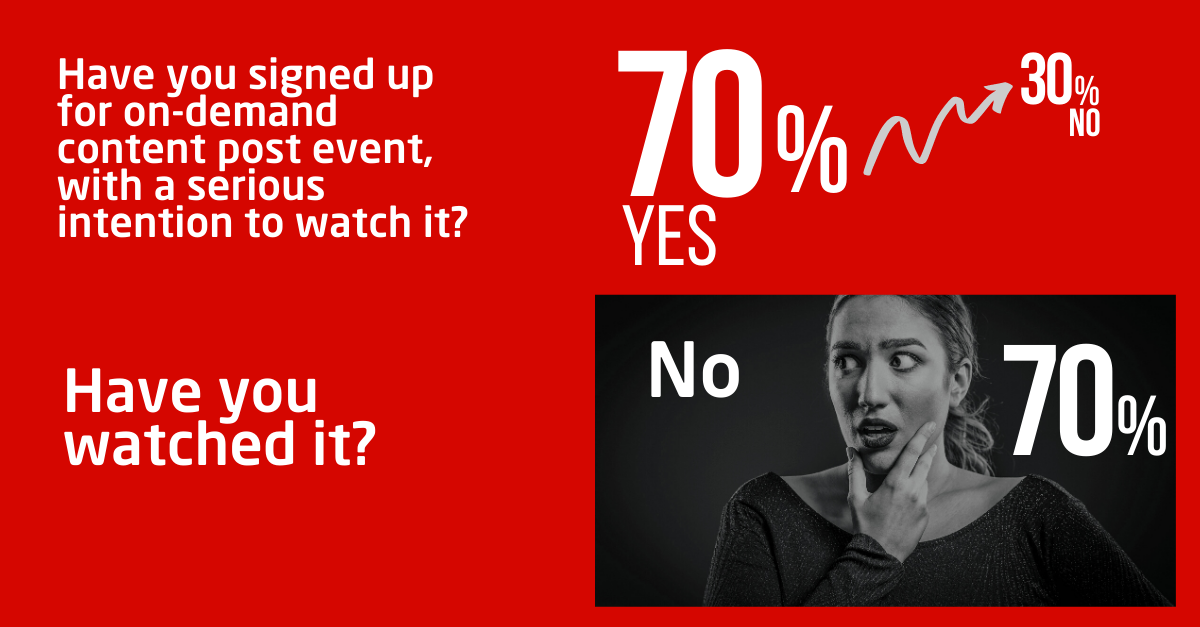 5. Virtual offers MORE opportunities to engage than physical
Organisers of physical events argue that the live, physical experience is unbeatable and it's very difficult to match a virtual event. And, I agree. However our panellist Sasha Frieze at our bringing communities alive session shared how virtual environments actually offer more opportunities, we just need to capitalise on them.
Multiple conversations: For instance, when in a physical environment, we would only be able to hold one direct conversation, in a digital space we could engage in various at the same time.
Physical Introverts are Digital Extroverts: Virtual spaces allow these individuals to become more active and weirdly enough the safety of your home office makes it easy to foster and initiate connections
Roundtables: Can still happen even concurrently while the live event is happening
Hopping in and out virtually is okay and planners need to have an always on/available approach
Networking virtually is easier than networking physically as users are more likely to communicate/connect with another person
It is important to highlight that to foster this engagement you "the organiser" need to be more proactive in stimulating the opportunities.
6. Everyone needs to step up
The final point is we're all having to step up, adjust and work harder at everything we do in the context of events.
The organiser:

Everyone needs to be switched on,

all

the time in a virtual space - there's no dead time during sessions.

Extra time needs to be devoted to onboard all stakeholders especially when using newer virtual event platforms outside, Zoom etc.
And financially, you'll need to devote resources to ensure the online experience is top notch,
Community members:
Being open to try and test these new technologies that allow us to build better connections.

This means joining onboarding sessions with the organiser before the event takes place and updating your profile with your full info so you're easily discoverable.
Sponsors and partners:
They need to understand the tools, technology and platforms that organisers use.

In addition, they need to be more digitally proactive in engaging the audiences/prospects with the use of those tools.

At the same time they will need to create and have more digital assets available to engage in these live environments.

Waiting in your virtual stand for people to show up, is not really a thing.
What now?
The full video session is now available here and you can download it now.