The time has come for B2B companies to get serious about their audiences. The barriers to entry into the virtual events, content online and communities have come down and anyone can challenge the status quo from the living room of their house.
Traditional event companies have had to think FAST on how they're going to add value to their audiences, sponsors and stay top of mind within their relevant industries - building B2B communities is now an imperative.
Our series of digital pivot events aimed to cover all of these aspects and a specific area that came up again and again was LinkedIn.
When it comes to attracting audiences to your B2B virtual events, LinkedIn is pretty much unrivalled. A business that doesn't have LinkedIn in their marketing strategy is definitely leaving money on the table.
Here is a summary of the key themes we covered in our recent chat with Regan George from fellow agency The Social Effect. As you can see, we did cover A LOT - the content and information shared is truly valuable.
Quick content index
Four Successful B2B Online Community Building Blocks
These four building blocks need to be done in conjunction - one is no more important than the other. Get one wrong and your community potential is not going to be fulfilled. This is applicable for any platform - whether Facebook, LinkedIn..
1. Positioning the name, theme and the value proposition of your community
It is not about me (or your product) / it is about the members. You need to position the community around your target members deep professional interests, goals, aspirations, challenges. You need to create a destination for them to connect and network with their peers. The worst thing you can do is make it about yourself.
If you invite 500 people to join your community, If 25% - 40% of them join your proposition is working. If 10% or less join then you might have an issue with the positioning.
You will need to use the basic principles of SEO to name and position your community. It needs to be FOUND and needs to resonate immediately; as soon as the user interacts with its description.
2. Member growth
The name of the game is growth and when you launch your community you need to proactively and consistently grow your community until you reach critical mass stage. While every industry and sector is different, the magic numbers you are looking at are:
First Critical Mass stage - 1,500 - 2,000 members
Second Critical Mass stage - 5,000 members
Third Critical Mass stage - 10,000 members
When you reach 10k members your organic growth will take over.
What are the tactics to grow a LinkedIn Group?
1. Invite your own personal connections via LinkedIn and those internal influencers from your business
2. Invite your prospect database - via email
3. The community manager needs to proactively connect with new individuals in your industry and subsequently invite them to the group/company/event pages
4. Join other groups that are relevant and politely connect with key influencers and invite them to your group
5. Follow hashtags that are popular in your industry. Comment and on key discussions on that subject and offer a link to your community within their commentary


3. Proactive Community Management
An online community needs a community and content manager. Organisations fail miserably in their community journey because they believe in the fallacy of self sustaining communities. While this is possible when they reach critical mass, the truth is that a truly well established community needs to be proactively managed to keep conversations on topic, protect the community from self promotion and spam and build key relationships with members - a very important part of the whole purpose of the community.
What is the magic number when recruiting online community members every month?
A great community manager's goal should be to build strong relationships with community members from the get go. This means personalised messages to the new joiners encouraging them to introduce themselves, to share specific and relevant information about their goal/reason to join etc.
For this reason a number bigger than 200 per month will start to become difficult to manage.
4. Content & Engagement
Content and good quality content is the lifeblood and reason for the community's existence. You need to develop content (even if it is repurposed) that is inspiring, engaging and adds value to the conversation. At the same time this content will encourage user-generated content that will be aligned with the tone and standard you've set.
Six tangible outcomes that you can track back to a successful B2B online community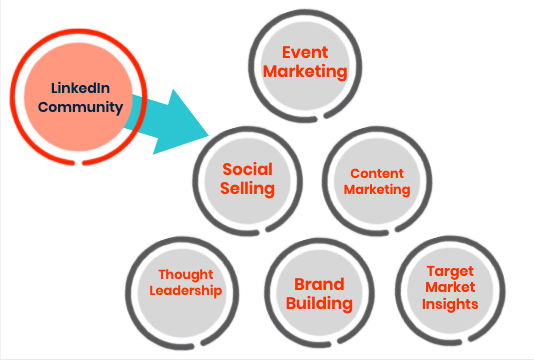 Image credit: The Social Effect
The success of a B2B online community is dependent on Community Management. And this is what most of the 3million LinkedIn group owners do not have!


1. Event Marketing
While you have a direct link to a base of prospects to promote your events you can directly track and link registrations to the members in your group.
This is particularly relevant for companies that struggle to get through to contacts via email.
2. Social Selling
Many companies are not so hot on social selling but this is the real benefit of having and running a LinkedIn Group. While functionality might not be your best friend you have the ability to directly reach out to your members via direct messages. Something that a paid LinkedIn account can do.
3. Thought Leadership
A well run community and a podium for thought leaders in your business to share their expertise.
4. Brand Building
Bear in mind that groups and communities get together around a common goal -more specifically on LinkedIn around a common interest. NOT a common business. For that you have the Company pages etc. (more on that later)

Do not name your community / LinkedIn Group after your business.
5. Target Market Insights
It's potentially a captive audience that you can tap into for running polls, market test initiatives and anything else you think is appropriate.


6. Content Marketing
While this is the most popular reason why organisations build communities, it is not the most important.
Building B2B Online Communities and the Iceberg Illusion
Community management is like an iceberg.
This is where many get it wrong. Many B2B organisations think that managing an online community is just about posting content on a regular basis AND responding to comments. Wrong!
That is just the tip of the iceberg.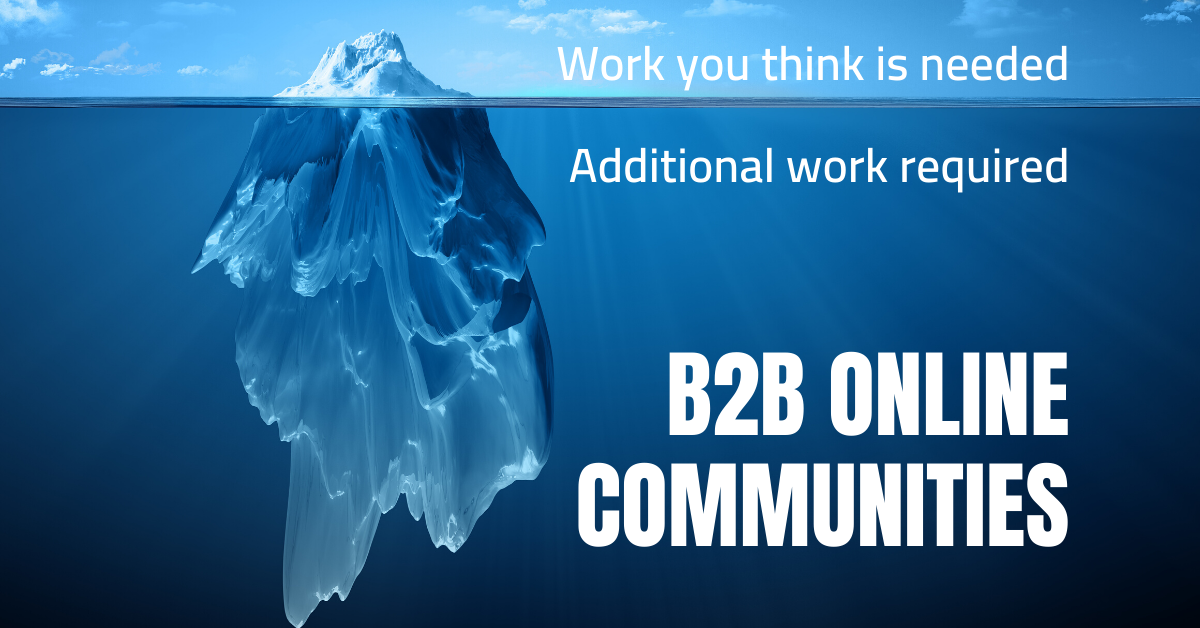 Managing a community involves much more than that and much more time resource than many anticipate. This is where the hidden gems of community success are hidden:
Having a content strategy and content calendar
Companies need to know in advance what is the content they will be posting in their groups. Generally this will be strongly linked to your blog and thought leadership content schedule, in fact it should all be part of the same process.
The minimum number of posts is twice a week, but daily is advisable.


Responding to members comments
When a member adds a comment or asks a question, the community manager needs to be attentive to cover/respond or link with other internal individuals to stimulate a response or at least to articulate a response from the community.


Responding "privately" to community comments via inbox
The nature of some of the comments and requests will require the conversation to go privately. These are requests for further discussions, conversations about prices, fact sheets etc and will merit a one to one conversation. Think social selling / demand generation here.


Sending personalised engagement messages
At times you will need to be sending direct engagement messages to your members or key individuals in your industry - asking for their expert views on a particular discussion you are keen to boost, soliciting their collaboration or interaction with another member of the group. etc


Reporting and monitoring
This is about growth and constant monitoring. Weekly and monthly reporting is required as you will need to adjust what isn't working and incentivise tactics and content that is working


Community acquisition and growth
The numbers in your community need to be growing and increasing. While this is dependant on your industry you need to be looking at a minimum benchmark of 200 members per month.

Online Community Management Framework
How to use/split your time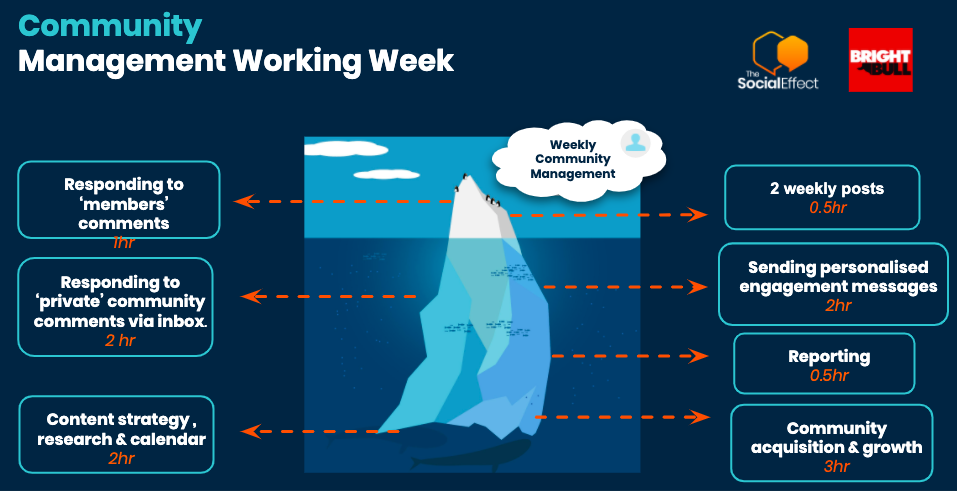 Image credit: The Social Effect

How to turn spammers and broadcasters into advocates on LinkedIn Groups
When someone in your community starts to post and self promote, the community manager clearly needs to review and delete comments and posts like that. But the real opportunity comes if you are able to turn these individuals into advocates and people that can add value to the group.
This is the approach you should use with this type of folk:
The community manager needs to moderate with an "iron fist.
If someone posts something spammy and self promoting DELETE the post but do not kick the person out
Connect/reach to that individual privately and share the reasons why it was deleted
Say to them: "You want to get engagement from your posts right? If so, this is not going to work"
Give them options on what they can try: "If you want to get engagement in this community change tact. Please post a question, get something engaging..."
If they continue doing the same, then expel them from the group/ community
The three types of individuals or members every B2B online community needs to have
Regardless of what platform, tool you are using to build/house/nurture your community you have to absolutely bear this in mind:
1% of your community will be highly engaged
9% of your community will be semi-active
90% of your community will be lurkers
Therefore to build your community you need to have these three key tiers:
Tier 1: Members from Right Company and Right Job Titles
They are your ideal prospects! In B2B sales and events these are your key accounts and key decision makers within these organisations. The people that ultimately will buy your product and the individuals that you are going after from the social selling perspective


Tier 2: Right Company but not the right job titles
These are the individuals that will influence - they would be decision influencers.



Tier 3: Consultants and Vendors
People in the industry that really want to be vocal, that need to be "out there" to promote themselves. While you need to keep them well behaved under your community/group rules, these are the guys that foster engagements, from generally tier 2s who subsequently will influence tier 1s.

How to manage direct sales messaging and branding on LinkedIn for B2B Events?
At what stage can I start promoting my product/service to my B2B event online community?
There is a big difference between demand generation and event sales.
Ideally you will go through a lead nurturing process before you are able to approach a community member to buy/acquire your product.
Community manager has interactions with potential prospects
Month 3-4 the community manager is able to "bridge a relationship between Prospect and Community Owner (aka your company) "
LinkedIn profiles vs company profiles vs events vs groups. What is the best approach for B2B sales.
What works for your audience is not what works for LinkedIn, so you will need to work with the algorithm to get the best results.
If you are an individual and just starting, begin with your personal profile.
If you are a larger organisation and been on the platform for a very long time you should build on your company and events pages.
How do you monitor LinkedIn Group engagement / campaign success?
Unfortunately this is something that has to be done manually. So the best possible approach is:
You need to have a content calendar
Monitor the engagement / views on a monthly basis against your content calendar
This tool will allow you to better understand the types of topics / themes that are having engagement success..
In conclusion
Building B2B online communities should be platform and technology agnostic. It is true that technology and user experience is a contributing factor, ultimately it is down to the six fundamental pillars being executed and delivered diligently that will allow your online community to succeed.
Simply buying a piece of online community technology, launching a LinkedIn group, a facebook page or investing in bespoke tools is not sufficient. It takes time, dedicated and planned effort.
Anything else you think we should add to this blog? Let us know in the comments.
If you would like to download the presentation with all the charts and frameworks, check out and access the full video session below.


You might also want to explore: