There are many ideas event planners use to stimulate engagement during the event. Some bring comedians, others commission Cirque du Soleil style shows, hire magicians etc... You name it and it has been done, especially in North America where events get additional, hype which I think is pretty cool.
I personally see the value events don't necessarily need to be serious and academic and networky all the time. Well, what if you could invest your money in something that will actually generate excitement, buzz, shares, a twitter frenzy, awareness and, more importantly, an everlasting memory of your event?
Try attempting to break a world record title and give yourself the chance to join the likes of Usain Bolt and Richard Branson by being in the Guinness World Records book!
A couple of weeks ago I met Mawa Rodriguez from the Guinness World Records team at a networking event and she explained what this entailed, how it works and it turns out it doesn't have to be very complicated. In fact, they have a whole team dedicated to working with you in finding a record title that you could attempt at your event.
From my point of view it is a win-win for everyone concerned, and if it had to come to deciding between investing in a rock band to play for an hour or breaking a Guinness World Records, I know which option I would pick.
These are my five reasons why breaking a world record at your next event makes a lot of sense
1. You will get people engaged and excited
It is the best possible team-building exercise with a tangible and meaningful end goal. We have all grown up with stories of record-breaking achievements wherever we were in the world. I personally bought my first copy of the Guiness Book of Records when I was 12 years old. While I am not suggesting that this is the case for every attendee at your event, it is a very cool undertaking that almost everyone will want to take part in. Beating a world record title certainly trumps giving the person next to you three high fives.
2. You will be working together towards a common goal
What I like most is that everyone must get involved in order to achieve the goal. Mawa's team will ensure that everyone gets involved and has a chance of becoming a record-holder.

The British Council of Shopping Centers and Shopping Centre magazine attempted to break the following two records at their 2015 event:


'The fastest time to trace a line' - A new record was set at 10.24 seconds
'Most times to hit a target with a paper aircraft in three minutes (team)' - Failed to break the current record at 40 by only achieving 10.
3. Attendees will feel a sense of accomplishment and ownership
Because each person counts, I was told that everyone that takes part in a mass attempt could receive a personalised certificate (ordered from their site) and bragging rights to tell the whole world.
4. The social media amplification potential is huge
Achieving something means nothing if people don't know you've done it. Breaking a Guinness World Records title is something that everyone will want to share with his or her social networks. Therefore the potential is huge, especially if you have a targeted hashtag for the endeavour itself.
United Buiscuits, attempted to set a new record an internal conference of 150 people.
"The most books set and toppled in a domino fashion" - A new record was set at 5,381
This record went viral after it was posted posted on the internet on World Book Day. The video has had more than 1,000,000 views online.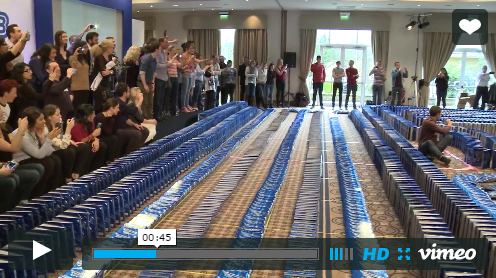 5. It is good Marketing and PR material for pre-, during and post-event
Think about it, you can start making a big deal out of this before the event takes place. During the event every participant is more likely to share "what they are about to accomplish" and if in deed everything goes well and the record is broken, there is even more reason for each person to share it with the whole wide world. Additionally, you can tap into local and main press for coverage and even get mainstream media telling the story, your sponsors' PR machines will have a good reason to shout out about the event
Could this be your contribution for your next blue sky event planning meeting?
We have all been at these meetings a month after a big event. Okay... the boss says: How can we make our next event bigger and better, let's think outside the box. To me this is a no brainer, it is different, innovative and any investment you make into this endeavour will surely have everyone talking about it for a very long time. Well, that is until someone else at another event breaks your record.