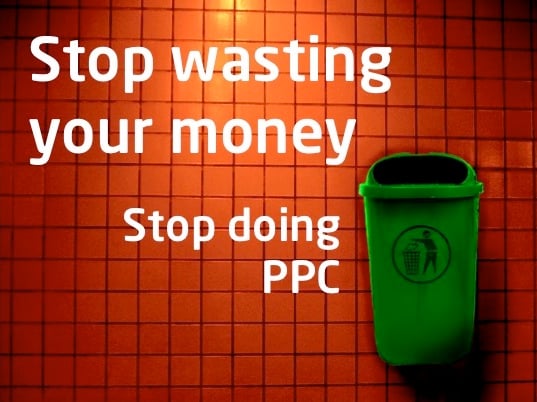 I know that in the events industry we are encouraged to take advantage of all marketing tools at our disposal, and try new things to drive registrations and build awareness of our events. But it's important to realise that not all channels hold the same value. To me PPC (pay per click) marketing is the perfect example of this – and I would go as far as saying that using PPC to promote your event can be a complete waste of money if you do not approach it right.Here are five common PPC pitfalls event marketers fall into, and how to avoid committing them yourself.
1. Bidding on short tail keywords
To appear on relevant pages, and within the right searches, you'll have to select the right keywords for your campaign. Often, organisations shy away from using long tail keywords (typically made up of around 3 - 5 words), simply because they are known to generate less traffic. The problem with short tail keywords however, is that all your competitors are undoubtedly trying to rank for the same key phrases, diluting the pool of PPC campaigns, and making it highly unlikely that you'll find success with a more obvious search term.
What to do instead
The way to achieve a more appealing search position, while specifically targeting the kind of people who will be interested in your event (and at a lower cost) is to use long tail keywords. These will be less competitive, more relevant, and may make your investment in your event PPC campaign truly worthwhile. Consider bidding for "b2b digital marketing seminar" rather than "marketing events" for example. You may see fewer clicks, but the ones you receive will be more valuable.
2. Using PPC adverts to generate traffic to your site
PPC for event marketing can be quite a costly marketing solution, and one which isn't to be entered into lightly – particularly for start-ups and smaller organisations. It might seem like a fool-proof way to drive people to your event website, but there really is no guarantee that your site will benefit from this influx of visitors if they're not quite your target audience. Moreover, there are so many things you can do to hit site traffic KPIs that do not have a cost associated, that it seems foolish to waste precious budget on this relatively achievable goal.
What to do instead
Focus your efforts on improving search engine rankings, and building a library of content to help with this. Select realistic and achievable keywords to rank for, and generate content around these – your marketing automation platform should have the functionality to help you track your progress on this front. In addition to this media partnerships are a more cost efficient tactic by far.
3. Including irrelevant keywords
It's sometimes tempting to spread your PPC budget across several keywords, in order to increase the number of clicks you generate, and essentially to hedge your bets. This is almost never the right approach, and may suggest that you're not entirely certain of what you'd like to achieve with your event's PPC campaign and are doing it for the sake of it.
What to do instead
Simplicity is key, so work out exactly who you're targeting, what action you'd like them to take, and formulate your long tail keywords accordingly. Don't forget, you can (and should) always adjust your campaign as it progresses. If a keyword you imagined would be effective for your business isn't performing as you'd hoped, you can always alter your campaign – but don't be afraid to wait and see if things pick up again, it's normal to experience blips in any PPC venture.
4. Linking to an event page, instead of a landing page with a form
If you do target your campaign effectively, generating the right kind of visitors to your event website, and at just the right time, don't mess things up by directing them to a generic link such as your homepage, or registration page. Having tailored your long tail keywords and ad content to potential delegates, you need to continue that personalisation. All too frequently, event companies neglect this crucial last touch-point leaving those costly clickers on a generic web page, with no focus and many potential actions to take.
What to do instead
Create a bespoke landing page with a clear next step that takes into account where this traffic came from. Landing pages are much better at converting visitors than standard web pages, and have one clear, singular objective: stimulating the user to take the next desired action which will inevitably be filling in a form. When creating your landing page, be clear about what that objective is, and ensure the content relates back to the ad it is linked to seamlessly. There needs to be one clear call to action, which is appealing and easy for your prospects to say yes to, more often than not the user will be inclined to fill in the form if what sits behind it is a value-add piece of content.
5. Creating ads asking people to register for your event
This is a big fat mistake. If you only have a couple of sentences to work with in your expensive ad, don't waste them on instructing viewers to register. How likely is it that having read just a few lines of sales based copy, a prospective delegate will be willing to part with their cash, and take a punt on attending your event?
What to do instead
Be concise, honest, and specific. Base your ad content on the benefits to attending your event, or the potential challenges your prospects/delegates may be facing. Don't exaggerate, and remember the importance of proper spelling and grammar in order to uphold a professional appearance.
So, should you invest in PPC?
When done well, PPC for event marketing can be an effective way of raising awareness of your event, generating leads and reaching potential delegates you might otherwise not have the opportunity to make contact with. However, if you're hoping to just hand over the investment, and generate lots of traffic with little effort, it is guaranteed to be a waste of your event marketing budget. PPC should be a complementary event marketing tool to an already robust content marketing strategy with the intention of generating qualified leads for your event, consisting of a well thought out social media approach, insightful and educational blog content, and logical SEO tactics – not just a standalone shot in the dark.
Have you wasted money on PPC before? What have been your learnings?