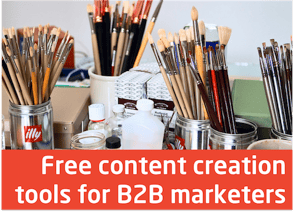 B2B marketers tend to dream big, but can sometimes be held back due to time constraints and lack of financial resource. This can mean that necessary changes aren't made to websites, new landing pages can take ages to implement, and the smallest design update can end up being expensively outsourced.
If this set-up sounds familiar, take a look at our top free content creation tools, and see if you can't solve your creative challenges without seeking help from outside.

Pixlr offers a suite of photo editing apps, allowing you to transform shapes, recolour, and add borders or frames to an image. You can also adjust transparency, and rotate or resize elements to perfect any shot. It is like having photoshop only that it is free.
Best for: creating unique, striking images and enhancing the images you currently display.

Lauded as the "easiest to use design program in the world", this simple design software lets you create blog graphics, presentations, Facebook covers, flyers, posters, invitations and any other digital or print marketing materials you may need.
Best for: creating sleek, simple visuals with minimal (or no) cost.


A really simple time-saving tool that lets you centralise links and lists, and clip photos and web articles. It's every on-the-go marketer's best friend, and even allows you to present your work as it evolves. It is particularly good when you need to take screenshots, add items to it and then presented easily.
Best for: collecting and collating ideas, allowing you to generate content even while you're away from your desk.


The quickest way to add text to photos, Quick lets you overlay whatever you want to say via your mobile. For iOS users the app integrates into the image editing function, so you can access it from the edit screen within the photo app. You can turn stock images into something far more interesting with the addition of a few choice words.
Best for: mobile marketers posting quick-fire content on the go.
This free content creation tool allows you to easily create charts, diagrams and even call-to-actions in Google's typically user-friendly style. All you need to get started is a personal Gmail account or access to Google Apps and you can begin creating. Anything you generate can be quickly copied to other documents, or embedded on your site.
Best for: jazzing up presentations or making modular improvements to the look of your website.

An interactive media platform that lets you add rich media links to photos and videos, meaning your visual content comes to life when visitors to your site hover over it. It turns a flat image into an engaging story, and is incredibly simple to use.
Best for: creating whizzy visual content without the hefty time investment.

Yes, surprisingly enough Powerpoint is a very easy way to create content that you thought you'd never be able to do with it. While technically it is not free, it is likely that you already have or use powerpoint in your business for presentations, but do not know it has functionality that you can use to your advantage. The trick is that you can "save as" images anything that you create on screen.
Best for: creating calls to action, infographics and anything that just does not require you to be a whizz in design.
And if you're really pushed for time, try one of these excellent online freelancer communities…


As expected, this platform allows you to source creative professionals offering a particular service for just $5 a pop. It's quick for both sides to use, and it guarantees good value.
Best for: marketers on a strict budget, with a challenge that requires some freelance help.


A community of remote-working designers who you can get in contact with speedily. You can post a job and let freelancers find you, or take the lead and search for the kind of designer you're in need of.
Best for: making a small design change for minimal cost, that you don't have the time or resource to complete in house.


Freelance experts on hand to tackle your design tasks, and turn them around quickly and to a high standard. You can view a designer's portfolio and client feedback to help you make a choice, and you can then pay your chosen designer per hour or per project.
Best for: getting a design task completed quickly and efficiently.


A speedy and reasonably priced crowd-sourcing design platform, where you essentially start a contest to create whatever it is you need designing. You can provide specific feedback to designers meaning that the end result is totally bespoke, and meets your requirements. You can have anything, from your logo to your website's look and feel, designed in a week - and there's a 100% money back guarantee.
Best for: digital collaboration for a quick and satisfying solution to your design needs.
Go forth and create!
Marketing is all about being resourceful, willing to get your hands dirty, and doing everything you can to get the job done. Free content creation tools and online freelancing communities help you do that and more; they give you the opportunity to get creative, realise how much you're capable of, and make little changes to your site that have a much bigger impact on your visitors.