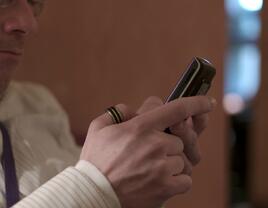 Event marketers are wising up to the fact you need to think about optimising for mobile. Usablenet have revealed that 52% of B2B customers now use smartphones to research products for their business, and mobile users now account for 16% of B2B website traffic. Those numbers are only going to increase.
Aside from user experience benefits, and the additional leads you could gain by doing so, Google has actually begun to deprioritise websites and blogs which are not optimised for mobile in rankings, when a search is conducted via mobile. This isn't great news considering that mobile is bigger than ever, but think of it as the nudge you need to improve your users' experience on your site. Here are the five steps you need to take to optimise your event website and blog for mobile users:
1. Optimise downloadable content as well as your main site
To make your event websites easy to use on a mobile, you just need to change the way it's arranged. Scrolling from side to side on a mobile device is an intensely frustrating experience. Users are well accustomed to scrolling up and down – so make sure that's all they have to do. In addition, any downloadable content should be similarly optimised. Your prospective delegates will be pretty annoyed to fill out a form, likely providing a substantial amount of personal information, only to find that the agenda they were interested in is impossible to view on their smartphone. Do you really think they'll follow up later on a desktop computer? You may have their details, but it'll be hard to undo the frustration they have felt about your brand.
2. Simplify your forms
So a prospect is browsing your site, and they come across an event brochure or piece of content they'd like to download – or they may want to get in touch with a question (and if you're lucky they're interested in registering for your event). Can you really sustain their interest by forcing them to battle with autocorrect, typing endless answers into tiny boxes? Make your form as straightforward as possible, and eliminate any fields that are not essential. Ensure the fields you do have are clearly labelled, and displayed vertically on one page. This will aid your lead generation efforts, as valuable prospects will be more inclined to see your form through to the end, rather than abandoning it halfway through.
3. Remember your social sharing buttons
It's a sweeping generalisation, but I have a feeling that prospective delegates using mobile devices are more likely to be au fait with social media, than users who only ever access your event website on a desktop computer. Get them to help boost your event's profile via social media, and influence their potentially well connected peers by making it really simple to share your event details and content.
4. If you've done all that, add some more sophisticated stuff that your prospects will really appreciate
If you've got the basics of mobile optimisation down, add a couple of elements which will really help to make visitors' experiences on your event websites amazing. For example, click-to-call functionality for your contact number could help a prospective delegate answer a query or even sign up to attend, on the go and in record time. In this respect it could make their experience even easier than if they were using a PC! In addition, using video for mobile web interactions could be something your potential attendees use to while away the time spent commuting into the office, or to a meeting. Adding value in this way will be appreciated – and remembered.
5. In addition, make sure your emails are mobile friendly
An increasing number of B2B emails are opened on the way to work, on the move, or even late at night – the medium through which they're delivered being a mobile phone. The downside to this is it can mean they get forgotten, and aren't actioned at the point of opening. To optimise emails for mobile, think short and sweet. Your subject line will only be shown up to and including approximately 34 characters, so make the limited letters you have count. Keep the body brief, as it's likely to be skimmed, and make sure your call to action is crystal clear. Remember to use descriptive alt text for images that aren't displayed, and don't go overboard with design in general.
If you're in denial about the need to optimise, it's worth remembering that your competitors might not be
If you don't think you need to optimise your event website yet, you should think again. Mobile usage is only going to increase so it's worth doing BEFORE it becomes a problem, and gets in the way of your event sales and lead generation efforts. This is a chance to get ahead of the competition, as we know that with the kind of time pressure event marketers experience, not enough of them are prioritising this crucial step. You can either look to optimise what you have already, or look at what industry leaders are doing and consider a new approach for your website entirely.
Image Credit: Joi Ito