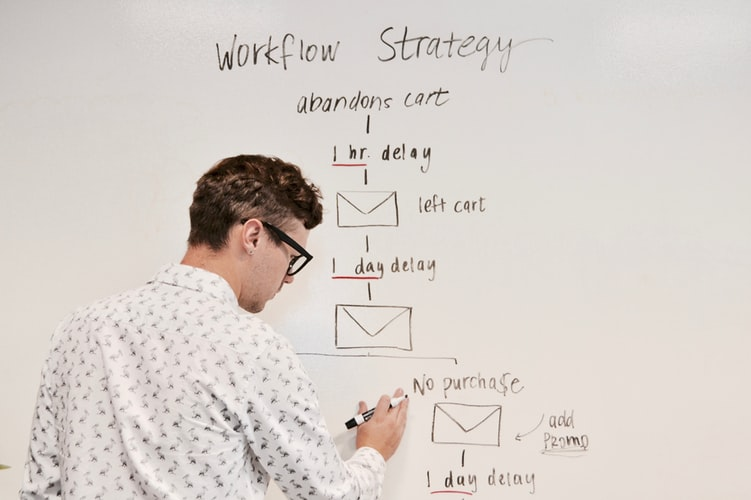 There is nothing fancy about event sales automation to be honest - it's all about having some common sense first and using technology as an enabler, second.
True that technology makes your life easier, but you can achieve similar results without it.
With this blog I want to stimulate your creative cells and give you specific tips and templates to think about how you the marketer OR the sales exec will find efficiencies in your day to day job.
What is event sales automation?
See this as a copy-and-paste exercise on steroids. ;-)
Let's begin:
The journey to automate your event sales process begins with two types of templates: Event outreach templates and Thank you emails
1. What Are Event Outreach Email Templates?
These are the emails that the marketing teams would send at the beginning of the campaign to your database which may or may not know anything about your company or you as an individual.
They look something like this:
Subject: [Artificial Intelligence Summit] - [Miami Beach]

I wanted to let you know that registration for the [2020 Artificial Intelligence Summit] taking place on [6-7 November] in [Miami Beach] is now open! As a [past attendee], I want to make sure you were one of the first to hear from it and are able join us at a highly discounted rate.
We have a really good program coming together, and very please to have confirmed [Mr. Top Banana name] among a stellar line-up of speakers. As always we have unparalleled networking and the always anticipated after event socials.
You can view all the info about it on our website, download a PDF with the agenda or register by calling [123 456 7890] or visiting [aisuperevent.com].
We look forward to welcoming this year.
[Jo Blogs]
[Event Director]
[Artificial Intelligence Summit]
P.S. Places are limited so you better register today!!
*Text in brackets and in red denotes that this is an item that you can replace with your own information. You will see this throughout the post to take note of that
What is wrong with this email template? Everything!!!!
Why?
Because it looks like every other email from the hundreds of events taking place in the coming months. If you send emails like this I'm not surprised if your email performance is dropping.
Our emails can be non creative but they actually work", I hear marketers and sales people say.
Okay, I get it!!!
Event promotion emails are very predictable and yes someone, somewhere came up with a short / to the point email and it worked… but now everyone uses that format.
BUT this blog is not about these types of templates it's about how you can get to create your own template that doesn't look like a template!
The truth is that when sales teams are using outreach templates they will likely be using other communication methods like LinkedIn InMails, Slack, WhatsApp, Text messaging etc. And here is where I think there is a lot of value to be gained if you have some common sense.
I am taking about messages like this:
Hot prospecting outreach messages on LinkedIn:
Sample 1 - InMail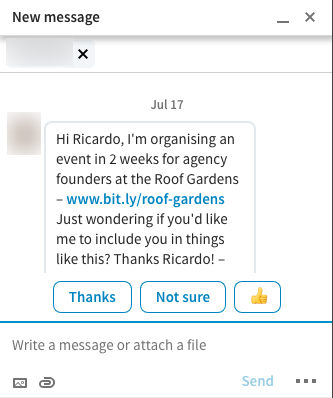 Sample 2 - Connection request message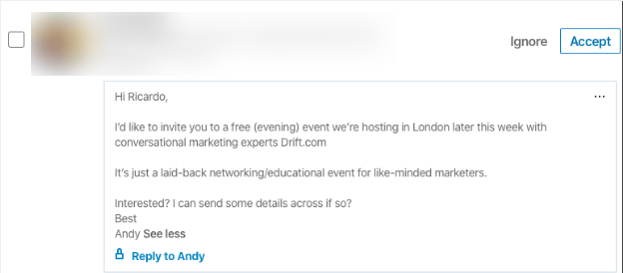 2. What Are "Thank You Email" Templates?
Every enquiry or digital action in the shape of a form submission needs to be followed up with what we call a "thank you email".

This is an example on how you would send a "thank you email" after someone has downloaded the brochure.
Hello [Mr. Prospect],
Thank you for requesting [The event Brochure for XXXXX ], I have attached it here for your reference.
Was there anything that resonated with you .....
I am responsible for [curating the audience for this event] so if there is anything I can help you with, do not hesitate to call me direct on.....
As a valued connection, if you register today.......
With best regards
[Mr. Sales Person]
"Thank you emails" must be short, to the point and driving the reader to take the next desired action.
When you promote and sell an event all of the marketing and sales activities revolve around stimulating potential attendees/sponsors/exhibitors to take one or a combination of the following actions (a.k.a CTAs or Call-to-Actions):
Register your interest
Download a brochure
Request an attendee list
Download sponsorship prospectus
Speak to a member of our team
Register to the event
The answers and responses to these requests (generally) will have very specific answers and this means that as a result this part of the sales process can be templated AND automated (with the use of technology) if you choose to do so.
If you are an efficient sales individual you will probably have a word doc with some of the most common responses to the enquiries you receive, if you don't then this post will be very useful for you.
Now, this is the template on how to create templates.
What is the Anatomy of a Successful "Event Sales - Follow Up" email template
1. Do not use logos, designed html or anything like that. Simple plain HTML:
Serves two purposes, first, makes it easier and simple to undertake, second, business emails do not have logos and banners about an event/course/show all over the place.
In addition you are more likely to get through spam filters.
2. It should not look template-y:
The name of the game is try to make the user feel like you have actually taken the time to write the email. While a template that you can copy and paste is the way to go, you shouldn't stick to just copy and paste, allow for some flexibility that lets you add a personal touch.
Subject: [Event in Rome] + more
Hello [John],
Thanks for your time just now, [appreciate how busy your are with project A and project B / thanks for helping me understand your current challenges with challenge A, challenge B / looks like a busy time ahead for you and the team].
As discussed, here is the [event agenda / media pack / event prospectus]...........
I am also including a recent article about [topic a / topic b / topic c]
While this would serve as a template note that the first paragraph contains a guideline to be customised even further. You need to remember that each prospect's focus at any point in time will be a challenge, a goal or a project.
3. Deliver what the user asked for straight away:
If I requested your event brochure, just give me the brochure. Simple!
Delivering your promise straight away means provide the brochure/ link in the first or second line of the email.
Sample 1
Hello [John],
As requested [here is the brochure] for our [event marketing show].
If you have any questions……...
Sample 2
Hello [John],
Thank you for your interest in [our sponsorship packages].
You can access the sponsorship prospectus here [LINK TO DELIVERABLE].
If you encounter any problems please call [Telephone] or …….
4. The message should be short and to the point - this is the structure to follow
When I say short, keep it under 4 to 5 lines of short text. Or aim to have no more than 3 short paragraphs. The typical structure of a "follow up email template". Structure should be as follows:

Block/Paragraph 1: Acknowledge and deliver that you promised.



Block/Paragraph 2:

Offer further help / value add piece like article / upsell



Block/Paragraph3:

Have a call to action / polite close
5. Acknowledge/connect the action the user took in the subject header
Prevent yourself from writing long subjects and promoting your event straight away. Yes, even if they just requested a brochure or have asked for more information.
Subject headers include:

* As requested, the event sales ebook…

* Ricardo, here is your media pack…

* Re: your request for more information…
6. It should be highly personalised:
What I mean by this is that you need to use personalisation tokens or reference points that are specific and relevant to the interaction that the prospect just had with you.
This is how the user will see it

Subject: As per your request [Ricardo]

Hey Ricardo,
I've seen that you asked for a call back on our blog to discuss sponsorship opportunities for our Inspire Summit in May.I am responsible for all the event partnerships for the event and I welcome the opportunity to have a conversation about how we can help Microsoft achieve its brand awareness goals.
Here are some potential dates and times for us to chat: Inspireevent.com/john-diary
Speak soon,
Joe Blogs
Commercial Director
1-800-123-4567
Inspire Summit
This would look like this when you use personalisation tokens:


Subject: As per your request [NAME]
Hey [NAME],
I've seen that you [PROSPECT ACTION] on [WEB PAGE] to discuss [NATURE OF ENQUIRY] for our [SHORT EVENT NAME] in [MONTH].
I am responsible for [SALES ROLE] for the event and I welcome the opportunity to have a conversation about how we can help [COMPANY] achieve its brand awareness goals. Here are some potential dates and times for us to chat: [SALES REP CALENDAR LINK]
Speak soon
[Sales Rep Name]
[Sales Rep Lastname]
[Sales Rep Job Title]
1-800-123-4567
[Event Name]
IMPORTANT NOTE: You might use a CRM or marketing automation tool or you might not. For the benefit of all readers, we thought we share a really advanced way to fully automate the personalisation using tokens, this is not rocket science, this is very achievable, tools like salesforce.com, Pardot, HubSpot all have functionality to do all this. If your organisation is not as advanced, you should build some sort of hybrid system where you can simply use word docs to copy and paste the whole template and personalise at your will.
In conclusion:
As you see, it is all about having common sense, a process that you follow no matter what and if you have some tech in your company already (HubSpot, Pardot, Salesfore, anything else) you can automate and store your templates for everyone to use.
If you have not set your own sales outreach and sales follow up templates, start today. It only requires a little bit of organisation, self discipline and a protocol before you begin your sales day. I can guarantee it will change your life and results for the better!