Time out of the office is great to rest and have a good old read of all the things you didn't get around to - a taste of my festive break! As a bit of a marketing geek I love to catch up on what's out there on the web and for me one of the best reports from last year was the Adestra Subject Line Analysis Report: "Keywords for killer subject lines"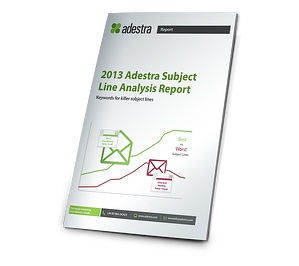 The report reviewed subject line trends based on an analysis of the keywords in subject lines for a whopping 2.2 billion emails and the main findings which are split into 6 key industry areas:
B2B publishing
B2C publishing
B2B events
B2C events
Retail & ecommerce
Charities and Not for Profit
We've picked out some of the edited highlights for B2B email marketing that we think are particularly pertinent considering some of the common tactics and behaviours that still dominate the industry up to 15 years after their introduction.
Content is still crucial, but it's got to be cool
"Report", "learn" and "book" are all keywords in content marketing but unfortunately given that the whole world has jumped on the content marketing bandwagon, the drier or less remarkable elements of content have resulted in market saturation. Videos are still the silver bullet in terms of results but don't expect this to last if everyone decides to produce shoddy film.
Key takeaway: Make sure your subject line is devoted to communicating the unique value of your content rather than highlighting the format to make sure all your hard work gets noticed.
Consistent communication will win the day
Daily and weekly communications that were flagged as such in the subject line boosted results across the board, whereas monthly ones didn't have the same effect.
Key takeaway: The key message here is that good quality, regular communications that your subscribers come to expect and rely on are a great way to drive up results and keep them there.
Short, sweet and fresh: Delivering new news, alerts and winning bulletins
Email communications with "new", "news", "alert" and "bulletin" in the subject line all improved opens and clicks whilst reducing the unsubscribe rate.
Key takeaway: People will open your emails if they think there's something in it for them (new information, a chance to get something valuable etc.) so make sure there is and let them know!
Crafty insertion of "Re:" and "Fw:" doesn't work any more
As with any of the get rich quick schemes that have provided overnight success in email stats, subject lines with "Re:" and "Fw:" artificially inserted into them by marketers have been overused and stopped working.
Aside from having an adverse effect on open and click rates, the real killer for this tactic is the huge jump in unsubscribe requests it generates, as high as 277.7% above the average!
Key takeaway: Tricks like this that are intended to fool the recipient won't work for long as spammy, dishonest tactics like this are easily uncovered and soon your database becomes immune or worse unsubscribes in disgust.
Saving money still spells success and winning…uh…wins!
We know people like to get a good deal and the statistics back that up, for example, simple things like offering "Free Delivery" increase the metrics as does specifying a percentage off in the subject line. The word "win" also increased clicks, opens and the click to open ratio whilst reducing the unsubscribe rate.
Key takeaway: Giving something away is still a massively powerful tool to boost your response rates and engage your database.
If you'd like us to review your email copy or assist you with the development of email strategies and testing programmes that will drive up your results and deliver on-going incremental gains then do get in touch.
Otherwise, we've put together this ebook examining 4,000 businesses' lead generation tactics and providing numerous actionable insights. Download your copy free today.