All of you know that having a website is essential for all your B2B marketing activities, but sometimes you have to ask yourself, "Is my website working hard enough for me?" And often the answer is no.
In our recently published ebook we analyse data from 4,000 businesses and we find out exactly what businesses need to do to increase B2B lead generation. In this particular post we highlight part of that research that look at two of the most important factors for driving website B2B lead generation.
All too often B2B websites fall into common traps that make them less effective than they should be, I'm sure you're familiar with some of these from previous posts:
They're all about you not about the customer
They're all style no substance
They're "War and Peace" in digital form
They don't focus on actions (conversion)
They're difficult to navigate
Perhaps you're sitting there now patting yourself on the back because your website doesn't do any of these things? But maybe there's also a sneaking feeling you might be able to do something more? Yes you can!
Add more pages to your site to improve your lead generation efforts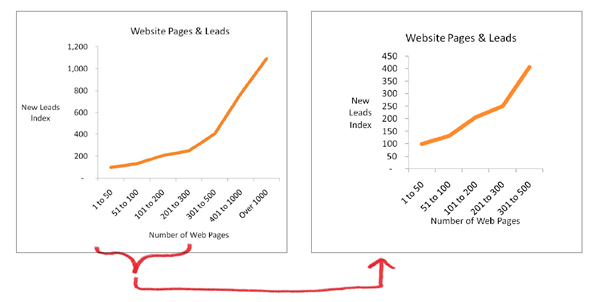 As you'll see in the charts above, the trend is clear, more pages equals more leads and the missing stepping stone between these is traffic. More traffic provides more leads, in fact businesses with websites that have between 401 - 1,000 webpages have 6 times more leads than those with 51 to 100.
How Does It Work?
The more pages of quality content you generate, the better search engines such as Google rate the authority of your site and therefore direct more people towards it. The more quality pages you have on your site, the more potential answers to search queries you have.
You can't just create pages randomly, they need to be:
Valuable content for the user that takes them a step closer to conversion
Relevant to both user and search engines (key phrases)
Organised in a way that is easy for both user and search engine to understand
Regular well planned blogging (this is key)
Structured additional site content e.g.

Fact sheets
Product/service detail pages
Customer feedback or press pages
Expand single pages into full sections e.g. your careers page might become What's it like to work here?/Career Paths/Employee Stories/Current Vacancies/Internships & Work Experience
Okay, that's great but how do I generate more pages without my site turning messy?
Add more landing pages to your website, don't be shy

More landing pages equals more leads
As you'll see in the chart above, for both B2B and B2C companies, the more landing pages you have the more leads you are likely to generate. Both B2B and B2C companies with over 40 landing pages generated over 10 times more leads than those with only 1 to 5 landing pages. Did you hear well? 10 Times!!!
How Does It Work?
This is much more than just a numbers game, you need to think that each landing page is your opportunity to engage and convert those visitors. For that you need to put across the most relevant message and offer to the person seeing it.
Just generating loads of landing pages won't work, you need to put thought into it, so ask yourself:
Does my landing page have a compelling offer with a call to action?
Is the information detailed enough for the visitor to commit to a decision
Is it relevant? Does it meet the prospect's expectations? (i.e. does it match what they clicked on to arrive there?)
Is all the information and more importantly the form above the fold?
The volume of quality content pages (including blogs) and the number of targeted, well thought out landing pages are both essential to successful B2B lead generation. In our recently published ebook we share more statistics on what other businesses like yours are doing to stay on top of their game.