It's hard to believe that another year has gone and we're kicking off 2013. With mince pies and mulled wine season out of the way, there's a real sense of excitement, optimism and change in the crisp winter air.
In the marketing world this should mean we'll be seizing new trends and opportunities without the fear of change.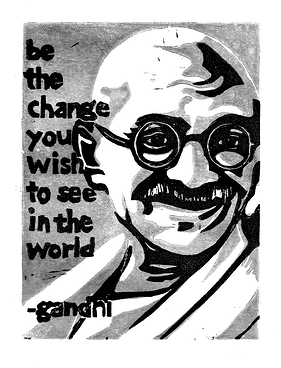 Change is good. We usually hate it at first, but then we can't imagine life any other way. Kinda like when I switched from PC to Mac!
Anyway, I thought it would be appropriate to think about the bright prospects of the year ahead. I got thinking about it while in India on a recent trip and in fact the wonderful Mahatma Gandhi greeted me at Mumbai airport with his inspiring words on a huge banner in the terminal: "Be the change you wish to see in the world."
As a "human race", we should all strive to live by this maxim.
As a "marketing race" we could also learn a lot from these profound wise words.
What do we want to see in our world of marketing and more importantly what changes do we need to make to ensure that vision becomes a reality.
What marketing resolutions do you have for 2013? From chatting with colleagues, peers and clients in the marketing industry we thought we'd share the most talked about B2B marketing resolutions we're hearing about:
Making the most of B2B marketing technology - getting automated and centralising marketing & CRM systems
Getting inbound & content marketing refined and perfected - use software and content syndicates
Get direct mail back on the B2B marketing agenda - let's get creative
On that point, intelligently integrate online with offline marketing
Marketing and Sales singing off one hymn sheet
Dynamic personalisaton - not just email but website messaging too
Marketing as a science. Continuing our efforts in testing, measuring, tracking and monitoring. Social media has created a bit of a grey area for B2B marketers but there are lots of tools out there to exploit
Leveraging location based marketing - it's not just for the big cats anymore
Customising your content and website for mobile and tablet devices - B2B is behind on this, but we simply can't ignore it anymore. The mobile/tablet revolution may seem well underway, but globally it's only getting started. The number of smartphone users is growing by 42% a year, globally (research from Morgan Stanley). So what will you be doing to cater to fast-growing market?
Continued focus on the holy grail of "Big Data" and turning it into monetised action
If we all focus on these 10 Marketing Resolutions, without giving up half way, I reckon we'll be seeing our best marketing year yet!
What other resolutions are you focusing on for 2013?