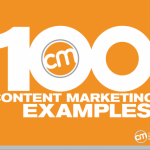 Need some inspiration and new ideas for your content marketing strategy. This is a great, great resource for all marketers to check out: Content Marketing Institute's '100 Content Marketing Examples' – whether you're at the start of your content journey or trying to find new and exciting ways to engage – here's a good mix of B2B and B2C examples to mull over and learn from. Some of my favourites:
Example 3: IBM's

business simulation game

, "CityOne"
Example 30: Logitech's

storytelling web video

Example 33: Agilent puts fun into science with their

unexpected humorous approach

Example 58: Unilever's Adrenalist

website ties in with a specific product line

My favourite – Example 82: Coca Cola's

narrative style videos

. They cleverly share their strategy on 'doubling their business' through a very personal, two-way communications feel. Love this! Check out the video.
Source: Content Marketing Institute – CMI eBook