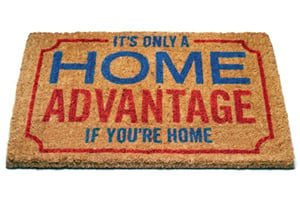 If anyone's seen the new "Don't Fly" campaign by British Airways, I'm sure you'll agree that it's a pretty brave and bold campaign. BA says the "tongue-in-cheek" advertising campaign is to encourage Britons to stay in the UK and "rally the country to get behind Team GB and ParalympicsGB."
I wanted to blog about this fresh campaign for a few reasons:
1. Love their bold strategy:
What initially struck me about this campaign is the simple fact that an airline is advertising "not to fly"! Wow. It's kinda like having a pizzeria and advertising it's "detox" month! It really made me think about the process this strategy might have gone through to get signed off – but then I realised Frank van der Post, BA managing director of brands and customer experience is indeed a very clever man!
BA's smart 'Home Advantage' messaging, highlights the airline's research into the benefits for athletes performing in their own country – and that's the oh so clever twist in this daring campaign.
2. Love the integrated campaign & engaging fans
The campaign was launched on BA's Facebook page with a great way to get fans involved! Following on from their TV ad premiered during the England vs Ukraine match where a BA aircraft is taxiing by road through London. The page allows you to enter your postcode to see the plane taxi down your street. Here's the Facebook broadcast message and game:
…………………………………………………………
Want to see one of our planes drive down your street? Now you can with our new TV advert.
Our TV ad features our aircraft taking an unusual route to the Olympic Park for London 2012.
And now you can take one down your street, past your office or to a famous landmark too!
Make your street part of the #HomeAdvantage here: http://on.fb.me/M4kQJu
…………………………………………………………
Along with Facebook they also have a heavy online and social media presence, using the hashtag #HomeAdvantage on Twitter. Ads with the same message have also been placed in national newspapers and outdoor media.
All in all a very holistic campaign with some extra bells and whistles.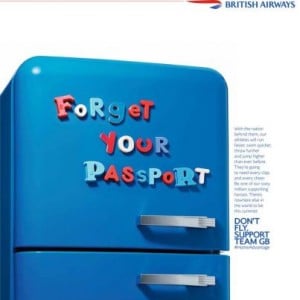 3. Love that they're engaging both sides of the fence
I really love that they're not ignoring the people that are still going to fly! (some clearly to escape the Olympics madness!). So BA will be having screens in Heathrow Terminal 5. They've even produced a guide to the best sporting bars abroad for outbound passengers! They will also host a dedicated area at the Olympic Park for up to 10,000 fans to watch the Olympics live on giant screens. They've thought of everything to keep both sides of the fence completely engaged with the brand.
4. What B2B Marketers can take from this…
Don't be afraid to be daring sometimes.
Integrate your campaigns
Be creative at all touch points
Don't ignore the power of social media.
For me this is such a refreshing and innovative campaign – definitely a brand I'm going to keep an eye on throughout the Olympics!