These are 17 of the best examples of B2B online communities launched by event organisations, or companies with a strong event presence. Most of them center approach on simplicity. We hope this ebook serves as some inspiration, or a means to show your teams that it doesn't have to be complicated.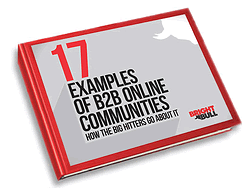 Creating and cultivating a bespoke online event community is top of most event industry CEO and MDs to-do lists, but many just think of it as an uphill struggle they're not quite ready to tackle. However, if you don't start soon you'll simply get left behind, as event marketers are fast realising that the key to consistent event sales is consistent marketing. This means engaging with your B2B audience on a 365 day basis, and not just when you're 12 weeks away from your event taking place.
We've gathered numerous B2B industry insights, and spoken to our network of leading eventrepreneurs, and have compiled our very best examples from the B2B industry. Covering event companies and communities both big and small – and medium sized come to think of it – we've identified the big hitters and just why they're at the top. This is the inspiration you need to get your community going, so what are you waiting for?
The presentation is also available on SlideShare and you are free to use this presentation anywhere you like, so long as you kindly reference and link back to BrightBull. That is all we ask.