Stuck in a rut with email.. of course you are. Most B2B companies are still lagging behind with one of the most powerful and impactful mediums around. Video.
It doesn't need to be time consuming or expensive.
Everyone in the B2B organisation should be able to embrace it and I am suggesting you give it a go.
These 5 functions will dramatically see change through video:
1. Marketing
Make recorded presentations of specific product features
Run very simple, quick demos and tutorials which can be uploaded on social media
Talk through complex messages
Record testimonials, success stories and case studies from your key clients
Create engaging content from your events and presentations and embed in emails
Record webinars for better lead generation and create high-impact videos to make websites and emails more engaging
Use video to provide feedback to team members and third party providers. Especially works well with designers and developers
To show reporters / PR how something works as opposed to explaining it via lengthy text
Come up with video presentations, top summaries, key takeaways that your customers can access anytime
2. Sales
Connect with new leads by personalising hello messages and quick introductions
Engage with prospects by quickly demonstrating how your solution meets their ideal outcome
Enhance pitches by quickly showing off the features and benefits that matter to them
Introduce yourself without a phone call or meeting
Thank prospects for their time and recap meetings with key action items
Train other members of the sales team on how calls should be done right
3. Customer Support
Send step-by-step and how-to videos to get clients/users around the world up to speed and satisfied with your product
Give directions on "what to do next" or "how to get there." Great for event planners engaging with attendees, exhibitors and suppliers
Supply FAQ videos and real time support
4. Designers Developers and Engineers
Share your work with your team and customers more effectively
Give personal feedback and design walkthroughs
Use it for bug documentation and code comments
Optimise user interface/experience by monitoring users' mouse movements, facial expressions and narration
Provide better quality assessment for your team
5. Executives
Build culture and send company updates
Explain new initiatives
Now here are three of the best tools I've found and the descriptions taken from their pitch: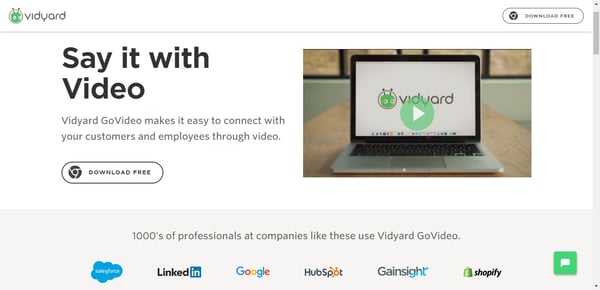 Their pitch:
Create. Record yourself, your screen, or both to deliver dynamic and compelling video messages. Email is great, but an email with a personalised video will help your message stand out in a crowded inbox.
Share. Share your video through email, on social networks, or using your favourite apps.
Track. You'll get notified when your videos are watched so that you can follow-up in a timely manner.
Transform. Vidyard is the video platform that helps businesses transform communications and drive more revenue through the strategic use of online video. Going beyond video hosting and management, we help businesses connect with more viewers through interactive and personalised video experiences, learn powerful insights on their viewing audience, turn insights into action with enterprise integrations, and prove the impact of their video programs.
My thoughts:
I really like the simplicity of the tool, the key aspect is that this lives in Chrome, so with a touch of a button you are recording and more importantly, in very little time you can include this video in your email. This tool is completely free.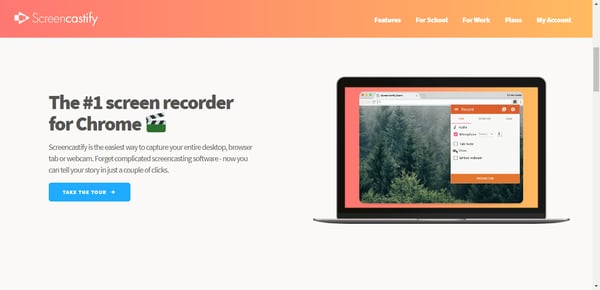 Their pitch:
Capture anything. Record your entire desktop, an application, current browser tab or just your webcam.
Lives in Chrome. The extension operates within your browser. No bulky software download required.
Professional quality videos. Don't let the simplicity fool you. Record smooth, HD screen and webcam videos. Narrate, annotate and edit them to add that professional touch.
Share instantly. When you're finished recording, grab a shareable Google Drive link or publish your video directly to YouTube.
My thoughts:
I particularly like the fact that you can have the free version for very light video recording or you can have the paid for version with much more advanced features like annotation and export functionality.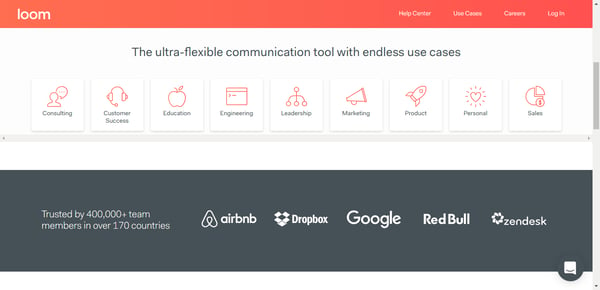 Their pitch:
Save hours of typing with only a few minutes of quick videos. For every 10 seconds of video you record it is equivalent to 81 seconds of typing. No more super long emails that take forever to write. Simply click Loom to record and start saving time!
Your ideas will be crystal clear and convenient. Your viewers will be able to watch your videos when it is most convenient for them and revisit videos when needed. Whether you communicate with people across the office, across the country, or people around the world, Loom videos will be loved by your viewers!
Build deeper relationships with less time. You communicate with text messages and emails all day, but rarely do you feel closer to people when only text is exchanged. It is human nature to emotionally bond with people we see and hear on a regular basis. Send more Looms, build deeper relationships.
My thoughts:
What is not to like. It's free and simple to use and has controls to increase the size of your screen, comment, collaborate and also integrates with Slack.
In conclusion
There's no excuse right? Video must be a part of your communication plan. We are using these tools on a daily basis to connect with our clients, enquiries, deliver better communications and team collaboration.
To me the benefits are clear:
Breaks down communication barriers
Build connection and rapport
Make an impression
Explain it instead of writing long emails
Show it instead of trying to paint a picture with text
Let us know if you test it out and what sort of results you get.