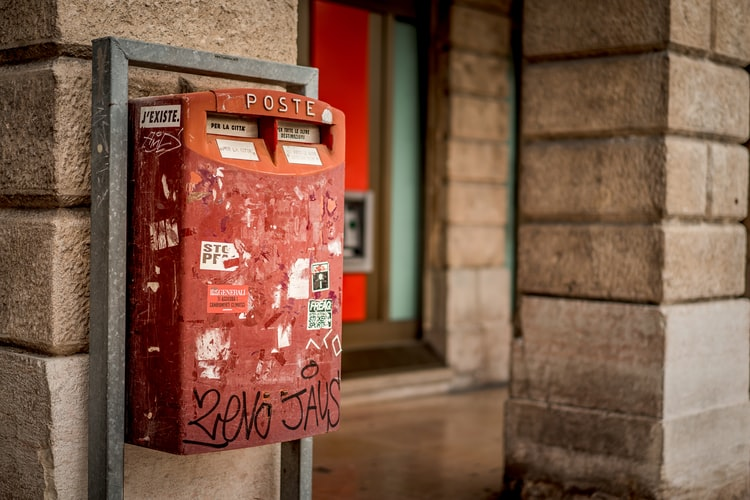 Who doesn't love to gossip in the midst of this cold season, holding a comforting cup of steaming hot coffee? Whether it's at the office or a the nearest caff, people are talking about something that you haven't heard about.
Well lately, the story that's been circulating through the digital marketing grapevine is that email marketing is a dying trend. You're probably raising your eyebrows and wondering,
"Is that really true?"
Possibly. It depends on how you look at it.
How can that be, especially when Techjury states that an average office worker receives about 120 emails a day?
The warning signs are about the upcoming generation, Gen Z, which encompasses all those born after 1995. Marketing to this generation is, let's say, challenging. They do not check their email often, have considerably smaller attention spans, and prefer interacting only with online businesses. Most brands have taken this attitude in stride and simply found the next alternative.
They are reaching out to them on social media.
You may well ask why.
They feel that it is considerably easier to attract and influence consumer choices.
For some, social media platforms offer a more engaging mode of communication with its instant back and forth style. Moving away from email, they primarily favour messaging apps.
Brands are witnessing a much higher rate of engagement through social media messages. Here, messages are more likely to be opened, and ads are more likely to be clicked. According to slickyext.com, a whopping 60.8% of people are ignoring at least some emails in their inbox.
According to App Annie, people between the ages of 13 - 24 are spending more than 3.5 times overall usage time utilising messaging apps.
Brands want more than the one-way engagement model that emails typically promote.
It's what the consumers are using. Some individuals prefer social messaging apps like Facebook Messenger, Instagram, and SnapChat over the conventional emails. They believe that these platforms deliver a more enhanced user experience.
Social media is an environment enriched with media. Users find it easier to share content such as videos and images with friends and family than it is through email.
But this is only one side of the story.
Let's be fair. As a digital marketer, you've got to know the tricks of the trade. Everyone is online, whether they interact with email or not.
And when you look at the basics of any digital campaign, you'll notice that in order to promote consumer interaction, you must provoke their interest. If you provide relevant, eye-catching, attention-grabbing material to people through any platform, they will consume it. So it all depends on how powerful your general marketing tactics are - not whether email marketing is effective.
So exactly how effective is email marketing?
To tell you the truth, it still has plenty of potential to succeed. Let's look at the facts that are backing this up.
People of all ages interact with emails. 92% of internet users have at least one email account, claims digitalagencynework.com.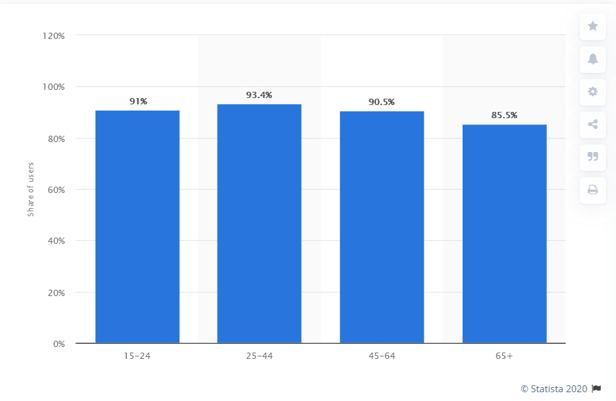 Image credit Statista
Radicati stated that there are 3.9 billion active email users. And just as a comparison, there are only 3.5 billion social media users worldwide. Though impressive, it is still less than the current number of email accounts.
Because there are more email accounts than social media accounts, email is a better way to reach more people. In fact, according to McKinsey & Company, email marketing is up to 40 times more effective than social media
But besides greater penetration into the marketplace, the study shows that emails also improve the buying process, making it 3 times faster.
Email ROI has the potential of up to 4400% - or if it makes it easier, every $1 you invest can bring in $44. Impressive, huh?
Despite the increase in the use of social messaging apps, more than 75% of teenagers are still using email.
According to Hubspot, 99% of consumers check their email daily, with more than 50% checking personal accounts more than 10 times a day.
Segmentation personalises emails, delivering relevant messages to subscribers depending on geographic location, interests, purchase history, etc.
Email reaches about 85% of the people it is sent to. Pretty effective. (whether they read it or not is a different thing)
Okay, so you get the idea. Whether you manage an online vegan fashion shop or an online hardware store, email marketing is still a great way to reach the target audience.
But then why do so many people say that it is no longer effective?
Very likely they have flaws in their email marketing strategy they're not aware of! Making email campaigns engaging is a constant process of review, analyse and improvement to ensure email marketing mistakes are avoided and learnings are integrated.
Possible reasons why your email marketing strategy is not working
You've all heard it before, but I'll say it again. Content is the key to success in the digital space. Email content needs to match the interests of the receivers. A mere 14% of subscribers believe that the emails they receive are useful to them, states optinmonster.com.
It's not easy to gather information about the segments. Ascend states that 51% of marketers say that success is often limited due to the lack of relevant information about the recipients.
Receiving too many emails from a business is a common reason that people ignore them.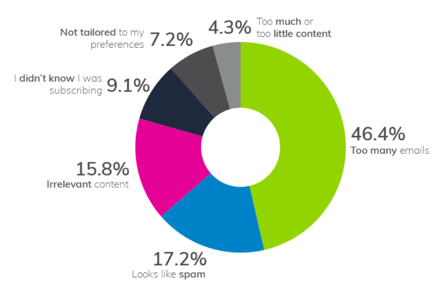 Image credit Everlytic
Recipients are not clear what they are expected to do. Not having a CTA to guide and motivate prospects in the right direction is why people often ignore emails.
53.49% of emails sent are classified as spam. That's nearly half of your efforts going down the drain.
So what do you think?
Email marketing is a crucial aspect of digital marketing. It helps businesses leverage sales and generates new customers. In fact, email marketing is an essential tool when it comes to attracting and retaining customers.
Consider personalising emails. Include CTAs or links inside your emails so that you can analyse email open rates by tracking their responses. Moreover, send emails in a timely manner.
Perform A / B tests to help you understand which strategy works best. Tweak and customise your email campaign to maximise results. More importantly, include an easily identifiable opt-out option in your emails. You must abide by the request within 10 business days.
By refining your email marketing strategy, you have an even better chance of reaching your customers.
So are you ready to grow your event marketing data base?