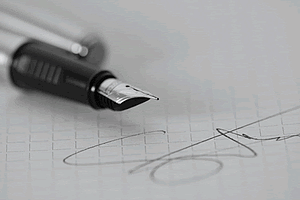 Event marketers like to think they're pretty savvy when it comes to all things email-related. However, from my experience, most of them seem to forget to leverage one fundamental (and free) marketing channel that could be put to use in growing awareness of their brand, their blog and ultimately their own profile. What is it, you ask? The personal auto signatures, of course!


First let me tell you why this is such a valuable marketing opportunity:
Deliverability is almost guaranteed (unless you got the wrong email)
Email marketers and companies accept the following situation:

a) that a small percentage of email addresses in their database will be incorrect or out of date
- should be less than 1% otherwise email platforms will tell you off and think you are spamming a list
b) that their communications will not necessarily reach all intended recipients
- because they might trigger spam filters
c) that in some cases they may not know for certain who has or hasn't received an event email
- because not even open rates reporting is 100% accurate
d) of those that actually make it to the final recipients only a small percentage will actually be read and acted on
- around 0.5% to 1.5% according to benchmarks
This is not the case with a one-to-one email, where you usually have the exact email address of the person you're contacting, and if you do receive a bounceback it's far easier to find out why, and try again.
Open rates are much higher than with your mass email marketing efforts
The fact is that when you send a personal email it's far more likely to be seen, in fact it is expected to be read. Consider that when you compose a personal email, the subject line is relevant, engaging and to-the-point. Sure, you're sending far fewer emails than if you were sending out a mass email marketing campaign, but proportionally your message is receiving much greater exposure. Therefore we can confidently assume that personal emails will be opened, and read or at least skim-read.
You can still include calls to action (CTAs)
Yes that's right. You can still include CTAs. Despite, or even because of, the message being far more personal than an email marketing campaign, directing the recipient to the logical or desired next step can be done in a less formal manner. And this approach will cause your reader to feel encouraged rather than instructed.
And now for the how; some tips to make this marketing opportunity count…

Use UTM tracking codes so you can see the traffic you generate on Google
A UTM code can be easily added to the end of your URL to show you where your traffic is coming from. Using these in personal emails will show just how engaged your recipients are, and what your emails are causing them to do.
Keep emails basic and try not to use images
It can be easy to get carried away by inserting images, several lines of text and numerous links – but don't, please don't make the same mistakes as in your email! A cool graphic or logo can get your details noticed, but at the same time can trigger a spam filter and therefore risk recipients being blocked or redirected to the wrong place. In addition, less is better and only a few links to relevant pages will increase your event website visits (or LinkedIn profile views…).
Invite people to connect via your LinkedIn profile
Few people think to use their signatures to provide more information about themselves specifically, but directing email recipients to your LinkedIn page allows them to substantiate any claims you may have made, put a face to a name, and if you're a small business it can really help to build credibility. Also think that having a connection on LinkedIn is like converting a lead for your own personal benefit (and that of the company you work for).
I have known stories of people given preference to fill a role because of the number of connections or followers they have. Remember, your network is your net worth.
Announce your latest value-adding content

Why not show off your latest whitepaper, eBook or report? Just update it whenever you have new value-adding content to share – your readers will feel like they're getting something in return for making it to the conclusion of your message.
Add a sign-up to your blog
You never know, if somebody you reach out to likes what you have to say they may indeed want to follow up with your blog – make it as simple as possible for them to do so and at the very least let them know that you have one!
One final thought
Your email signature can do so much more than simply telling people your name and job title; it should be treated like any other marketing channel and be tested, tracked and optimised. Don't be scared to use it as an opportunity to promote more than just the company. If your recipients aren't interested they can just not click on any further links, but if they are, you are providing them with a quick and easy way to engage with your company and/or you as an individual.
Another final thought putting things in perspective
The average size of a small/medium-sized business database is 5,000 contacts. The same average applies for an event business or event project. The average click-through rate for their email marketing is between 0.5%-1.5%, which equates to 25-75 people engaging with your email.

Now, consider how many people are actively working on your business/project/event/conference at any given time. Most of them will be in direct contact with your end user or potential market.

Each person is likely to send emails and communicate with at least 20 different people every day.

If your project team comprises 4 people, they are potentially communicating with 80 individuals every day (400 in a week). Given the reasons outlined in this post, as a group of emails they will very likely be opened (say 90%), read (say 75%) and responded to (say 50%).

As a marketer or business-savvy individual, don't you think it makes sense to leverage the auto signatures in your corporate communications? You literally have the opportunity to outperform your own email marketing by 2x or 3x without a major investment of time and money. To me it makes a lot of business sense.
Image credit: Sebastien Wiertz