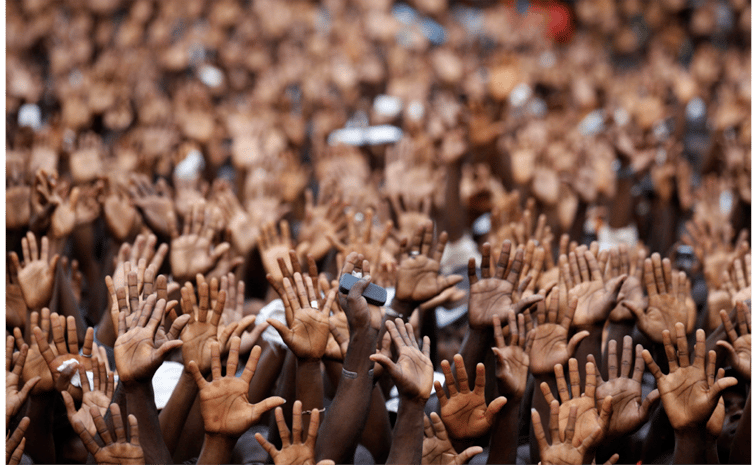 A while ago we wrote what turned out to be a hugely well received portrait of an "old school" events leader. Amid the wry smiles and knowing looks shot at certain team members in different events businesses, some of you asked a question that in hindsight seemed like a very natural progression. If that's an old school events leader, what does a "new school" one look like?
We thought it was such a good question that we thought we'd better get a pretty juicy blog together to answer it. So here it is – your top-to-toe guide to the 12 key traits that identify a new school event marketer. You can also watch the video of the webinar or download the slides if you prefer.
1. INBOUND is at the heart of their strategy.
If you're a follower of our blog, then you'll know we're activitists of inbound. It's no secret that event marketing has drastically changed in the last decade - the days of old outbound marketing methods of buying lists, sending out thousands of hard copy brochures, blasting out blanket emails and praying for bookings are long gone. Instead, new school event marketers build their strategies and campaigns with a solid inbound backbone that focuses on "pulling in" visitors / leads / bookings and elegantly guides them through the sales funnel. NOT "pushing out" marketing messages that simply tries to convince people to invest in your event through "me, me, me" communications. Inbound focuses on creating quality content that magnetises people toward your event, where they naturally want to be. By aligning the content you publish with your customer's interests, you naturally attract inbound traffic that you can then convert and close.
3 out of 4 marketers across the globe prioritize an inbound approach to marketing. (State of Inbound 2015, Hubspot)


2. Their brains don't compartmentalise ONLINE and OFFLINE.
A new school event marketer doesn't have an online and offline plan. They don't have an inbound and an outbound plan. Instead they fuse all the different channels and techniques together, using the most appropriate method to communicate with each customer or prospect at that particular time.
They're able to be left and right brained at the same time, fusing analytical thinking with creativity to create a seamless, integrated journey for their target audience, all the way from stranger to advocate. This journey isn't one homogenous blob where everyone gets the same treatment at each stage, but a carefully orchestrated series of branches that run in parallel, twisting across each other and intersecting so that each individual has a personalised journey tailored just for them.
By 2015, over 40% of large complex marketing organizations will have developed a pace-layered application approach to integrated marketing. (Gartner Research)


3. They know that CONTENT is fuel for their engagement fire.
Any event has content at its core and a new school event marketer knows that the easiest way to put event booking fire in their audience's bellies is exciting, relevant content that reflects that which will be delivered in their event.
They're always on the lookout for new ideas and opportunities to create great content marketing. They look at every aspect of putting together a marketing plan through the lens of content creation, always seeking new contributors or material that will provide further insight for their audience into what the event will be like on the day.
Content marketing generates 3 times as many leads as traditional outbound marketing, but costs 62% less. (Demand Metric)


4. BUYER PERSONAS are at the root of all comms and content.
Our new school event marketer knows that inbound marketing isn't a "one size fits all" discipline. Different buyer personas require different content and messaging and these requirements change depending on where they are in the inbound funnel.
In order to meet these diverse requirements effectively, the new school marketer has to know each buyer persona intimately, their thoughts, feelings and preferences and how these are influenced and evolved as their relationship with the event brand develops.
54% more leads are generated by inbound tactics than traditional paid marketing. (HubSpot)


5. Thrive on the power of marketing AUTOMATION and technology

A smart new style event marketer will use every piece of marketing automation technology they can to optimise their contacts and workflows. The new school event marketer sets the machine up and walks away to spend some time thinking up funky new inbound marketing ideas.
But they don't let marketing automation become a substitute for the things that a human is best suited to do. And they don't strong-arm tools into the plan just because they're new and exciting. Tools are selected because they fit the marketer's strategy, not the other way round. Messaging is crafted thoughtfully and carefully by a person who can truly understand and empathise with the different recipient types. Relationships are built by people with people, with technology just being a conduit for real human interaction.
Businesses that use marketing automation to nurture prospects experience a 451% increase in qualified leads. (The Annuitas Group)
6. Smart about EMAIL.

We're so often saying that we should cut back on email, rely on it less etc - which still stands. But we all just need to be smarter with it. All new school marketers love email – it's just for different reasons to the old school guys. Because they love it, they want to respect the channel and not abuse it.
They use all their inbound skills and know how to create smart, reactive email campaigns that use recipient behaviour as well as demographic attributes to nurture leads and engage customers rather than blanket bombing the entire database with the same message.
Relevant emails drive 18 times more revenue than broadcast emails. (Jupiter Research)


7. Love DATA and measure everything.
The new school marketer knows that their instincts aren't often wrong but they know better than to just go on gut. They make sure to measure everything, analyse the important stuff and let the data make the final decision.
They might measure everything (so the data is there when they need it) but they don't waste hours looking at the numbers for no reason. Each piece of analysis is chosen because of the potential commercial benefit of conducting it. That means that they don't waste hours on vanity projects like counting followers for example, if there's no strategic decision to be made at the end of it.
53% of social media marketers don't measure their success. (Awareness, Inc.)

8. They know how to intelligently manage their TIME
Event marketers really struggle with time! There's never ever enough time to do all things you need to do for all the events and campaigns you're managing - and it ALL feels like a priority right? Well new school marketers have really wised up and are super smart about how to manage their time, focus and efforts much more effectively.
Their own marketing is efficiency defined; they never do anything without thinking or purpose. Every task is by default optimised to deliver the best possible result. And this commitment to effectiveness and productivity frees up their time for even more strategic thinking and taking ownership of event-making projects beyond their sole sphere of influence.
If you download the webinar slides, there's a handful of time management tools we recommend.


9. Seamlessly integrate with SALES
This is a true test of a new school event marketer. Can they take their relationship with sales beyond the traditional old school "hand them a list, they call it and tell you it's rubbish" model? The best new school event marketers do just that. They get sales bought in to the idea of inbound marketing and turn them into the handshake in their inbound campaign, reaching out to deliver a personal touch at just the right moment in the funnel.
Sales can become another highly effective content distribution channel and enjoy a collaborative relationship with marketing where sales are empowered to actively contribute to the inbound machine, rather than being held at arm's length for damage limitation purposes.
Companies that excel at lead nurturing generate 50% more sales ready leads at 33% lower cost. (Forrester Research)
10. They're masters of SOCIAL MEDIA
New school event marketers don't just dabble in social media marketing, they swim in it daily. Social media marketing is a well-honed habit, taking place with due thought, care and attention at a set time during the day, allowing for effective interaction balanced with smart time management.
And they're not afraid to dive deeper and really engage with influencers one to one, rather than just broadcasting links. They're as comfortable talking to someone online as they are their friends in the pub, it feels natural and sounds natural allowing them to be effortlessly authentic in their social media engagement efforts.
Social media has a 100% higher lead-to-close rate than outbound marketing.
(State of Inbound Marketing, 2012)

11. Get their hands DIRTY
The new school of event marketing relies a huge amount on technology, which leads to a natural increase in exposure to some of the support functions in an events business such as IT. A smart marketer will be working collaboratively with those teams to get the systems they need to thrive implemented quickly. This means helping out with stuff that isn't in their job description.
The same goes for anything that might impact on the marketing result. If customer services are providing a less than optimal customer experience for registering delegates then a new school event marketer won't think twice about stepping in to help and stemming the tide of lost bookings.
46% of marketers with mature lead management processes have sales teams that follow up on more than 75% of marketing-generated leads. (Forrester Research)


12. They LEAD the events team and own the STRATEGY

A new school event marketer won't ever be found just following the crowd, either in marketing or their event teams. They know where they want to go and how they're going to get there, which makes them natural leaders of every event team they are part of.
They understand that for an event to succeed and grow year to year, marketing can't be an isolated silo within the business. They have to collaborate with and provide leadership to the other revenue generating functions as well as those stakeholders who influence the execution of the event such as production, operations and customer services.
A new school event marketer is one of the most strategic individuals in any events business and they're prepared to accept that with great brains comes great responsibility.
83% of marketers cited increasing sales as their top event marketing goal.
(Center for Exhibition Industry Research)
Conclusion:
We hope you've enjoyed reading our lowdown of the new school event marketer and that you recognise some of the traits in yourself and your team. We also ran a webinar on the topic recently - which attracted event marketers far and wide! You can watch it here and get your copy of the slides below:
One of the best ways to sharpen your new school sword is to attend a collaborative forum with likeminded souls. This can be getting your team together for a lunch time brain-share or you can join peers from other companies at something more in-depth like at our Accelerator Labs. Whatever best suits your schedule and requirements.