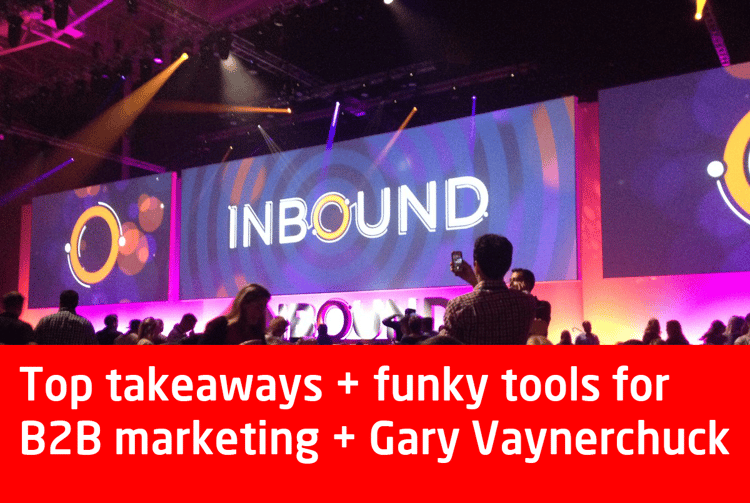 Another dose of marketing testosterone with over 19k+ passionate attendees was delivered at #INBOUND16. I love this event as it really does leave everyone so motivated, driven and excited about the future of marketing or more accurately… the future of sales.
Here are my inbound conference takeaways for those that didn't make it.
Step Up Today B2B, no excuses for not using social media networks enough - Gary Vaynerchuck hit it on the head for B2B companies.
Gary opened the whole event with a very down to earth and literally in-your-face-get-real kind of keynote, where he basically urged every one of us to step up and start engaging and building an audience on Facebook and wherever your audiences are.
He says:
As businesses in the digital age, you can go on the offense or defense, your choice.
This really resonates for us in B2B where we constantly hear: "Is Facebook really for B2B?" , "How can Instagram be used for B2B", "How can you generate ROI from Twitter?" So this is a strong wake up call.
The arguments from Gary were:
Twitter is overpriced
Respect art and science equally and you'll be a successful marketer over the next decade. Most marketers are only good at one. Focus on that which you don't know
Get on Facebook quick. Big brands are still wasting money on magazines, TV ads, etc. Their budgets will continue to shift towards social, and then prices are going to go up, then you will stand little chance in being heard
So overall, the harsh message for B2B was step up and get on Facebook and Instagram now! And you can't use the excuse of not knowing how - it's as easy as searching for: "How to use Facebook for B2B" or "How to use Instagram for B2B" online.
You might want to watch Gary's keynote if you have the time and don't mind all the cursing! Well worth it.
Remarketing - the best ever place to start with B2B social media advertising
There were an abundance of sessions on this subject and it was in line with most of the keynotes where they urged us all to stop moaning about not knowing a certain platform, or it not being relevant for our industry.
Remarketing on Twitter, Facebook and Google, allows us to target specific individuals, whether they have come and visited our website before and spent time there, or because we want to nurture them to close sales.
This ia game changing, especially for B2B companies with limited budgets. Remarketing is very good but you have to do it right. Here are a couple of thoughts:
1. There is a network for each stage of the funnel
Top of the funnel: Use LinkedIn - Twitter - Use a blog post or infographics
Middle of the funnel: Use Twitter - Facebook - Use a guide/whitepaper/ebook
Bottom of the funnel: Use Twitter - Facebook - Use a case study/webinar/event
2. The key with remarketing is the exclusion lists you use. This is critically important to prevent annoying people
Here's a good graphic of how best to use remarketing across the funnel and what platform is best, depending on what stage of the funnel your contacts are in.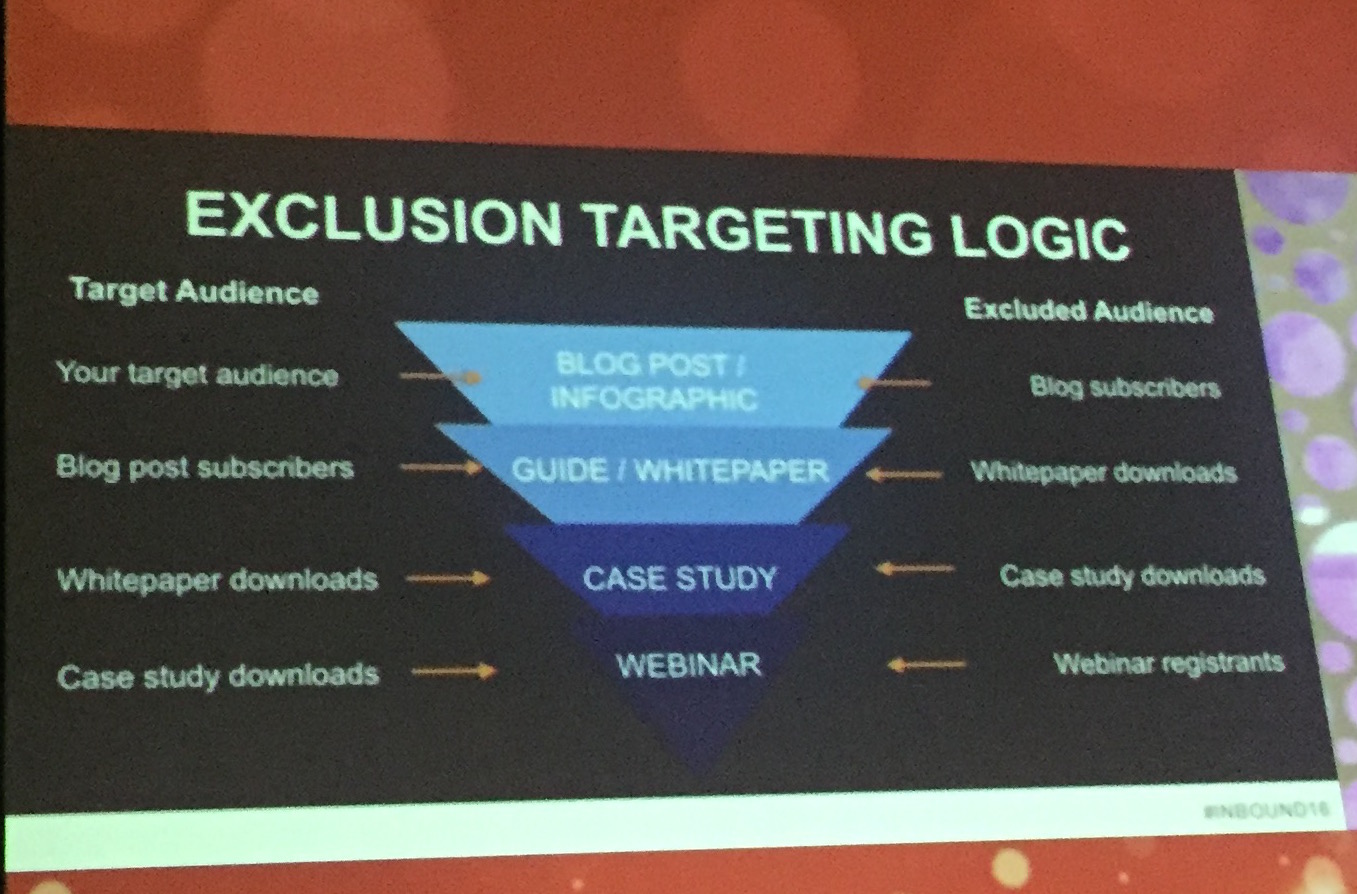 Video, why are you still not doing it?
I sounds like a bit of broken record with this - and amazingly it's still an ever-present theme at Inbound. Again there's no excuse! There's an abundance of kits, systems and tools to help us do this very easily. Keep it simple - Youtube, Facebook.. they all have tools to help you with this.
Now there are also really cool companies that are able to personalise video on the go, embed call-to- actions, forms, links etc. These are three tools that really caught my attention:
This particular personalised video blew me away and this is pretty funky for event marketing professionals. See the example on Vidyard's demo with a Marketo event where they personalised the video with my own name on the go!
Sales enablement is critical for the success of the marketing department, inbound and content initiatives
Inbound and content initiatives in B2B companies fail for the following reasons (via @saleslion):

1. Lack of management buy in
2. Lack of employee buy In
3. Lack of content
4. Too many silos (Sales Departments!)
5. No specific strategy
6. Lack of tools (can't show ROI)



Surprisingly enough, the reason why there is no buy-in from the internal teams is the fact that teams don't really understand how consumer behaviour has dramatically changed due to search engines, how search engines work and how consumers do search.

This is not about marketing it is all about sales! It has always been about sales, more sales.
The future of engagement: Bots (or a Robot, simple computer program used to perform highly repetitive operations)
This is the future of marketing and sales engagement, while the applications where we normally hear about robots are those that trawl the web searching for email addresses.
Dharmesh Shah, HubSpot's co-founder and CTO, gave a demo of how a bot can be used to automate critical tasks performed by sales teams, CEOs, marketers.
In the future (not so distant as HubSpot now has its own): we should be able to ask a bot questions like:
How much traffic do we get from Organic?
How many customers were closed from social media last month?
Can you show me the deals and conversations that James had today?
It's pretty awesome. Check it out for yourself.
Inbound marketing and automation is now free, yes free!
HubSpot made a big announcement at the conference, that they will now have the Marketing, CRM and Sales technology stack completely free. Great news for everyone!
A superb freemium model that allows you to scale and upgrade as your business grows. This is so, so valuable for helping the marketing shift - companies simply can not have the excuse of budgets as a barrier to enter the digital age and start doing things differently to increase their sales.
Let us now if you want to know more about this.
So what next?
Well, it's almost the end of the year. B2B marketers, sales professionals, entrepreneurs, eventrepreneurs and innovators are now looking at 2017 and strategic plans. Hopefully these takeways give you some added food for thought.
If you need some help with the direction of your digital strategy next year you can do two things:
One final note that sums up the key underlying message of almost all sessions.