2 for 1, discount, early bird, free, offer, save, exclusive, last chance, still time…these words are the back bone of so much event marketing copy. Some of them were probably in the list of "powerful" words you were issued with when you started marketing.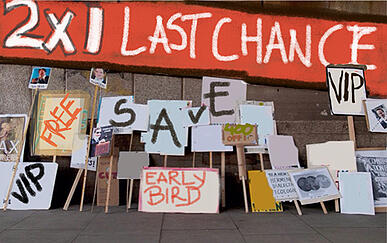 Well we have some news for you, they don't work. No really, before you say anything, they don't and here's how we know. Recently we reviewed the 2013 Adestra Subject Line Analysis Report which reviewed subject line trends based on an analysis of the keywords in subject lines for 2.2 billion emails. One of the industry sectors whose results were segmented out was the events industry and the findings made fascinating reading.
It's not just the obvious "cheesy" terms that hit your results
Even seemingly innocuous words such as tickets, explore, program, reasons and meet are performance killers, ramping up opens only to break our hearts with reduced clicks, perhaps just because they are tired and over used.
In addition, the smart marketer's favourite of "money off", with seductive currency symbols has the same effect. Yes, the tried and tested winner that is $, £ or € will actually reduce your click rates compared to the average, having quickened your pulse by initially spiking your open rate.
Why is this happening?
There are three broad categories of words that are triggering a fail in results and each has different reasons for causing them.
Pricing and sales words spike our open rates as the thought of something free or an offer is still appealing, however the price incentive needs to be the tipping point into the sale not the reason itself. So many event emails fail to deliver any compelling value in addition to their price offer.
Timing words create urgency and spike opens as people want to make sure they don't miss out, but

we've all been guilty of over using these sorts of terms or using them in a casual or inappropriate manner. They therefore lose their meaning and as a result, the sale opportunity.

Event related words seem pretty innocent at first glance but what they do is promise, and all too often we under-deliver on that promise. Having applied the glitter up front, we then fail to provide anything to "explore", our "reasons" aren't compelling in the slightest, we have no "exclusive" and our "program" is in fact a meagre single column chock full of vendors and consultants.
Check out the stats from the Adestra report:

Source: Adestra Subject Line Analysis Report


The Top Terms Terminating Your Conversion Results & What To Use Instead
Last week we looked at the six terms that were doing damage across the board for B2B events. Here are the words that are doing the most damage to your click through and open to click stats, plus some handy synonyms to try:
Forum: Environment, meeting, debate, gathering
Training: Educating, education, learning, informing, update
Webinar: Online event, conference call, online seminar, video learning
Discount: Reduction, preferential rate, reduced rate
Early Bird: Introductory rate/price, initial reduced rate, launch rates/prices
Kindle: iPad (we're not being daft here, it gets better stats!)
Innovation: New, novel, improvement, revolution
Industry: Business, trade, area, discipline, end-user
Agenda: Plan, schedule, programme, timed outline, itinerary
Last Chance: Final, concluding, closing, ending
If you'd like us to review your email copy, or assist you with the development of email strategies and testing programmes that will increase your results and deliver on-going incremental gains, then please do get in touch.