Chances are, if you built your B2B business website in the last 5-6 years, you will either have a blog or at least have been asked whether you wanted one included in the build, even if you said no. Blogs have become ubiquitous, one of those items that is a "must do" for the modern B2B site.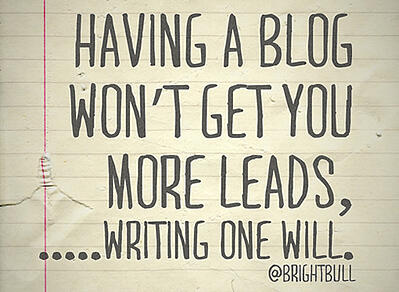 However for many businesses it remains just that. An obligation to be fulfilled fitfully and with a dull sense of duty rather than an energised, well planned and driven pursuit fuelled by a true understanding of how that blog contributes to generating quality leads. Worse still, many people still believe that simply having a blog on their site will bring in tonnes of leads and don't realise the correlation between posting quality content and B2B lead generation.
We recently partnered with Hubspot to produce an e-book analysing four main pillars of successful inbound marketing, analysing 4000 businesses to see exactly what businesses need to do to increase B2B lead generation. In this post I'll explain some of the key findings around Blogging for B2B Lead Generation.
Lesson 1: Blogging frequently will get you ahead in B2B Lead Generation
You may have been advised to blog regularly in the past and perhaps not found the time or the will because you wondered if it'd actually work. In the chart below you'll see the distinct and easily observable correlation between blogging frequency and the number of leads generated.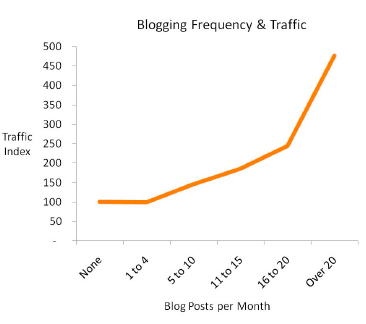 The biggest gains begin when you increase your blog frequency from 1-4 posts a month to 5-10 posts a month with an extra jump in the number of leads received coming at the 16-20 times a month. B2B businesses who blogged just 16 to 20 times per month got an unbelievable 3 times more leads than those who didn't blog.
Just think what your business could look like this time next year if you were harvesting 3 times the number of incoming leads that you are at the moment, that's got to be worth a half hour out of someone's day every day to write a blog post right? And as if that wasn't reason enough to hit the keyboard and download some of your hard won industry knowledge, this is the gift that keeps on giving, long after you've written the posts…
Lesson 2: The more you blog, the more leads you get…period.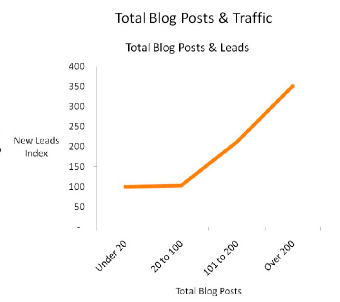 If you've read the previous section and you're sitting there thinking, "Great but I really, seriously, can't hope to consistently blog that often, should I just give up?" the answer is no, not at all! Blogging doesn't just reward consistent frequency; you also build traffic and lead generating "credit" if you like over time. That is, the more total posts you generate the more leads you'll receive. Check out the chart here that illustrates this point; businesses with over 200 total blog articles got 3.5 times more leads than those with fewer than 20 blog posts. So even if you can only manage a post or two a week, you'll still be attracting more leads over time, it'll just build a little slower than if you're producing a lot of high quality content all the time.
Having a blog won't get you more leads, writing one will.
Ideally, to optimise your B2B lead generation, you should be aiming for 10-15 posts a month as this will yield the best and fastest results for your business; however if that just isn't possible for your company all is not lost. Blogging in any format will ultimately have a positive effect on your business, it'll just take time and isn't the quick fix sticking plaster that some people position it to be. So having a blog won't get you more leads, writing one will.
* Stats provided by HubSpot.