Marketing have released their annual 'Power 100: The UK's Top Marketers'. It celebrates the marketers who have had the biggest impact over the past 12 months.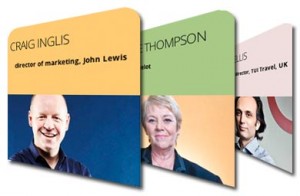 Although mostly B2C brands and some of the usual suspects, it's always good to see who the high flyers are in the marketing world.
Marc Mathieu, Unilever, has been named the most powerful marketer in Britain. Marketing Magazine tell us that he "inspired the marketing community with his strategy of urging a 'more magic, less logic' approach". He encouraged "moving away from numbers-led thinking" and instead "rewarded those prepared to take risks and support creative ideas". Definitely something to take away from his bold approach. In B2B we're often focused on the numbers and metrics – testing new ideas and innovating can sometimes take a second place in the list of marketing priorities – but this is often where the real breakthroughs and success stories happen.So let's learn from Mathieu's own success story and make an effort to do 'more magic'!
Check out Power 100.
On another note – interesting that the Power 100 page doesn't have any share/social media links on there. There's also no way of getting back to the main page from wdhere – both a missed opportunity to maximise the reader experience and encourage interaction.