When it comes to virtual events, the work doesn't stop once the event takes place. That's when it all begins.
You can get as much as 2x or 3x the number of registrants to your virtual event. You just need to ensure the content produced as a result of your event is repurposed into multiple bite size chunks to drive those registrations through blogs, social, email and your own community.
The key is to take the long-form content and break it into small chapters or "episodes." Content takes the shape of a story that follows a plot and slowly reveals more to the viewer with each episode.
BrightBull's Virtual Event Repurposing Framework
At BrightBull we use this framework for ourselves as well as our clients. This framework intends to make the most and best use of the content resulting from your virtual event.
In this example we are using the B2B event video and content generated through a webinar, but if yours is an event with more than one presentation, the same stands. You can apply the same principle to all of your content/videos/presentations or to the most important one.
If you watched the whole video great, otherwise read on. In true repurposing style, here we outline every single step of the process.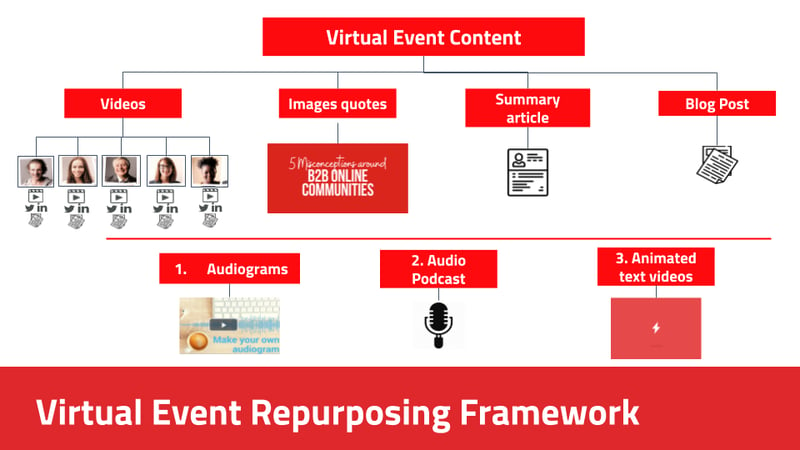 There is no order or requirements - this can serve anyone, you can do part of it or do it all.
1. Create Multiple Videos From Your Main Video
Every session within your virtual event results in one long-form video, generally lasting 30 min, 45 min or 1 hour.
You can slice (chopcast) the full video into smaller videos. This is the easiest way to repurpose your content (conference, webinar, etc) and transform into social media content.
Why you would do that?
Make that content digestible
Use each of these videos for social media promotion
They can be used by the members of the team when engaging new prospects and even future speakers for your event
To be used in blog posts or to be shared within your online community.
The industry is drowning in tiring webinars. Now is the perfect time to stand out from the rest and you can do this by repurposing these boring webinars and turning them into more digestible content.
Below is an example from our Digital Pivot Series: Why should you build your own studio webinar. You can see the complete work here or in our YouTube channel

2. Create Quote Images
An interesting presentation from a thought leader or a conversation between two or three individuals will always yield a lot of quotes, statements, key data points or statistics. And creating images with these comments, make for really good social media content.
This is another way to create more opportunities to connect with your social audience and attract new leads.
Tools like Canva and Creatopy are great for this.
Sometimes you don't have enough time or your own people to do this for you, this is something we we can help you with. The way to attract more leads into your house is varying the format.

And this is how it can be seen on LinkedIn.
3. Create a Summary Article or a Summary Video
Post event attendance and on-demand views will generally like to get a taster of what it was like to attend your event, what were the most important parts and sessions and what were the key slides or charts that were discussed. So creating a summary article is an imperative.
You can use this summary as a blog post on your website that will help you generate SEO traffic, or in your landing page after someone has signed up for your session.
Summary articles are great because you are essentially digesting all of the information yourself and presenting it to your audience and prospects in a format that is easy to read or view. It should also serve as a prelude to drive them to watch the whole session.
Your audience deserves to know what the goal of your event was and what the conclusions were.
Here's an example from one of my popular webinars -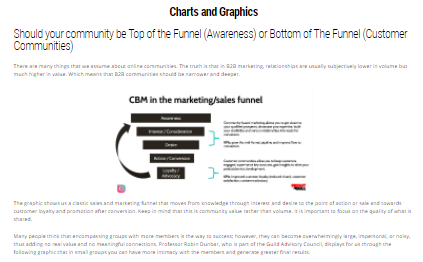 Summary Video
After every virtual session, I create a really quick and simple summary to help drive post webinar engagement to all my sessions. It has proven to be very popular as these summaries can be used on social media. I tend to include them in my follow up emails and the key summary video features on all of the landing pages before they are able to view/read the full session.
This is an example of one of our most recent ones.
4. Blog Posts
As we have said before, the importance of writing blogs is to provide relevant content frequently for your audience, build momentum before your event or maintain the momentum after, generate quality leads and more importantly drive SEO wealth to your website.
Many people still believe that simply having a blog on their site will bring in loads of leads and don't realise the correlation between posting quality content and B2B lead generation.

The frequency is very important - you will gain more traction if you aim to write at least one of them before and another one post. While there is not a specific number, at least one blog post per session is recommended. But, just think about how much content you would get out of your past webinar?
How is this different from a summary article?
A summary article generally will have a recollection or summary of what was said or discussed in your virtual session. They are not and don't tend to be as structured.
A blog post on the other hand, is intended to take a topic or theme and develop it through the post. It is also written with SEO in mind and tends to be more structured.
This is how we did it for: Digital Communities of The Future and What It Means for B2B Brands and this post was written before one of our webinars to drive awareness of the topic itself as well as leads and registrations.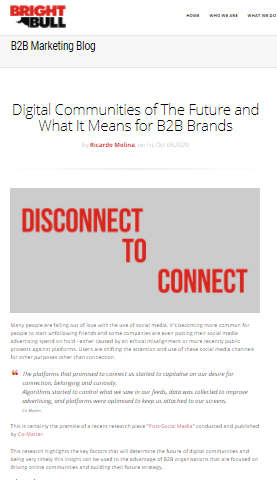 Bonus content that you can create easily...
Audiograms

These are usually a spoken quote sound bite that is combined with visual elements, such as photos and graphics that help reinforce these spoken words.

This is an example of one from our friends at Zephr



Audio Podcasts

By default your virtual event platform will leave you with an MP4 audio only file that you can simply upload into your popular podcasting tool.



- Podcasts make information personal. ...
- Podcasts are convenient and easy to consume. ...
- Podcasts cut costs. ...
- Podcasting is a time-efficient form of communication. ...
- Podcasts are portable
Animated Text Videos

For businesses, animated videos in marketing can be the way you break new ground by

reaching different market segments. This gives you an opportunity to tell a story, whether it be about your product or customers in a more

efficient way.
Now go and repurpose!
Honestly when we say that the work begins when the job ends in virtual events, we mean it.
Remember that we live in a world where on-demand is what rules and statistics do not lie. As a business owner and a marketer you have the potential of 2x to 3x additional views, registrations, leads from your virtual event. This is a big number that just can't be ignored.
If you need help creating and conceiving a virtual event, repurposing strategy or creating an episodic marketing content plan, let's have a chat.
Check out our recent webinar below.