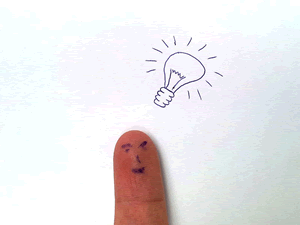 Often companies look at competitors to see if they're falling behind, or where they're leading the way for the rest of the industry – but we forget that there's a lot to be learned from other industries entirely. In this case I'm talking about media publishers. Struggling to generate high quality leads, surely it makes sense to take a little knowledge from the experts! If there's one thing event marketers do well it's lead generation – and I'm about to let you in on the top secret business of how they do it:
1. Content creation specifically to drive leads (tip, get blogging!)
As a media publisher your business is content. However the content that I am talking about is content that is writen with a purpose, and that purpose is to inform, engage, and instill an action. Give your website visitors something else to look at other than your contact page, or pretty visuals. If you don't yet have one, create a blog with the sole purpose of driving marketing content that is well written, informative, and most importantly – useful for your leads. An inbound marketing campaign starts with a blog – and this will be at the heart of your inbound communications via social media, and regular subscriber updates.
2. Recycle the good stuff
If you create a fantastic piece of content, why use it just once? Whether it's a presentation, ebook, whitepaper or how-to guide, condensing it into a blog turns it into a whole new lead generating tool, in a fraction of the time it takes to write something from scratch. Similarly, if you have a set of blogs which fit well together to create a narrative, or step-by-step guide, why not build an ebook, offering greater value to those who download? You should also be tracking how well your content performs to find out if it is effective enough to publish again.
3. Don't just focus on individual leads
Remember that advertising leads are hugely profitable too, so cater specifically to them. While you may have a campaign in place for your customer base, you probably aren't driving one that's tailored to your professional audience. This is something event marketers do very well, as they try to lock down advertisers early in order to leave more time to focus on driving delegate attendance.
4. Become part of the leads business
Once you have advertisers on board, it's a good idea to work closely with them to understand their unique lead generation requirements and goals. Their leads will become your leads after all, so it's important to work cohesively on campaigns. Selling clicks or traffic should become a thing of the past and your focus should be on selling qualified, high quality leads.
5. Make the most of media partnerships
These are often entered into without a full understanding of what the other side is prepared to provide, and this can lead to companies failing to ask for more. Event companies know to squeeze as much content and as many offers and promotions as they can out of their hard-won media partners, so follow their lead. Ask the right questions and negotiate effectively in initial discussions and you'll know what you can expect from partnerships once they are put into action. In addition you should never be afraid to ask – the worst that can happen is a polite "no"!
6. Maximise opportunities for live experiences
Of course, the thing event marketers are most experienced and effective at is creating events! Try running your own event, or partnering with another organisation that does if going it alone is too daunting. These are value-adding for stakeholders and are a chance to network face-to-face. They also offer an opportunity to show off the great content you produce and will expose your organisation to leads you might not reach by simply marketing online.
7. Implement the right technology to help with your inbound quest
Finding out how each of your database contacts interacts with your online communications and your website specifically is incredibly valuable. Once you close that loop with a comprehensive marketing automation tool, you can truly begin to get an understanding of who your leads are and how best to talk to them. You'll be able to keep on top of metrics and reporting like a pro, and this is precisely how event marketers are able to prove the value of what they do and build the case for bigger budgets.
Shh, don't tell!
So there you have it – the best insider tips from the event industry for you to use and acquire new leads. Clearly content, an inbound approach and third parties play a huge part in driving delegate attendance, and these tactics can all be applied to lead generation for media publishers. They are already creating fantastic content so why not use it to grow the business?
If you liked this post, download the full ebook "7 lead generation tactics for media publishers" to have these tips always on hand.
Image source: Tsahi Levent-Levi