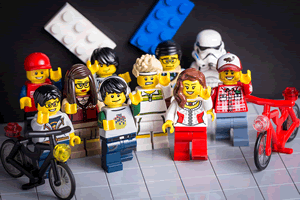 If the qualitative and quantitative evidence that we've provided in other blogs isn't enough to get the support of your team, or your CEO's buy-in, the cherry on the cake in your argument will be demonstrating the effects of an online community at every level of the value chain.
There are several groups who will thank you for your efforts in your B2B online community – in terms of both monetary rewards and delegate fandom.
Sponsors
A 365-day approach to marketing your events will appeal to sponsors and can become a crucial element of your offering. If you can demonstrate that potential sponsors will have access to your prospects at numerous points in the sales cycle, they'll be more likely to get on board. Sponsorship will no longer be confined to event programmes and the big day itself – sponsors will have a presence on an ongoing basis, and will achieve far greater prominence than ever before.
Event Producers/Event Planners
Event producers, or industry experts, will have the ability to create a programme and event content around their findings within the community. Their job will be made infinitely easier by knowing what specific pain points they're looking for your conference to tackle. Producers will additionally have the chance not only to learn from their communities but to become a driving force, or thought leader, within it.
Marketing teams
For event marketers, this new wealth of high quality, hyper-relevant content will lend them the time they need to drive new and exciting initiatives. With the content in place, they'll be able to get creative and focus on increasing engagement, the company profile and building the community incrementally – as opposed to just sending email after email, and Tweeting frantically in the run-up to the event. In addition, the inevitable rise in search engine rankings, and increased engagement on social media, will serve as a rewarding reminder of the value of nurturing this community.
Sales teams
Sales and marketing teams will never have worked together more harmoniously: the combination of this already warm, readily engaged audience, and numerous opportunities to convert, will mean that the leads Marketing pass on to Sales are qualified and ready to be closed. Sales teams will be able to have open and significantly easier conversations with prospects that are already sold on your event brand.
The community itself
The individuals who contribute to and become active within your community will perceive your efforts as helpful, value-adding and not just sales oriented. Community members who attend your conferences will recognise that their specific issues are being addressed, and feel truly valued. They'll be more likely to become repeat attendees, and advocates for your brand on social media.
The bottom line
A more engaged audience will feel far more inclined to listen to your marketing communications. They are giving you permission to tell them more about your brand, as well as the valuable industry content you share. There isn't a group or individual within the value chain that does not benefit from a community based approach, and it's easy to see why this means more engagement, more revenue, and longevity for your organisation.
This is the seventh and last chapter of the ebook 'Realising ROI from your B2B Online Community'. Download your complimentary copy below.