You may have already read my summary of a recent 2015 social media marketing report, which covered the areas of social media that marketers are most comfortable using, the platforms they don't plan on adopting anytime soon, and the amount of time they are dedicating to their social media activity, among other topics.
So here let's look ahead – what does the future of social media marketing for events look like?
How will social media marketers adjust their marketing activities in the future?
The top five platforms that marketers want to increase their activity on (in this order) are: twitter, YouTube, LinkedIn, Facebook and Instagram, with a huge 66% saying they plan to increase their activity on twitter in particular. twitter is time and cost effective and requires minimal time commitment in return for significant engagement with your audience – IF you get the content spot on.
An even larger 82% stated they had no plans at all to begin utilising Snapchat, demonstrating that some things in social media marketing do not change as quickly as we imagine them to.
How are social media marketers changing their approach?
While marketers plan to increase their activity on twitter, YouTube, LinkedIn, Facebook and Instagram (in that order, ranked from most to least), what we found most surprising is the decline in Facebook's popularity for social media marketers. In the 2013 report, Facebook was ranked second as the platform marketers most wanted to increase their activity on, and has since dropped two places on the list with only 62% of marketers stating this. A significant 8% of marketers even plan to decrease their activity on this channel.
How many marketers plan to use Slideshare?
The second half of the list revealed further intriguing and somewhat surprising insights, with an enormous 56% of marketers claiming they have absolutely no plans to utilise Slideshare in the future. Needless to say, we would expect rather different results had the surveyed been carried out exclusively with event professionals, but it's still a pretty startling statistic. As we all know, Slideshare is the perfect forum for event marketers to share upcoming and previous event content, and I would expect the majority of conference companies to have a dedicated account, but it holds the same value for marketers across the board. It's unrivalled for sharing long form content, and has a largely professional audience.
What about paid activities on social media?
The report also questioned marketers on their plans for paid social media marketing, and where they would be increasing their activity in this area if at all. Not surprisingly, Facebook Ads, Google Ads and twitter Ads came out on top as the platforms through which marketers were planning to focus and increase their activity.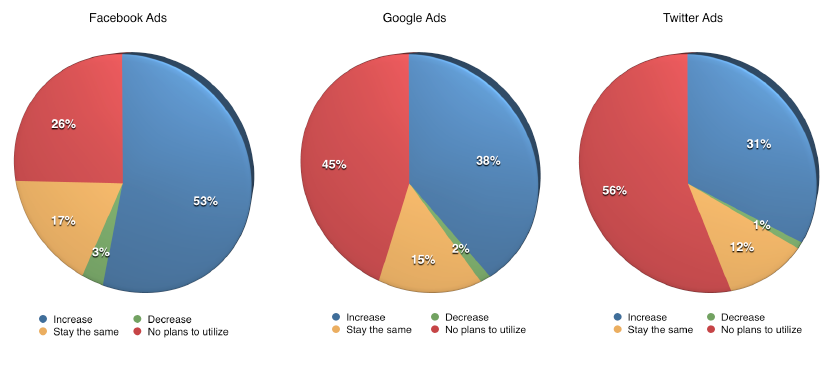 For event professionals, paid social media marketing should certainly be set to increase. It offers a unique way of targeting what is often a very niche and specific audience. As it stands, conference companies tend to send generic blasts, with little thought to their buyer personas, but this could become a thing of the past as paid social marketing increases in popularity.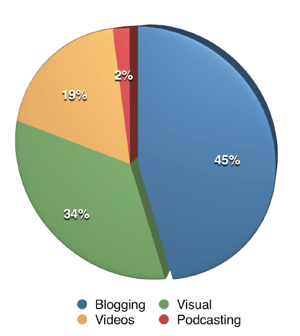 What kind of content matters to marketers?
Nearly half of the marketers surveyed for the report selected blogging as the number one most important form of content they currently utilise. This is indeed music to my ears, as I frequently remind event organisations of the importance of starting and maintaining your own regularly updated blog.
Also encouraging is the fact that visual content and videos were up next. Conference companies have access to a wealth and breadth of high quality video footage, and this content is perfect for curating and sharing across social media.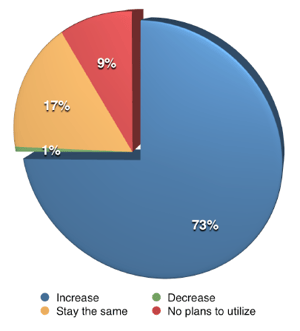 How are marketers planning to change their content activities in the future?
The areas marketers most plan to increase their content activities on are visuals, videos, blogging and podcasting, with 73% of respondents planning to increase their use of visual images, as shown on the chart. For event marketers, visual images are vital to generating engagement, particularly when posting somewhat generic event information on Facebook or twitter. Visuals from a previous event will give your event and posts context, and make them vastly more appealing to your audience.
What does your future on social media look like?
Every event company will have its own individual goals and areas for endeavour, but as the report identifies, paid social media marketing, and increased content activity through blogging, visual posts and video are the way forward. It seems as though the marketing industry's approach to social media is advancing, and now that the majority of marketers have got the basics down to a T, they're looking for more elaborate ventures. The future of social media marketing for events is looking up - so the big question is, is your strategy evolving or are you getting stuck in a rut?