I came across this insightful and truly comprehensive report by Social Media Examiner, and found it so useful I thought I'd summarise it here and pass on some of these must-know nuggets of wisdom.
In its entirety the '2015 Social Media Marketing Industry Report' covers the top questions marketers want answered on the topic of social media, how much time is spent on this increasingly vital channel, which platforms are most frequently used, and which ones marketers want to find out more about.
So here are some statistics to whet your appetite…
Of the major social media platforms, the one most marketers want to learn more about is Facebook, with 68% agreeing with the statement – a whopping 93% of marketers are currently using this channel (but only 45% of marketers think that their Facebook efforts are effective)

57% of marketers are already using video for marketing purposes, with 72% eager to learn more about video, and hoping to use it more frequently in the future

Tactics and engagement came out on top as the areas marketers most want to master, with 91% agreeing that they'd like to perfect their performance in both

The majority of marketers – 91% – state that committing as little as 6 hours per week to social media marketing increased exposure for their businesses. It should come as no surprise that being active on this marketing channel can lead to a multitude of new leads, contacts and customers.
How much do marketers analyse social media?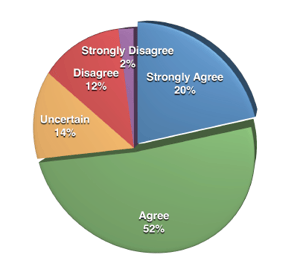 When asked to rate their agreement with the statement "I regularly analyse my social activities" marketers were pretty much split down the middle, as shown on the pie chart. Though 52% agreed with the statement, in total the other 48% disagreed to some extent or were uncertain. This is largely representative of the marketing industry as I know it, as marketers aren't always the best at keeping an eye on the metrics, or even knowing what they should be analysing!
Our take: If you don't analyse, that means you're not testing - and by default you don't get the opportunity to improve your social media campaigns. So my question is: what do more than quarter of marketers do?! And how can they improve if they don't analyse their social media activities?
How effectively are marketers measuring ROI?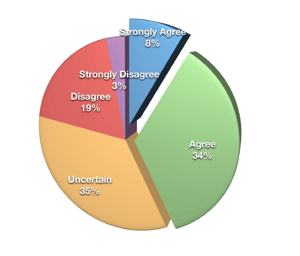 Just 42% of marketers agreed with the statement "I am able to measure the return on investment (ROI) for my social media activities", which seems very small to us! This not only suggests that they are not using their marketing automation systems to the fullest, but that some are probably not making use of them at all. A marketing automation system makes measuring ROI almost impossible not to do – it takes the work out of your hands and delivers regular and detailed reporting which you can then show to your boss.
Our take: If you can't measure the ROI from your social media activities and demonstrate it to yourself and your boss, how can you build the business case for increasing your budget for social media advertising, or even hiring another Marketing Executive to provide more resources for this marketing activity? You can't make good decisions without measuring ROI – all you're left with is guesswork.
How much time do marketers spend on social media marketing?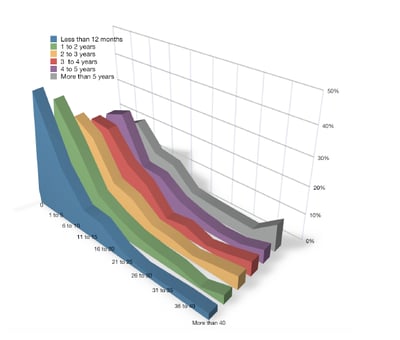 The graph shows that there is a direct link between how long marketers have used social media for, and how much time they dedicate to it. Of marketers who are starting out, 49% spend 5 hours or less a week on their social media marketing activities, But for those that had been active on social media for 2 years or more, the report found that 68% spent 6 hours or more per week working at it.
Our take: It's clear that marketers who focus on social media for a greater number of hours see a greater benefit and are able to justify the time spent on making this channel successful. It's a well known fact that you should spend as much time promoting your content as it took to create it.
Which platforms do social media marketers use?
The report shows that Facebook, twitter, LinkedIn, Google+, YouTube, Pinterest and Instagram came out on top as the platforms most marketers are using in 2015.
Our take on it: From experience we know that B2B professionals are hanging out on LinkedIn more than on Facebook. We would actually place twitter, and possibly even YouTube and Slideshare before Facebook too.
As shown here, the differences between B2B and B2C in the social media sphere are stark: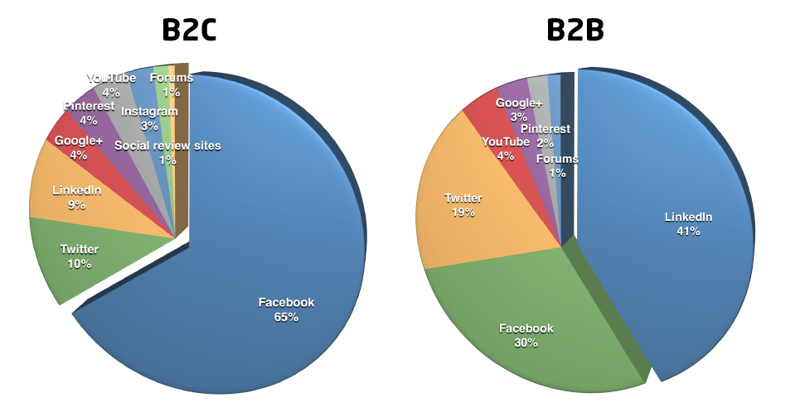 Want more?
If you're still hungry for insights I encourage you to download the full 2015 social media marketing industry report – it makes for a thought-provoking read, and allows you to find out how you compare with your fellow marketers.