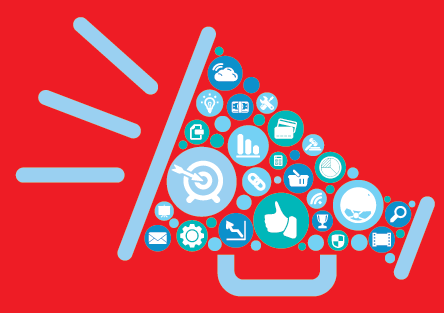 Social media amplification is the new word of mouth in events. It entails people sharing content about your event, and letting their networks know that they will be attending, exhibiting or speaking at it. Amplification has become a well recognised term in the content marketing industry, and refers to the way in which content is shared and your message is spread throughout your event community. Utilising this method on social media is one of the most effective and authentic ways to spread the word about your event, and increase registrations.
Who amplifies?
The key thing about amplification, is that it requires 360 degree participation. Word of mouth in events is a powerful thing, but shouldn't just be about you and your employees blasting updates about your conference and content to the likely overlapping audiences that you share. There are other key stakeholders needed for the process, including but not limited to:
1. Registrants
Ideally placed to spread the word about your event, and share your event content with their own networks, influencing others to attend
2. Media partners
All exhibitions will be linked to an influential media partner, and it is in their interest to drive sign ups, and ensure the event they are connected with is highly regarded and a commercial success.
3. Exhibitor brands
Who have committed to spending their precious marketing budget exhibiting at your event, and will therefore feel inclined to promote their presence at your event to their own communities to grow registrations and increase their ROI.
4. Stand staff
Not to be overlooked, the staff who represent the exhibiting brands in person will also have a high level of influence. They get to "own" relationships with people at various stages of the buying cycle, and should therefore be engaged with in order to encourage them to recommend your event to their own networks.
5. Speakers
Usually an influencer in just the right circles, speakers should certainly be encouraged to promote your event, and will likely have a significant impact on registrations.
What's the potential amplification for each of these stakeholders?
We collaborated on a report with GleanIn where the networks of 24,000 exhibitors, 5000 speakers, and 43,000 registrants were analysed to demonstrate how many more potential delegates you can reach by driving your social media amplification strategy.
These are the general outcomes:
The average social network size for registrants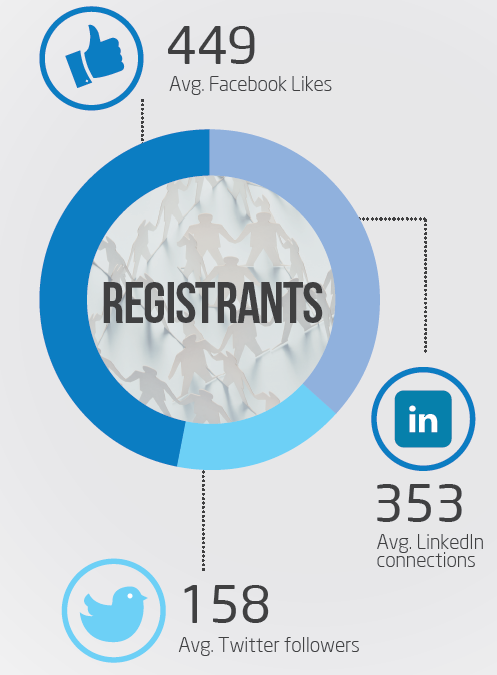 With 5,000 registrants that is a potential amplification of 4.8m hits
The average social network size for exhibitor brands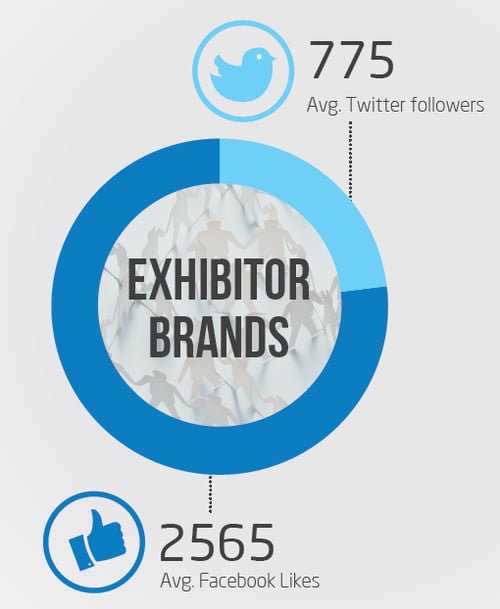 With 200 exhibitors, that is a potential amplification of 668,000 hits
The average social network size for stand staff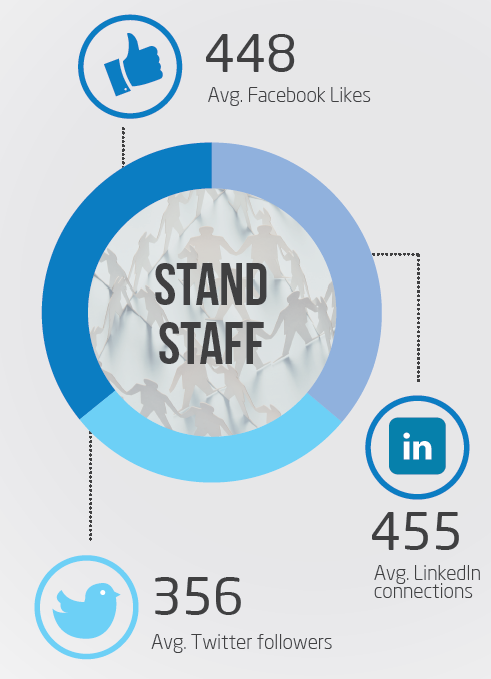 With 200 exhibitors, and 10 staff at each stand, that is a potential amplification of 2.5m hits
Last but not least the average social network size for speakers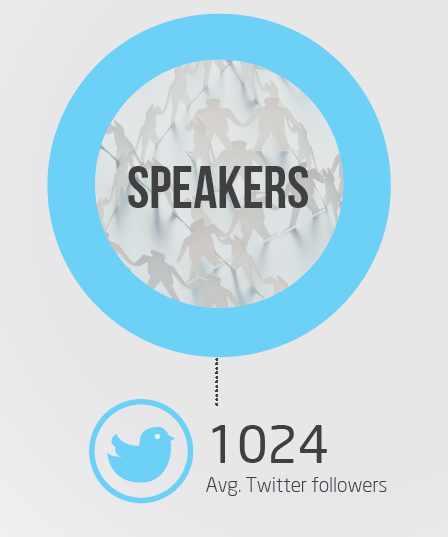 With 50 speakers that is a potential amplification of 51,200 hits
Question: Using these numbers, what will be the potential extrapolation for your own event?
How to amplify
Are you convinced? We certainly hope so – it's hard to argue with these numbers. If you want to see what kind of results you can generate for your event, try these tactics.
Influencer marketing - The big win
This means identifying and engaging with powerful, influential individuals within your industry. This won't necessarily be a quick win, and to find the right person you'll need to immerse yourself in your event community. Be an active participant in social media interactions, and monitor the discussions that take place there. You should also use these channels to promote your exhibitors, speakers and their sessions.
Basically this will take a lot of time and someone internally needs to get tasked with it. In case you are wondering, this is not something that can be done or borne by an existing member of the team. You need to devote someone to specifically deal with this at least half of their time.
Social registration - The quick win
Publicise your event further by encouraging your registrants to share their attendance on social media. This will not only mean that you reach a higher volume of potential attendees, but those already signed up can see who else is coming. And be sure to encourage stand staff to do the same. And the best thing of all, it is all done automatically for you so you do not have to hire anyone to do it.
Social media amplification for events – a no brainer
So there are just a few reasons why the new word of mouth in events is such an effective tool. You're likely already armed with some of the stakeholders you need to engage to start sharing content about your event, you just need to utilise them. If you'd like even more information, just download the ebook in full and keep it handy for when you kick off your strategy.