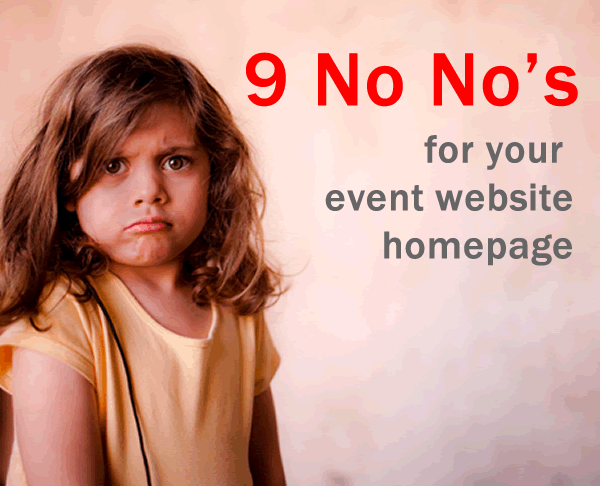 You've spent a great deal of time creating a strong event brand – the name, logo, theme or topic, format etc – but potential delegates still don't appear to be engaging with you online. Your event website homepage is arguably the most powerful tool you have at your disposal to market your event, and reach potential delegates, and doing it well can impact registrations enormously. So what might you be getting wrong? Here are the nine most common mistakes event marketers are making, and how you can avoid these pitfalls.
1. Overcrowding
Everything is fighting for attention. Nothing stands out (including the navigation) and visitors to your site will lose interest pretty quickly.
Solution:
List the content elements you feel really must be on your homepage. Prioritise these, and only include the top 5 – these should be in size order according to importance.
2. Too many boxes
'Chunking' is a tried and tested content marketing technique, and turns a text heavy page into several more easily digestible segments. However, if you go overboard it is a classic example of the law of diminishing returns. The whole point is to make your content easier to comprehend, but too many boxes will have the opposite effect.
Solution:
If you are going to box up your content, vary the size, distribute the sections generously within the space available, and don't use too many.
3. Sponsors and media partners are taking centre stage
Though these are important, they don't necessarily need to take pride of place, and appear above the fold. Their time to shine will be at the event itself.
Solution:
Whilst you need to incorporate branding into sponsorship or partnership packages, no organisation should be more prominent on your event homepage than your own! List partners, sponsors, supporters etc. below the fold, or on a dedicated page.
4. No clear call-to-action
Your event homepage must have at least one very clear call-to-action. Even if you have images of your brochure, and navigation to your registration page, prospects won't necessarily make the jump to actually signing up.
Solution:
Don't just give prospects the opportunity to register, actively encourage them with commanding text. 'Book your place', 'Register now', or 'Enquire about sponsorship today' are simple but effective phrases which should persuade homepage visitors to take action. An attractive visual will also appeal, with a clean design, and ideally in a different colour to the main hue used on your website. CTAs should be eye-catching, and clarity is key.
5. Important details not visible
Details like the date, time and the venue are so fundamentally important for event websites that they sometimes get taken from granted, and are not highlighted.
Solution:
Don't let the details get lost in the logo. Get someone outside of the web team to take a look at the homepage and see how long it takes them to locate this essential information. If it's longer than a few seconds, you'll need to make it stand out more.
6. Poor sales structure
Your event website may be focusing on what you, the company, want to say about your event, rather than addressing prospects' potential pain-points.
Solution:
Adopt a more open approach. Ask what it is prospects want from you rather than telling them all you have to offer. You should be trying to initiate dialogue rather than simply broadcasting, and telling everyone how great your event is going to be.
7. Template inconsistencies
Square vs rounded corners, different font types, sizes and colours, varying styles of imagery...all these inconsistencies make for a really unappealing first touch point. They reflect poorly on your organisation's professionalism and attention to detail, and by default, the very event you're trying to promote.
Solution:
If your homepage is likely to be your prospects' first impression of you, treat it like a first date with someone you really like, and pay attention to presentation! Make sure it's easy on the eye, with a clean and simple design. A B2B event marketer must have a keen eye for detail, so should be more than capable of spotting and correcting any erroneous template elements.
8. No obvious next step
Don't get overexcited if you secure a great venue, high profile speakers, have a cracking agenda and loads of blog posts – if your marketing team are shouting about all of these things at once, your prospects won't actually know what to do with them, as the navigation bar is likely to get overshadowed. It should be the main focus.
Solution:
If you have lots to boast about – great! Stagger it, and don't put everything out there at once, leaving it to stagnate until your event rolls around. Give your prospects room to breathe and explore your website for themselves. Chances are they know what they're looking for, so make it easy for them to navigate to, rather than throwing a lot of irrelevant, showy content their way.
9. No clear offer of help
Even if you rectify the previous eight mistakes, there will inevitably still be queries from prospects that aren't answered by your homepage. Rather than trawl your entire site, your valuable prospective attendees are likely to bounce - unless - they see a friendly, clear offer of help.
Solution:
This could take the form of a 'contact us' button, a visible link to FAQs, or simply a telephone number that will connect them with a relevant member of staff. Just make sure there is someone for curious or confused prospects to turn to.
Now get these nine no no's sorted and you're good to go!
Make sure you've got these crucial elements bang on, and see what kind of response you get! You should be constantly trying to better your site, and your prospects' experience on it. Take a look at what we consider to be the best event website templates if you need a little inspiration. Your homepage may be your first touchpoint with the people best suited to attending your event, so make it count. Making an impact doesn't mean showing off every aspect of the event they might find appealing, and you'll want to keep a few surprises back so that you can wow them on the pages they navigate to, or with gated content you provide. Keep it simple and you'll have a great base to build upon.
If you feel your event website could do with a little more attention, get in touch today for your free best practice review.
For a look at some other event marketing mistakes worth avoiding, download our free ebook today.
Image Credit: Greg Westfall