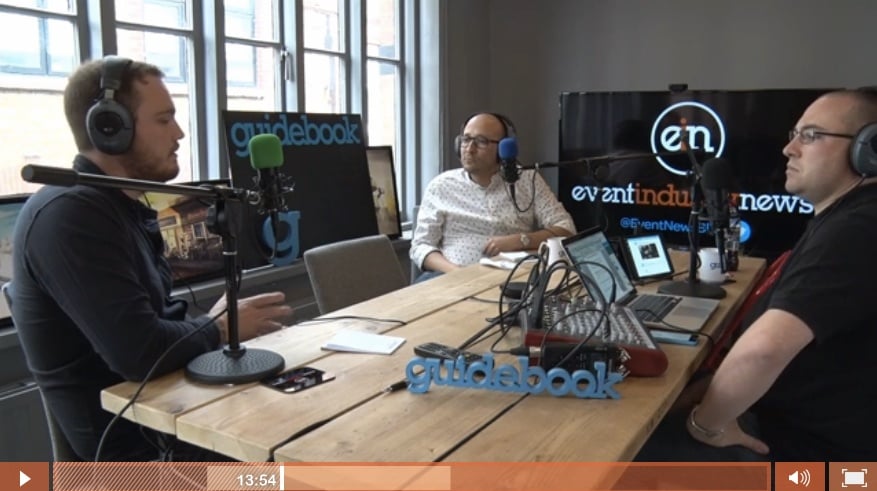 I recently took part in a podcast for Event Industry News to delve into what event marketers are getting right, and where they're going wrong. The "Talking events" session was hosted by Event Industry News contributor James Dickson, and I was joined by Adam Parry, Event Industry News editor and organiser of Event Tech Live. You can check out the podcast in full at the bottom of this post , but just in case you don't get a chance to, I've summarised the key points from our discussion below or go straight to the video if you prefer.
What does the current landscape show…
The reality is that many event organisers are set in their ways – relying heavily on email marketing, and not personalising their approach. Event marketers seem to believe that whoever shouts the loudest wins – and their way of making more noise is to send more emails
Email marketing is a fallback because it hits the largest number of people, with very little work. It also helps that email marketing metrics can sound far more impressive when reporting to superiors than social media statistics, and other marketing touch-points
Event marketers don't have the time to innovate, and trial new tactics – their bosses are more focused on driving event attendance with age-old databases and churning out email after email
Social media could be a very powerful tool for this industry, but it is mostly used by event marketers to broadcast information, rather than engage
New events (such as Event Tech Live) have a huge advantage – they use email marketing intelligently in order to share valuable content, and showcase exhibitors and speakers
Publishers entering the events industry are in a very fortunate position. They are experienced at creating and sharing high quality content, and will have been able to build an engaged audience (of readers) before kicking off their events programme. Event marketers need to start thinking like publishers, and nurture their audience with content
How can marketers make sure they get it right?
Content
To market your event, you need to be able to analyse your audience and engage with them in a more personalised way. If your event company is just entering the industry, start a blog, start engaging on social media and get your content out there
Old school event marketers need to see the light. Stop emailing the same old content to your increasingly uninterested database. Events need to speak about the challenges and pain points faced by your audience
If you blog once a week on the topics that matter to your industry you will grow your audience organically, and you can then invite them to your event. It's a much more elegant way of marketing
In my experience companies who use their first event as a marketing tool for their next event are onto something. Having a camera crew and creating content for the following year is the way forward
Marketers need to create buyer personas to understand the challenges facing their audience and build content around aiding them
Social media
Use Twitter and LinkedIn as an engagement tool rather than a broadcasting opportunity. Be responsive and encourage conversation
Don't talk about your event but about your audience, and share content that is relevant to them. The easiest way to do this is to start a blog, share it on social media and generate plenty of social content from just one written piece
Get your whole team tweeting. Don't just leave it up to the marketing guys to generate interest in your event – you should all live and breathe your conference, and should be doing anything you can to benefit the organisation as a whole. Think like a start-up, where everyone has to muck in and get social, and try to avoid the environment of red tape that comes with more established, and larger event companies
It's not "Likes" that matter – it's "Shares". On social media your content needs to resonate but also educate, so it's shareable
Influencers
Media partnerships used to be the way to further promote your event, and tap into a wider relevant audience – but publishers are increasingly hosting their own events, making it harder to source partners
An individual influencer can now lend just as much (if not more credibility) to your event, and many will happily agree to partner and will proactively share your content – remember, they too have a genuine interest in your industry
You can partner with influencers who have an interest in your sector or subject matter ,and get them to work with you on content for your audience. You can also offer the opportunity to deliver exclusive content to their own audiences
To source an influencer you have to immerse yourself in your event sector. Before, you could simply work your way down a list of potential media partners to secure one. Now you have to be an active member of your event and industry community - subscribing to blogs, RSS feeds and submerging yourself as your audience does
Don't forget to give it a watch! (you don't need to add your email, just press "skip")
What is most clear in our discussion, is that all is not lost. Whether you're a start-up, or a more established event company that's become a little set in its ways, there are steps you can take to kick-start your content marketing, and bring your event sharply into 2015.
Thanks to Event Industry News for inviting me to speak, and to my fellow podcasters Adam and James.